Efter at have lavet juledekorationer med alle børnene, og der nu står gran og lys over det hele, skulle vi lige have lidt hyggekage:
After having made Christmas decorations with all the kids and we now have pine-needles and candles everywhere, it was time for some cake: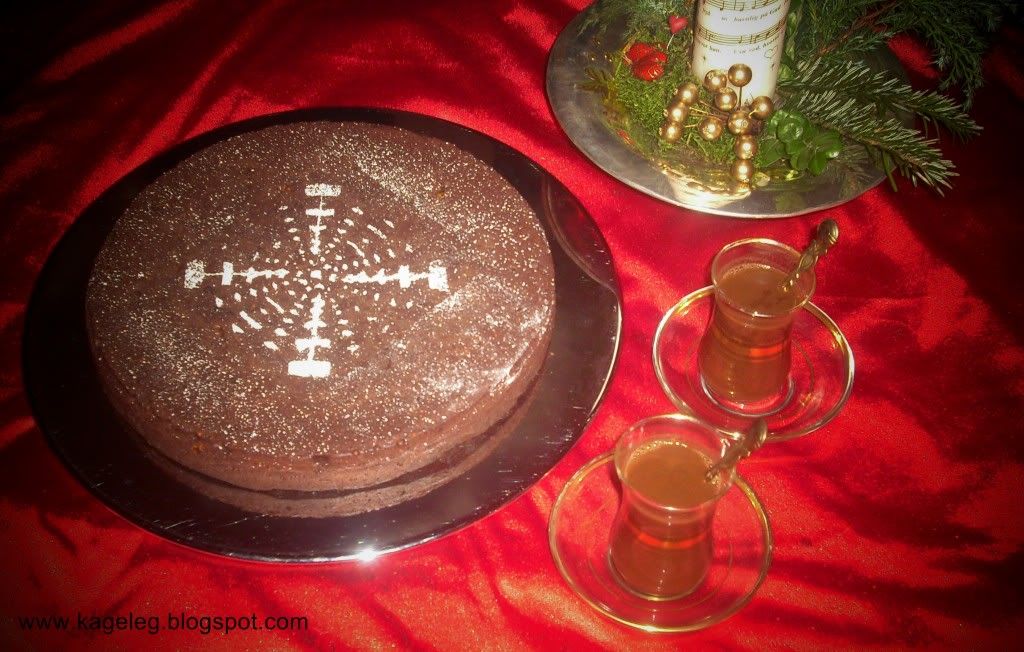 Opskrift på Snefnug Kage (startes dagen før)/Snowflake Cake Recipe (Start the day before):
150 g tørrede figner/
dried figs
3 spsk/
tbs
whiskey
Skær fignerne i små stykker og læg dem i et lille glas. Hæld whiskeyen over, sæt et tætsluttende låg på og lad det stå og trække til næste dag.
Cut up the figs and put them in a small jar. Pour the whiskey over and put on a tight lid. Leave it to soak until the next day.
175 g margarine
2 dl sukker/
sugar
3 æg/
eggs
2 dl mel/
flour
175 g mørk chokolade/
dark chocolate
Rør margarine med sukker til en luftig masse og tilsæt æggene enkeltvis. Rør godt i mellem æggene. Bland forsigtigt mel og figner i. Smelt chokoladen over vandbad og rør den i dejen. Læg olieret bagepapir i en springform og bag kagen ved 175 grader i 30-60 min afhængig af størrelsen på formen.
Mix margarine and sugar well and add the eggs, one at a time, and stir well between. Carefully stir in flour and figs. Melt the chocolate in a bowl over a pan of barely simmering water, and stir the melted chocolate in the batter. Cover the base of your cake pan with greased baking paper, and bake the cake at 175 degrees for 30-60 minutes, depending on the size of the pan.
Opskrift på Café Mexicano/Café Mexicano recipe:
ca 8 små kopper/
about 8 small cups
75 g mørk chokolade/
dark chocolate
1 hel nellike/
whole clove
4 dl vand/
water
1/2 L ekstra stærk kaffe (dobbelt mål)/
extra strong coffee (double the usual amount)
1/2 tsk/
tsp
kanel/
cinnamon
1 dl sukker/
sugar
Chokolade og nellike kommes i en kasserolle. Vandet hældes ved og der varmes op under omrøring til chokoladen er smeltet. Kaffe, sukker og kanel hældes ved. Opvarmes under omrøring, og serveres i små kopper.
Put the chocolate and the clove in a small pan. Add the water and heat up slowly while stirring, until the chocolate is melted. Add coffee, sugar and cinnamon. Warm up and serve in small cups.