Kalenderhyggen i går bestod af uimodståelige nougat- og marcipanhorn. Så uimodståelige, at jeg godt kunne se det på vægten i morges :/ Så næste gang skal jeg huske, at have for travlt til at spise, indtil børnene har gjort et godt indhug i bestanden - de kan trods alt godt tåle en vægtstigning :)
Last night's Christmas Treat consisted of irresistable pastries. So irresistable that I could see it on the scales this morning :/ Next time, I have to remember to stay too busy to eat until the kids have devoured most of them - after all they can handle a weight gain way better than me :)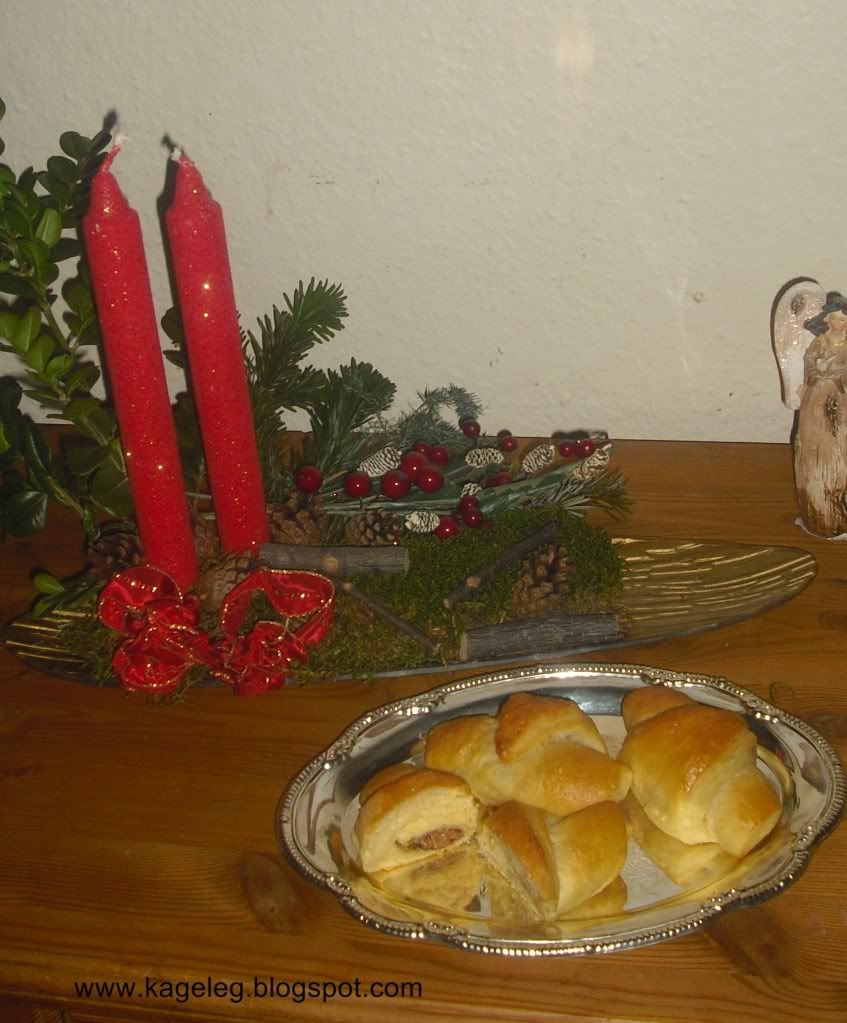 Og så kan vi også lige se, den 12 åriges juledekoration i baggrunden. Ja, bare fordi man er hankøn og så tween ovenikøbet, så kan man da stadigvæk hygge sig med at lave juledekorationer :)
In the background we can see the 12 year old's Christmas decoration. Just because he is male and a tween to boot, doesn't mean he doesn't enjoy decorating for Christmas :)
Opskrift på marcipan- og nougathorn/Marzipan and Nougat Pastry Horn recipe
: 16 stk/
16 pieces
1 dl mælk/
milk
50 g gær/
yeast
150 g margarine
1 æg
/egg
2 tsk
/tsp
vanillesukker
/vanillasugar
250 g mel
/flour
Fyld
/Filling
:
50 g marcipan
/marzipan
50 g nougat
Æggestrygelse/
glaze
:
1 æg/
egg
2 spsk
/tbsp
vand
/water
1 knsp salt
/pinch salt
1. Lun mælken og opløs gæren heri. Tilsæt de øvrige ingredienser og ælt dem til en ensartet dej. Lad dejen hæve, lunt og tildækket, til dobbelt størrelse - ca. 30 min.
2. Del dejen i 2 dele og form dem til kugler. Rul hver kugle ud til en cirkel på ca 30 cm i diameter, og skær den ud i 8 pizzastykker.
3. Skær marcipan og nougat ud i 8 små stænger hver og tag enten et stykke marcipan eller et stykke nougat og læg det på trekantens brede ende. Rul trekanten sammen omkring fyldet til horn.
4. Sæt hornene på en bageplade med bagepapir og lad dem hæve tildækket 15-20 min. Pensl hornene med æggestrygelse og bag dem ca 15 min midt i en 200 grader varm ovn.
1. Heat the milk to lukewarm and dissolve the yeast in it. Add the remaining ingredients and kneed to a smooth dough. Leave it to rise, covered, until twice the size - about 30 min.
2. Split the dough into 2 even parts and shape them into round balls. Roll each ball out to a circle about 30 cm wide and cut in 8 pizza slices.
3. Cut up the marzipan and nougat into 8 pieces each and put a piece (of either) on the triangle's wide end. Roll the triangle up around the filling to make a horn.
4 Place the horns on a bakingtray with bakingpaper and let them rise for 15-20 min, covered. Brush the horns with glaze (all whisked together) and bake for 15 minutes at 200 degrees.