Med mand og et barn sygt og en fondant kage i gang, så skulle kalenderhyggen i går være nem - og nemmere end
Mudcake Cupcakes
fra fryseren og "En duft af jul"-mousse, der allerede var startet, kunne det vist ikke blive:
With a sick husband and child and a fondant cake in the making, last night's Christmas treat had to be easy, and it can hardly get easier than Mudcake Cupcakes from the freezer and "A Scent of Christmas"-Mousse, that was already partially made: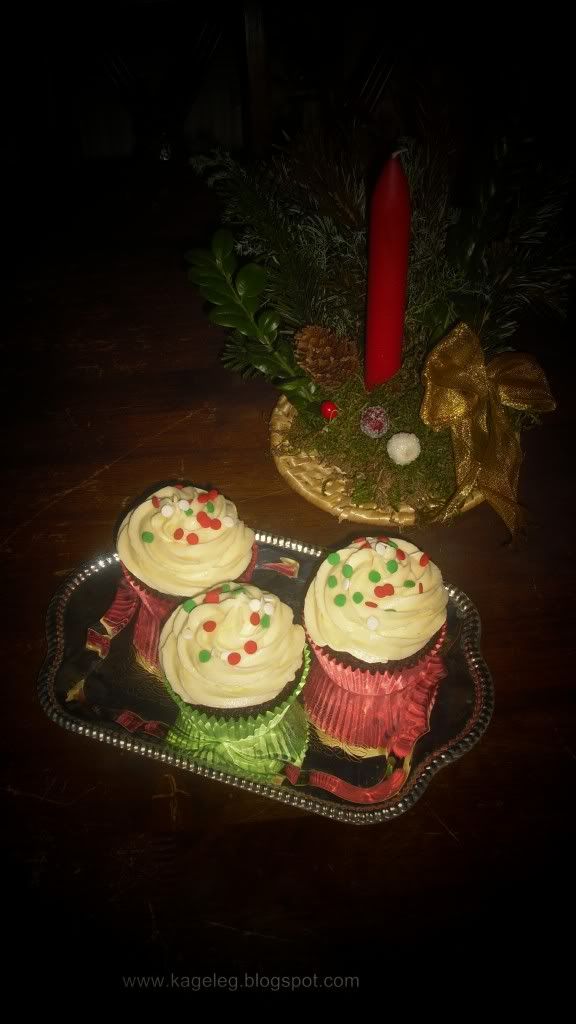 Den 5 årige hjalp med at pynte, og den 2-åriges juledekoration blev sat frem (Hun har vist fået lidt hjælp fra storesøster med den sløjfe i hvert fald), og så blev der hygget med dagens afsnit af julekalenderen (som vises irriterende sent i år synes jeg). Opskriften på moussen findes i mange udgaver på nettet, og jeg tog lidt fra hver, men den oprindelige opskrift er så vidt jeg ved Sif's, hvis sjove blog kan findes
her
.
The 5 yo helped decorate cupcakes, and the 2 yo's candle decoration was lit (I am pretty sure her she had help from her older sister - at least with the bow). We then sat and watched an episode of the Christmas Calendar (every year, we get a new 24 part Christmas Story on TV - yet another way to count down the days until Christmas).
Opskrift på "En duft af jul"-mousse/"A Scent of Christmas"-Mousse recipe:
1/4 L fløde/
whip cream
17 nelliker
/cloves
1/8 tsk/
tsp
hel kardemomme
/whole cardamom
1/4 tsk/
tsp
stødt kanel/
ground cinnamon
30 g smuttede grofthakkede mandler/
coarsly chopped almonds
-Koges godt igennem, sies og køles helt af (gerne til næste dag)
-
Bring it all to a boil, strain and refrigerate until (8 hours or more)
3 dl presset appelsinsaft (4-5 appelsiner)
/freshly squeezed orangejuice(4-5 oranges)
1 1/2 dl sukker/
sugar
-Koges ind til halvdelen er tilbage.
- Boil and reduce to half amount.
4 bl. husblas
/sheets of gelatine
-Udblødes i vand og smeltes i den varme appelsinsirup. Afkøl til stuetemperatur.
Flødeblandingen piskes stiv, 2 tsk røres ud i appelsinsiruppen, og siruppen vendes derefter i fløden. Lad den stivne delvist i køleskab
-
Soak the gelatine according to package and melt it in the warm orangesirup. Cool off to roomtemperature. Whip the creammixture stiff, stir 2 tsp in the orangesirup, then gently fold the sirup in the whipped cream. Leave it in the fridge until partially set.
2 dl psikefløde piskes helt stivt og vendes i flødemassen. Stilles på køl igen, til det er helt stift.
2 dl whip cream is whipped totally stiff and folded in the creammixture. Refridgerate again until set.