Jeg kunne bare ikke få varmen i går - indtil det var tid til kalenderhygge. Jeg skal love dig for at jeg nok fik varmen med den romtoddy!
I was freezing badly yesterday - until it was time for our daily Christmas Treat. That rum-toddy seriously got me warmed up!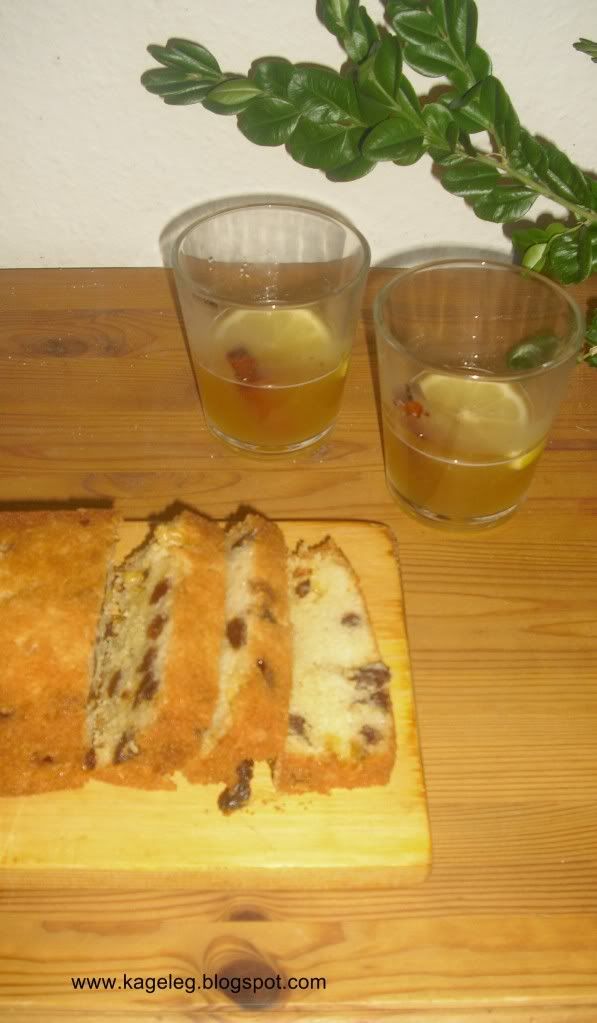 Opskrift på Rosinkage med rom/Raisin Cake with Rum recipe
:
150 g smør eller margarine, blødgjort/
butter or margarine, softened
2 dl sukker/
sugar
3 æg
/eggs
2 1/2 dl mel
/flour
1 tsk
/tsp
bagepulver
/baking powder
100 g skoldede rosiner
/scalded raisins
1 dl rom
/rum
Rør blødgjort fedtstof med sukker, til det bliver hvidt, og sukkeret er rørt helt ud. Tilsæt æggene enkeltvis og rør godt i mellem hvert. Bland mel med bagepulver og rosiner og vend det forsigtigt i dejen. Smør en aflang bageform med smeltet smør, drys med rasp og hæld dejen i. Bag nederst i ovnen i 45-50 min ved 175 grader. Lad kagen køle lidt af, før den vendes ud på en rist. Prik huller i kagen med en strikkepind og dryp rommen over, mens kagen endnu er varm. Kagen opbevares tæt indpakket i folie, indtil den skal spises.
Beat softened butter/margarine with the sugar until white, and the sugar is dissolved. Add the eggs, one at a time, and stir well between each. Mix flour, baking powder and raisins and gently fold it in the batter. Brush an oblong pan with melted butter, coat with breadcrumbs and pour the batter in. Bake in lower half of the oven for 45-50 minutes at 175 degrees. Cool the cake off slightly before turning it over on a cooling rack. Make lots of holes in the cake with a knitting pin, skewer or similar and slowly pour the rum over, while the cake is still hot.
Opskrift på Glødende Romtoddy/Glowing Rum-toddy recipe
: pr pers
/pr serving
Knap 1/2 dl mørk rom/
almost 1/2 dl dark rum
1/2 citron
/lemon
1 lille stykke hel kanel
/small piece of whole cinnamon
1 tsk
/tsp
honning
/honey
Pynt
/Decoration
:
Hel kanel
/whole cinnamon
Halv citronskive/
half slice of lemon
Pres saften af den halve citron, bland alle ingredienser i en gryde og varm langsomt op. Hæld den dampende varme drik i et glas og pynt med et stykke kanel og en citronskive. Kan fortyndes med varmt, hvis styrken er for overvældende.
Squeeze the half lemon and mix all ingredients in a pan, and slowly warm up. Pour the steaming hot drink in a glas and decorate with a piece of cinnamon and half slice of lemon. Can be thinned with warm water, if it is too strong.