Så har vi fået en ny favoritgløgg her i huset! Og kagen var skam lækker også:
We traditionally get mulled wine in December, and we now have a new favorite - which actually doesn't have any wine in it, but apple cider instead. And the cake was delicious as well: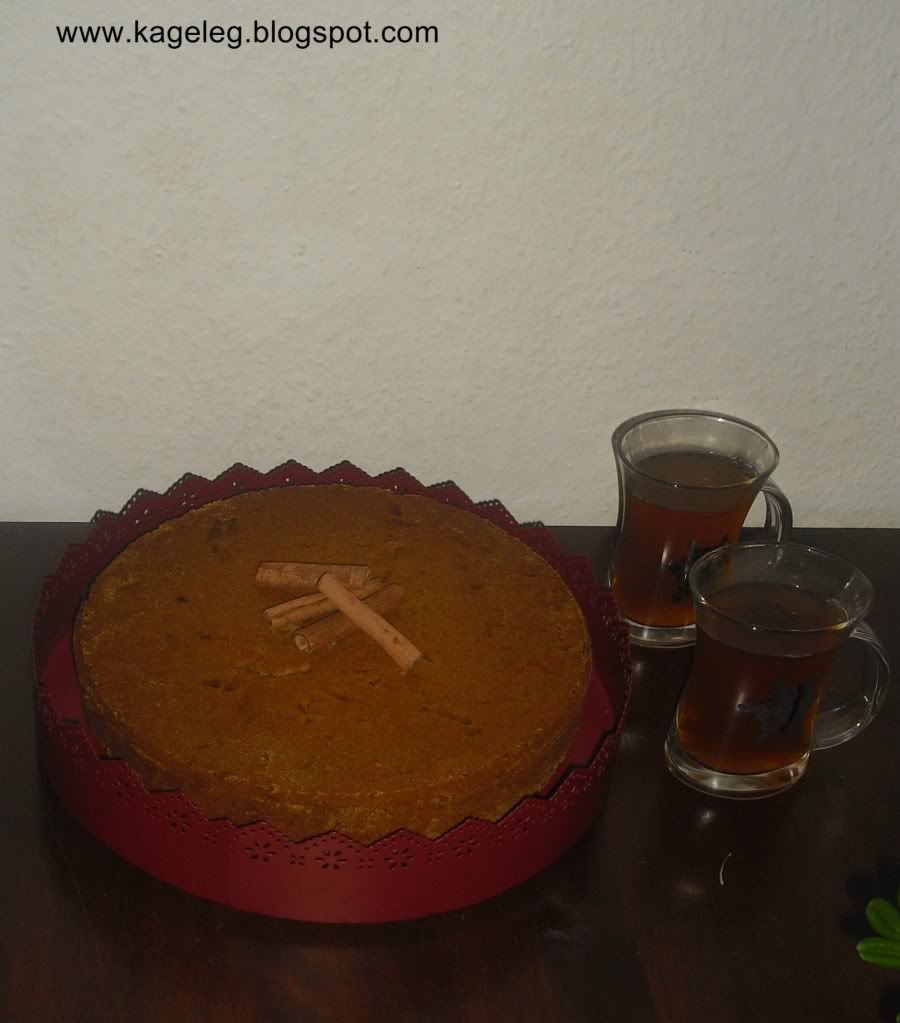 Opskriften på gløggen er fra "Ude og hjemme".
Opskrift på Julens Æblekage/Christmas Apple Cake recipe
:
75 g tørrede æbleringe/
dried apple
2 dl æblecider/
apple cider
200 g margarine
320 g sukker
/sugar
3 æg
/eggs
330 g mel/
flour
1 tsk
/tsp
bagepulver
/baking powder
1 tsk
/tsp
vanillesukker
/vanila sugar
1 1/2 tsk
/tsp
stødt kanel
/ground cinnamon
150 g groftreven marcipan
/coarsly grated marzipan
1/2 dl mælk
/milk
Lad æbleringene trække i cideren i ca. 5 timer. Rør blødgjort margarine luftigt med sukker. Tilsæt æggene enkeltvis, og rør godt imellem hvert æg. Bland bagepulver, vanillesukker, kanel og reven marcipan i melet og rør det i æggemassen skiftevis med mælken og de afdryppede, udskårne æbleringe. Hæld dejen i en to-liters springform, smurt og drysset med rasp, og bag ved 175 C i ca 1 time.
Soak the dried apple in the cider for 5 hours. Whisk softened margarine well with sugar. Add the eggs, one at a time, and stir well in between each. Mix baking powder, vanila sugar, cinnamon and grated marzipan with the flour and stir it in the eggmixture alternating with the milk and the drained, cut up apple. Pour the batter in a 2 L baking pan, which has been greased and breaded and bake at 175 C for about 1 hour.
Opskrift på Hvid Gløgg/White Mulled Wine recipe
: ca 1 L
1 vaniljestang/
vanila pod
1 kanelstang
/whole cinnamon
1 stjerneanis
/star anise
50 g farin
/brown sugar
Saften af 1/2 citron
/juice from 1/2 lemon
7 dl æblejuice
/applejuice
1/2 L æblecider
/apple cider
1/2 dl cognac (kan udelades
/can be omitted
)
Skær vaniljestangen igennem, skrab kornene ud og kom både korn og stang i en gryde sammen med kanelstang, stjerneanis og farin. Tilsæt citronsaft og æblejuice og lad det koge i 10 min. Lad det stå og trække i mindst 2 timer og gerne natten over. Ved serveringen varmes det hele op igen og tilsættes æblecider og evt. cognac.
Split the vanila pod, scrape the seeds out and put both seeds and pod in a pot with the cinnamon, star anise and brown sugar. Add lemonjuice and applejuice and boil it for 10 minutes. Leave it to soak for at least 2 hours and preferably overnight. When serving, heat it up again and add cider and possibly cognac.