Vores yngste søn fylder 7 år om en måned, men hans gode ven havde fødselsdag for snart en måned siden, og de valgte at holde fødselsdag sammen i
Hurlumhej-huset
for klassen og et par andre venner i går. Genialt sted at holde fødselsdag, og jeg skulle kun sørge for kagen, mens vennens forældre sørgede for alt andet, så det var da heldig sluppet :) Drengene havde selv valgt, at det skulle være en Playmobil kage:
Our youngest son is turning 7 in a month, but his good friend's birthday was almost a month ago, and they had chosen to do a joint birthday party at a fun venue yesterday. They had also chosen their cake - a Playmobil cake: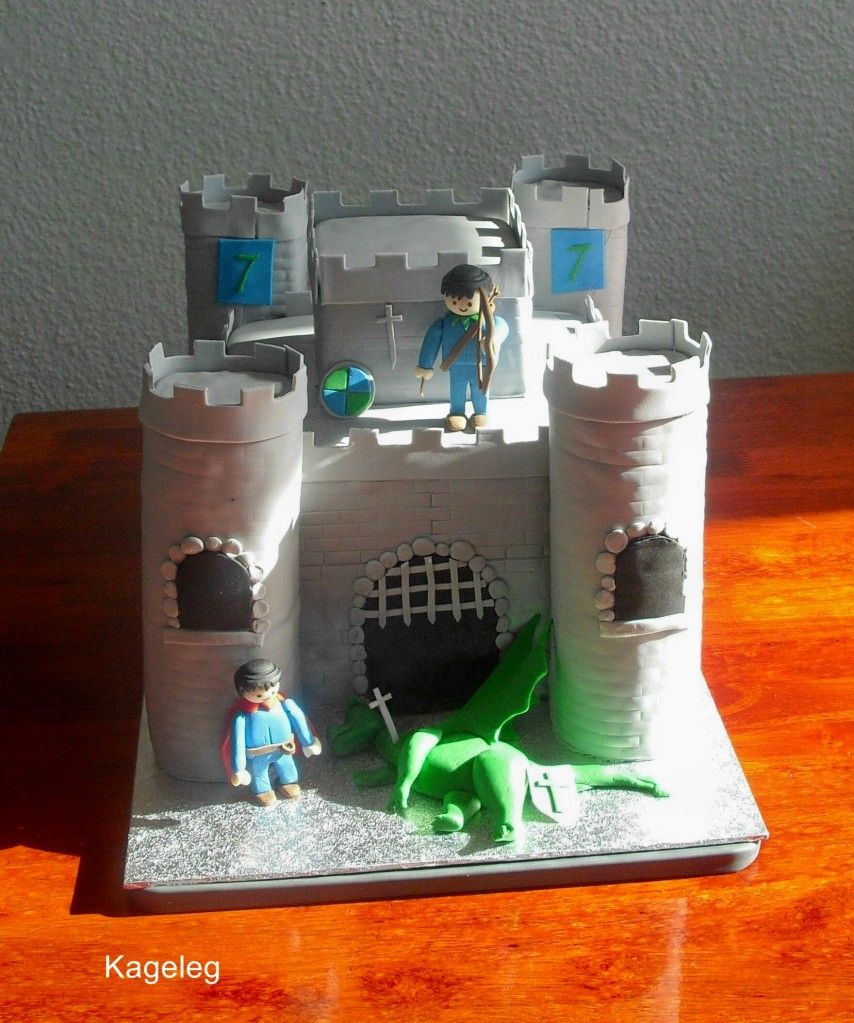 Kagen bestod hovedsageligt af
Sort Midnat's Kage
med
Jordbær Mousse
og
Chokorange Creme
. Tårnene var dog lavet af hindbærroulade, og hele molevitten var smurt op med
Chokolade Smørcreme
og overtrukket med Satin Ice fondant. Al pynten var lavet af fondant, men Playmobilmændene havde spagettistøtter indeni, da figurerne blev lavet få timer før festen, så der var ikke tid til at lade dem tørre.
Most of the cake was a Black Midnight Cake with Strawberry Mousse and Chocolate-Orange Creme. The towers were made from Swiss Rolls with Raspberry filling and the whole thing was coated with Chocolate Buttercream and covered in Satin Ice fondant. All decorations were made using fondant, but the Playmobile men had spagetti-supports as they were made few hours before the party, with no time to dry.
Hvad der gik galt:
Denne liste kan jeg ikke undgå at lave denne gang, da sådan ca alt gik galt med denne kage. Vi kan starte med en maveinfluenza, som gjorde, at jeg ikke kunne lave figurerne på forhånd. Faktisk var jeg oppe hele natten og havde først overtrukket kagerne kl 2-3 om natten, og kunne først der begynde at lave pynt, som faktisk burde have tørret i dagevis. Men problemerne startede før det... Først havde jeg sat kagen på et cakeboard, som ikke var stort nok, da jeg havde glemt alt om at der skulle være plads til tårnene. Så brugte jeg al smørcremen (dobbelt portion) bare på at smøre den store kage op, og selv om manden var lynhurtig til at handle ind til mere, så er det altså virkelig upraktisk at skulle stå og vente på at smøren får stuetemperatur, når man allerede er dagevis bagud... Da kagen var smurt op og overtrukket, skulle den præges hurtigt for at lave mursten, men jeg har åbenbart trykket for hårdt, og da kagen ikke havde støttepinde i endnu, skred kagen af det nederste lag fyld.
Jeg havde hverken tid eller plads til den oprindeligt planlagte pynt, men jeg er ok tilfreds med de ændrede planer (som måtte laves om, hver gang noget gik galt), men kagen var færdig i aller sidste minut, og så var der ikke engang tid til at tage et ordentligt billede *snøft* .Men drengene var tilfredse, og nu syntes jeg hellere at jeg måtte opdatere bloggen med det samme, mens jeg stadigvæk husker, at med alle de problemer jeg rendte ind i, så er jeg bare glad for at jeg havde noget, der bare tilnærmelsesvis lignede en Playmobilkage færdigt til tiden, og så kan jeg godt leve med buler, manglende pynt og dårlige billeder.
What went wrong:
Just about everything, really. Starting with a stomach-flu, that made it un-safe to make any decorations in advance, and the whole cake from start to finish was made in less than 24 hours. And there were problems from beginning to end - first my cakes weren't tall enough to split into my usual 3 layers, so I had to bake extra. Then I placed and iced the main cake on a cakeboard that was too small, as I had forgotten all about room for the towers. I hadn't made enough buttercream to start with, and allthough hubby is a really fast shopper, it is really inconvenient to have to wait for the butter to come to roomtemperature, when you are already days behind. When I had the cake covered, I needed to emboss the brickpattern really fast, but apparently used to much pressure on my still undoweled cake, resulting in the main part of the cake sliding off the bottom layer of filling.
I didn't have time or room on the board for the originally planned decorations, but I am satisfied with the changed plans (which kept changing every time I had a mishap). The cake wasn't finished until the very last minute (literally) and I didn't even have time to get a decent picture *sniffle*.
The boys were happy though and this time I figured I'd better update the blog right away, while still remembering all the problems, and that I am actually happy to have finished something that just remotely resembles a Playmobil cake on time. Bumps, dents, missing decorations and bad pictures is something I can live with today... but not in a month :)