Ann-Mari ville gerne have 2 kager, da hun skulle holde åbent hus i forbindelse med at sønnen både havde fået huen på, og fyldte 18 år. Sønnen var så flink og kigge forbi med hans hue, hvilket var heldigt, da jeg nok ellers ville have lavet kokarden i rød og sølv. Godt min datter går på student og ikke handelsskole - ikke at der er noget galt med handelsskolen, men korset er noget kun lettere at lave end merkurstaven :p
Ann-Mari wanted 2 cakes this weekend as she was having an 'open house' to celebrate her son's graduation and 18th birthday. Her son stopped by to show me his graduation cap, which was lucky as his had other colours than the traditional ones (they are so customizable these days). I am glad my daughter's cap (when she gets that far) will have a simple cross on it - a lot easier to make than the 'wand of mercury' symbol.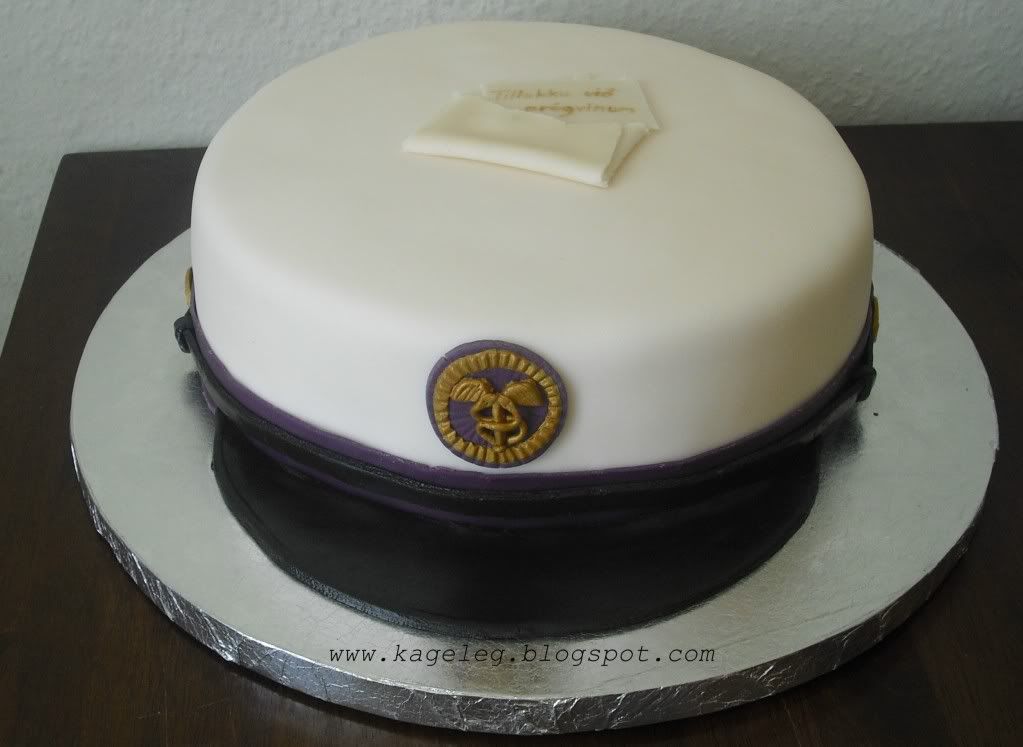 Kagen er lette lagkagebunde stænket med Amaretto og fyldt med jordbærmousse (som
hindbærmousse
bare med mindre sukker) mascarpone creme og friske jordbær, smurt op med
IMBC
med naturlig jordbæraroma og overtrukket med MMF og sort ChokoladeMMF.
The cake was classic sponge layers drizzled with Amaretto and filled with Strawberry Mousse (just like the Raspberry Mousse but with less sugar, depending on berry's tartness), Mascarpone Creme and fresh strawberries, then covered in IMBC with natural strawberry flavoring and MMF and black Chocolate MMF.

Opskrift på lette lagkagebunde/
Sponge Layer Cake recipe
:
6 æg/
eggs
150 g flormelis/
powdered sugar
100 g mel/
flour
100 g majsstivelse/
cornstarch
1 1/2 tsk bagepulver/
baking powder
Pisk æggeblommerne lyse of luftige sammen med flormelis (ca 5 min). Bland de tørre ingredientser og piske dem hurtigt i dejen. Pisk hviderne stive i en ren, tør skål. Pisk ca 3 spsk stive æggehvider i dejen, og fold så forsigtig resten af æggehviderne i dejen.
Dejen kommes i en springform med bagepapir i bunden og bages ved 200 grader C i ca. 15-20 min. Når kagen er bagt og kølet af kan den deles i 2-3 bunde alt afhængig af størrelsen på formen.
Beat eggyolkes with the powdered sugar for approx. 5 minutes. Mix the dry ingredients and whisk them in the batter just long enough to get it all mixed in. Whisk the eggwhites stiff in a separate dry and clean bowl. Beat 3 tbsp off stiff eggwhites into the batter, then gently fold in the remaining eggwhites.
Put the batter in a cake pan, lined with greaseproof paper on the bottom only, and bake it at 200 degrees C for 15-20 minutes. When the cake is baked and cooled off, it can be split into 2 or 3 layers - depending on the size of the cake pan.
Jeg lavede en Tiramisu forleden og blev enig med mig selv om at cremen ville være lækker som kagefyld, så opskriften er fra 'Søtt & leskiligt' blot tilsat lidt husblas, da jeg ville være sikker på at den var fast og ikke lavede buler i min hue.
I made Tiramisu the other day, and decided that the creme would be nice in a cake, so the recipe is from 'Søtt & leskiligt', with just some gelatine added to be sure it would be firm enough to avoid bulging dents in my cap.
Opskrift på Mascarpone Creme/Mascarpone Creme Recipe:
2 blade husblas
/gelatine sheets
500 g mascarpone ost/
cheese
4 past. æggeblommer/
pasteurized eggyolkes
100 g flormelis/
powdered sugar
2 tsk/
tsp
vanillesukker/
vanilla sugar (easy to make if you can't get it)
2 1/2 dl fløde/
heavy cream
Læg husblasen i blød i 5 minutter. Smelt den over vandbad i det vand der hænger ved. Lad den køle lidt af. Pisk mascarpone, æggeblommer, flormelis og vanillesukker sammen. Tilsæt den afkølede husblas i en tynd stråle, mens der piskes. Pisk fløden og vend den i mascarpone cremen.
Soak gelatine sheets in plenty of water for 5 minutes (or according to package). Take them up and put them in a heatproof bowl over a pot of boiling water, until the gelatine is dissolved. Leave it to cool for a bit. Whisk mascarpone cheese, egg yolkes, powdered sugar and vinilla sugar until combined. Add the disolved, cooled gelatine slowly while whisking like crazy. Whip the cream and fold it gently into the mascarpone creme.
Når man skal bruge sort fondant, så er det meget nemmere, hvis man starter med en chokolade MMF, som man farver sort. Der skal stadigvæk meget farve til, men ikke nær så meget, som hvis man indfarver en almindelig hvid MMF.
When you need black fondant, it is a lot easier if you start with a chocolate MMF and colour it black. It still needs a lot of colouring, but not nearly as much as if you were using normal white MMF.
Opskrift på sort Chokolade MMF/Black Chocolate MMF recipe:
180 g mørk chokolade/
6 oz. unsweetened chocolate melted
300 g marshmallows/
10.5 oz bag of mini marshmallows
3 spsk glukosesirup/
3 tbsp. of clear Karo syrup
3 spsk vand/
3 tbsp. water
500g-750g flormelis/
1-2 1lb. bags of powdered sugar
sort pasta farve/
black gel food coloring
Palmin el shortening/
Crisco
Smør en stor skål der må komme i mikrovnen godt ind i palmin hvis du ikke kan få shortening. Smør også en dejskraber, røreskål og dejkrog godt ind med palmin hvis du bruger din KitchenAid el. lignende. Hvis du vil lave MMF'en i hånden så skal du bare have smurt en god træslev ind. Sigt flormelisen og put 500 g i din røreskål. Smelt chokoladen over vandbad og tilsæt glukosen og godt med sort farve (1-2 tsk alt afhængig af mærke). Når den er næsten klar, så putter du marshmallows i din meget godt smurte skål, hælder vand på og så skal de en tur i mikroovnen i 1 minut. Tag skålen ud, rør rundt (med din indsmurte dejskraber/træske) og giv den 1 minut mere. Derefter tager du skålen ud, rør rundt og fortsæt med at give den 15 sek ad gangen i mikrovnen til dine marshmallows er helt smeltede (og ja, det ved du først når du har rørt i dem). Når de er helt smeltede tilsætter du din smeltede chokoladeblanding og evt mere sort farve - marshmallow blandingen skal være kulsort nu. Hæld marshmallow blandingen i røreskålen og lad så din Kitchen Aid gøre arbejdet for dig (eller tilsæt flormelisen til din marshmallow-blanding og rør til din ske/arm ikke vil mere). Smør bordet godt med palmin, drys sigtet flormelis på og skrab hele fondant massen ud på bordet. Smør hænderne godt med palmin og ælt flormelis i til den ikke klistrer mere og har den rigtige konsistens. Når fondanten er færdig samles den i en kugle, smør overfladen godt med palmin for at forhindre udtørring, vikl den ind i film, put den i en frysepose, luk luften ud og slå knude på og put den så i en lufttæt beholder (Vi triplesikrer mod udtørring her i huset). Fondanten har godt af at ligge i 2-3 dage så farven kan blive dybere. Den kan holde sig i en måned (eller 3 måneder i fryseren)
Put your marshmallows in a microwave safe bowl coated with Crisco, add the water, and microwave on high for 1 minute. Stir mixture, and microwave for another minute. Stir and keep microwaving 15 seconds at a time until marshmallows are melted. Immerdiately add your melted chocolate, syrup and add a good amount of black gel food coloring. Once your mixture is as black as you can get, (I added about 1-2 tsp. of the gel coloring) then add about half of your powdered sugar, and stir until the mixture is thick. Grease your hands liberally with Crisco and add the rest of the powdered sugar to the bowl. Knead your fondant until all of the powdered sugar is incorporated - add more or less depending on humidity. Store for up to a month wrapped in plastic wrap, sealed in a ziploc bag, and stored in an airtight container. Keeps for 3 months in the freezer.