Min ældste datters bedste veninde fyldte 18 i går. Hendes mor ville gerne overraske hende med en kage, og spurgte om jeg kunne hjælpe, og det ville jeg jo hellere end gerne. Jeg måtte have hjælp fra min datter til valg af både fyld og tema, og da jeg snakkede med moren om, at det kunne være en ide, hvis kagen havde noget med musik at gøre, fortalte hun den sødeste historie: Hun plejede at synge Alberte's Månebarn for hende, da hun var lille, og sangen betød så meget for pigen, at hun overvejede at få lavet en tatovering, hvor der står Månebarn på. Jeg syntes, at historien var så sød, at vi på en eller anden måde måtte få det på kagen. Nu vidste jeg jo ikke, hvordan tatovering skulle se ud, så jeg valgte i stedet for, at pynte kagen med noderne til sangen - eller så meget af den, som jeg nu fik plads til på kagen:
My daughter's best friend turned 18 yesterday and her mother wanted to surprise her with a cake. I had to have my daughter help chose both fillings and theme, and when I talked to the mother about doing something music themed, she told me the sweetest story: She used to sing a lulabye called "Moonchild" (directly translated) for her when she was (a lot) younger, and the song meant so much to the girl, that she was considering having a tattoo made with the title. I thought it was so cute, that I had to get that on the cake somehow, but since I didn't know, what the tattoo would look like, I decide to just decorate the cake with the musical notes for the song - or as much of it, as I could fit on it: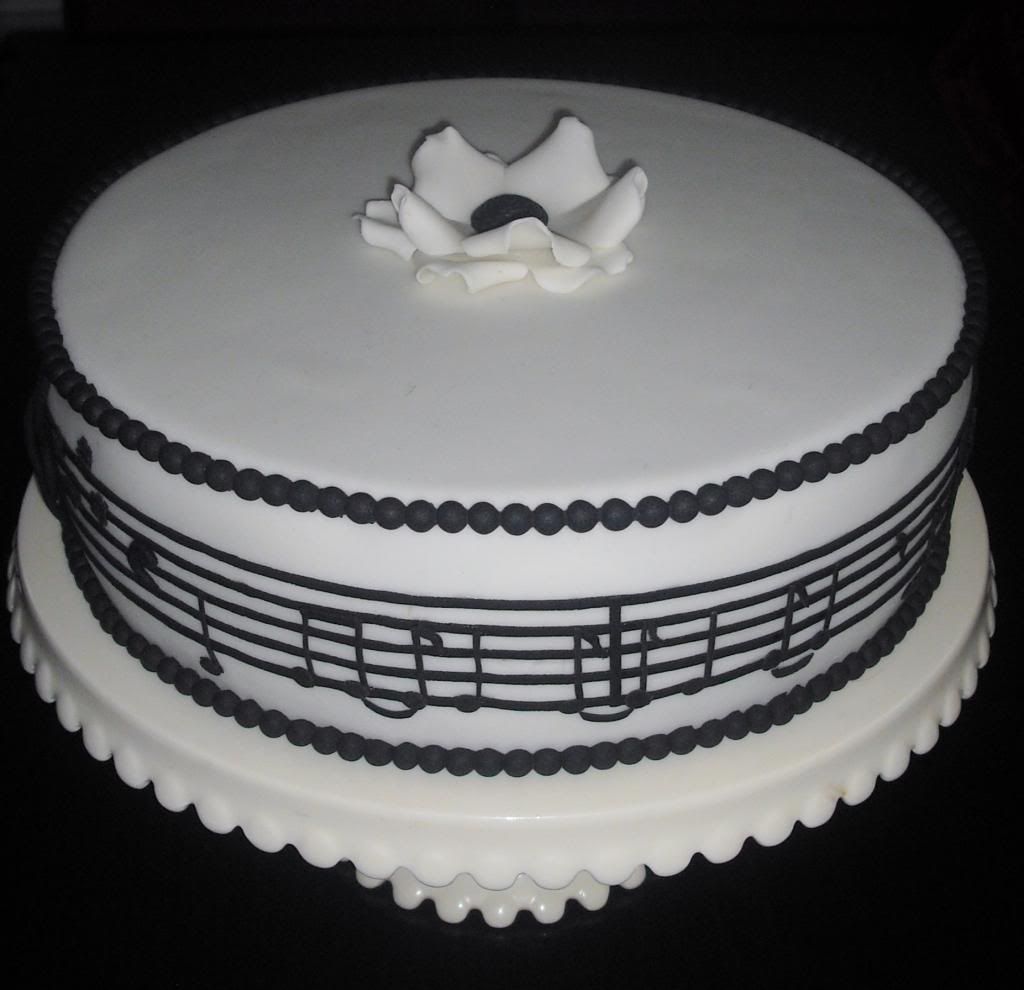 Kagen var en Chokoladekage med
Jordbærmousse
og
Chokorange Creme
, smurt op med
Chokolade Smørcreme
og overtrukket med Wilton's fondant. Pynten er lavet af sort Pettinice fondant.
The cake was a Chocolate Cake with Strawberry Mousse and Chocolate-Orange Creme, coated with Chocolate Buttercream and covered in Wilton's fondant. The decorations were made using black Pettinice fondant.