Malan skulle også lige have en lagkage. Designet var op til mig, men jeg syntes ligeså godt, jeg kunne holde mig til Monster High-temaet, så den endte sådan her:
Malan was also getting a layered cake. the design was up to me, but I figured I might as well stick to the Monster High theme, and this is what she got: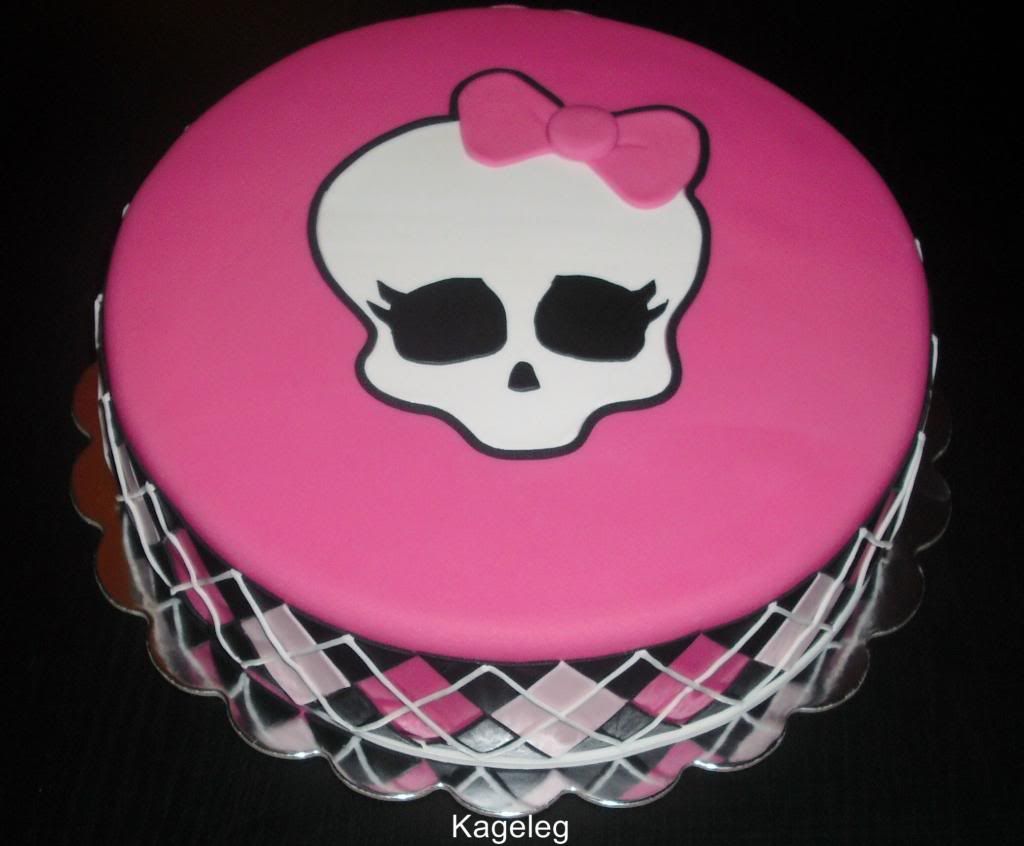 Kagen var Klassiske Lagkagebunde med Blåbærmousse og
Hvid Chokoladecreme m. Daim
, smurt op med
Chokolade Smørcreme
og overtrukket med Wilton's fondant.
The cake was classic sponge layers with Blueberry Mousse and White Chocolate Cream with Daim (crunchy butter almond bar covered in milk chocolate), coated with Chocolate Buttercream and covered in Wilton's fondant.
Her har jeg gået og troet, at en ruder-udstikker er et overflødigt værktøj, da man jo nemt kan lave dem selv, med kniv og lineal. Tjah, nemt og nemt - det ville da helt sikkert være meget tids-besparende med de udstikkere, men det var nu alligevel det hvide bånd, der tog 100 år at sætte fast på kagen - for en gangs skyld kunne jeg godt have tænkt mig, at kagen svedte, så jeg kunne slippe for at lime i hvert fald... Den var nu hyggelig at lave alligevel - bare ikke hurtig:)
Here I thought that diamond cutters were totally superfluous pieces of equipment, since you can make diamonds easily with a knife and ruler. Well, I wouldn't necessarily say easy anymore - at the very least, they would have been nice timesavers. Still, it was the white lines that took the longest to put on the cake - for once, I wish the cake was sweating, so at least I could skip the gluing part... It was still a fun and easy (just not fast) cake to make :)