Så fik jeg lavet min første bryllupskage, og sikken en masse erfaringer, jeg fik gjort mig:
I have now made my first wedding cake, and learned so much: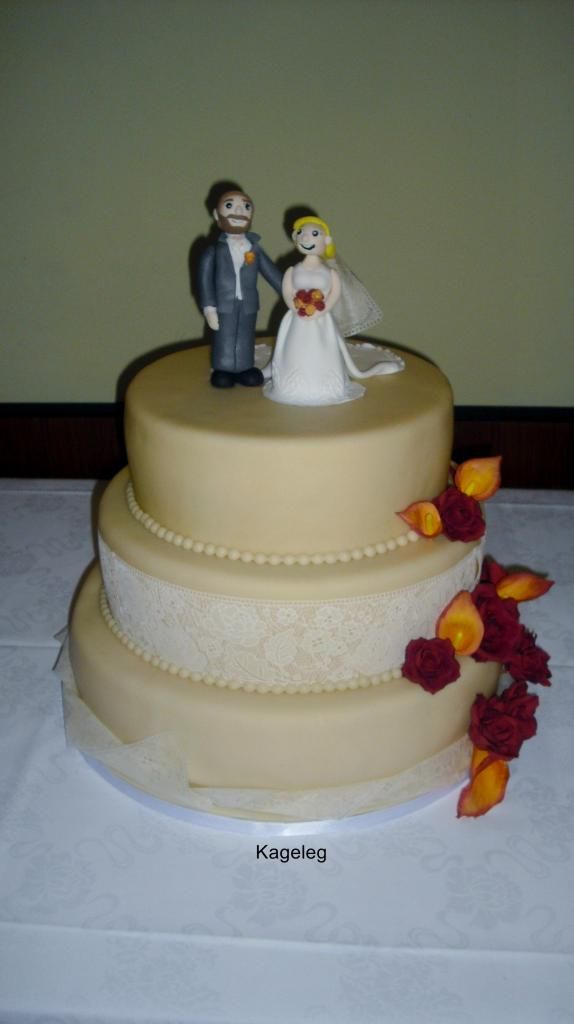 Kagen var lavet af mazarinbunde med
Hindbærmousse
og Chokolademousse med hakket mørk chokolade, smurt op med
IMBC
og overtrukket med overtræksmarcipan og fondant (blandet 6:1). Blomster og brudepar var lavet af fondant, mens blonderne og sløret var lavet af SugarVeil.
The cake was made of Marcipan Cake layers, Raspberry Mousse and Chocolate Mousse with chopped dark chocolate, coated with IMBC and covered with marzipan and fondant (mixed 6 to 1). Flowers and topper were made of fondant while the lace and veil was made using SugarVeil.
Kagen var utrolig tung (mindst 25 kg ifølge min søsters kæreste, som var så sød at bære den ned fra 5.sal og op i festlokalerne), og den fik da også lidt transportskader (Det nederste lag var trykket fladt på 2 af siderne, af kassen som den blev transporteret i). Jeg rettede dem, så godt jeg kunne, og pyntede kagen færdig, da katastrofen skete: Brudgommen (altså topfiguren) faldt og hovedet knækkede af! Jeg fik sat det på igen med en lille klump hvid fondant (derfor er hans hals hvid nu), ventede på at den tørrede, og satte den på kagen igen, hvor jeg så godt kunne se, at gommen som havde stået fint derhjemme i en uge, og også kunne stå fint i den medbragte transportkasse, langsomt begyndte at hælde bagover. Selv med en klump marcipan bagpå som støtte og tyloselim under, ville han bare ikke stå. Alle mulige alternative løsninger blev forsøgt (blandt andet overtrak jeg en kageplade, som han godt ville stå på, med sugarveil blonder, satte ham på - men nu sad bruden fast på kagen, og hendes slæb, ville sandsynligvis knække af, hvis jeg forsøgte at løsne hende, så den gik ikke), men til sidst så hjalp en lille ekstra klump marcipan under fødderne på ham - dvs, det fungerede i den time, jeg blev på stedet, for at sikre mig, at han blev stående, og han stod også, da jeg snakkede med min søster lidt senere, men efter endnu en time, ringede min søster - nu var han faldet igen, hovedet knækket af igen, og jeg var smuttet, så intet reparationsgrej. Hun fik limet hovedet på igen med vand, og så fik han ellers en tandstik bagpå som rygstøtte, og så bilder de mig alle ind, at han så stod fint (Jeg har på fornemmelsen, at ingen tør fortælle mig andet, da det vist var tydeligt, at jeg var knust). Jeg kunne egentlig ikke forstå at han ikke ville stå, da han godt ville stå på bordet derhjemme, og kagen var i vater, men min søster bemærkede, at bordet stod og vippede, så det er en sandsynlig årsag.
The cake was extremely heavy (at least 25 kilos according to my sister's boyfriend, who was nice enough to carry it down from 6th floor and up the stairs at the venue), and it did end up with some damage during transport - the bottom layer was flattened on 2 of the sides by the box it was transported in. I corrected it as best as I could and finished decorating the cake at the venue, when disaster hit: The groom (the topper that is) fell backwards and lost his head! I reatteched the head using some white fondant (which is why he has a white neck now), waited for it to dry and put it back on the cake. After a little while, I could see he started leaning backwards again, even though he had stood without problems at home for a week, and stood fine in the transport box as well. Even with a clump of marzipan behind him, and tylo-glued to the cake, he just would not stand. All sorts of alternative solutions were attempted (including covering a cakeboard that he stood fine on with sugarveil laces, attaching him, and then realizing that I wouldn't be able to get the bride of the cake in one piece - the train would likely brake off, if I tried), but in the end a little marzipan pedestal to place him on worked. Well, it worked for the hour that I stayed to make sure he wouldn't fall again, and he was still standing a short while later, according to my sister, but after yet another hour, my sister called - he'd fallen again, and lost his head again, and I had taken the rep. kit with me, when I left. She managed to glue the head back on with water, and supported him with a toothpick behind him, and then I have been told that he kept standing (allthough I have a feeling that noone dared to tell me otherwise, as I was obviously crushed already). I actually couldn't understand why he wouldn't stand on the cake, since he stood just fine on the table at home, and the cake was level, but according to my sister, the table was shaky and that would be a likely cause.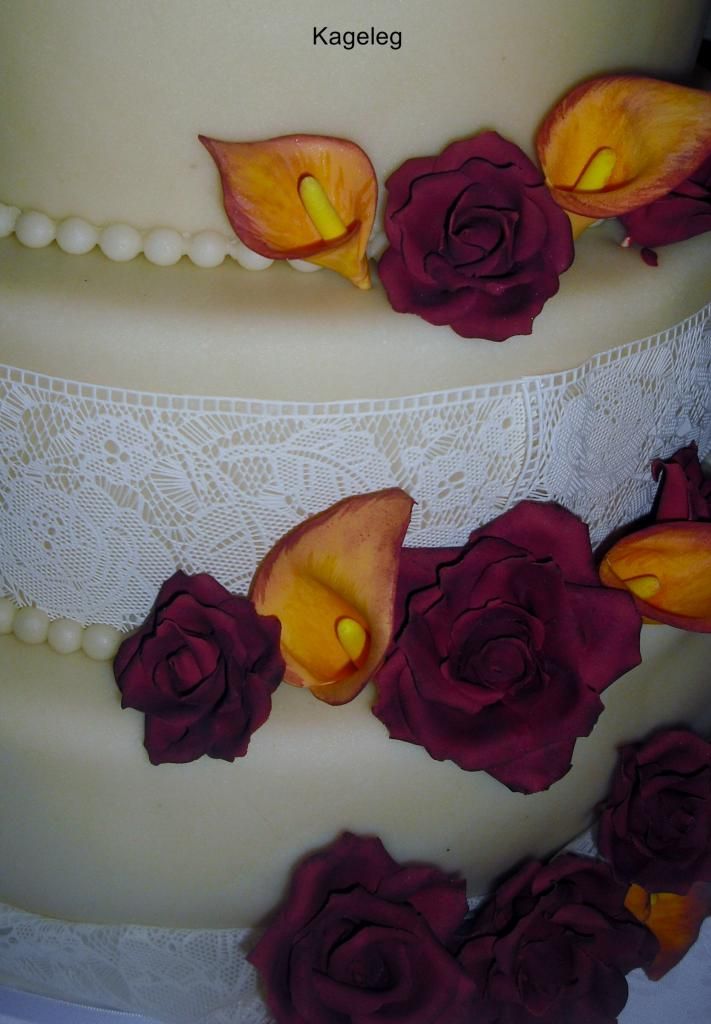 Hvad har jeg så lært af dette?
1. Til så tung en kage, skal jeg have planlagt designet, så kagen kan transporteres usamlet.
2. Enten skal jeg finde ud af, hvor man kan få kagefade, eller drums større end 40 cm (ikke set indtil videre), ellers også kan nederste kage altså ikke være 35 cm. Selvom jeg var klar over, at der ikke var plads til meget pynt i bunden, så havde jeg ikke regnet med at transportkassen som er beregnet til 40 cm fad, ville komme for tæt på kagen når den kommer så langt ud på fadet.
3. Hvis kagen transporteres i dele, så skal jeg finde mig i ikke at bruge seperatorplates med fødder, eller have fundet ud af, hvordan lag anbragt på fad med fødder kan transporteres sikkert.
4. Jeg bruger normalt enten tandstikker eller rå spagetti som støtte i topfigurer. Fordelen ved spaghetti er at det er nemt at afkorte i den rigtige højde efterhånden som figuren tager form - ulempen er så åbenbart, at hvis figuren falder, så er den lidt for nem at afkorte i den forkerte højde (så hovedet kan knække af f.eks?). Selv om grillspyd som går længere ned end figuren, gør det umuligt at sætte figuren ned, når man tager den af kagen, så må det være at foretrække, da en figur stukket ned i kagen vil være mere stabil, selv om kagen (eller bordet) hælder.
5. IMBC og stuetemperatur, der er nærmere køleskabstemperatur er en dårlig kombination under opsmøring af kagen. (Køkkenet var klargjort til renovering, og uden varme).
6. Overtræksmarcipan er ikke så slem at overtrække med som frygtet - dvs på store kager. Jo mindre og højere kager, desto sværere at undgå folder i siden. Så blandingsforholdet må indeholde mere fondant (op til 50 pct) ved mindre kager.
7. Medbring alle farverester i reperationskittet.
So what did I learn?
1. For such a heavy cake, I have to plan the design, so the cake can be transported in seperate layers.
2. Either I have to figure out where to get cake stands or drums bigger than 40 cm (not seen so far) or the bottom layer can't be 35 cm. Even though I knew there wasn't room for much decorating at the base layer, I hadn't expected the tansport box, which is made for 40 cm bases, to damage the base layer.
3. If the cake is transported in layers, I have to put up with not using seperator plates with feet, or figure out how to transport layers on feet safely.
4. I usually use toothpicks or raw spaghetti as support in toppers, as both are food-safe. The advantage to using spaghetti is that it is easy to shorten the length, as the topper takes form - the disadvantage is that apparently is is too easy too shorten it at the incorrect length (i.e. so the head can break off?). Even though wooden skewers, that go further down than the topper, make it impossible to put the figures down when you take them off the cake, this would still be the best option, as a figure skewered down into the cake is less likely to fall, even if the cake (or the table) isn't level.
5. IMBC and room temperature, which is really closer to refridgerator temperature, is a bad combination. (The kitchen had been prepared for major renovation and was without heating).
6. Marzipan is not as horrible to cover the cake with as suspected - at least on big cakes. The smaller and taller the cake, the more difficult it is to avoid creases on the sides. So mix more fondant in (up to 50 pct) if making smaller cakes.
7. Include all leftover colours in the rep. kit.