Øv øv, jeg har ingen fondant at lege med (min pakke blev væk i posten *snøft*), men så har jeg så mange andre "rester" i skabene, som jeg bør se at få brugt, så nu må jeg "nøjes" med at lave lidt "almindelige" kager. (Er kager nogensinde almindelige?)
Bah, I have no fondant to play with (my package got lost in the mail *cry*), but I have so many other "leftovers" laying around that I need to use (darn expiry dates), so now I have to "settle" for making more "normal" cakes - if there is such a thing?
Denne gang var det den 11-åriges tur til at hjælpe, og vi lavede en Daddelkage med Chokorangecreme - inspireret af en opskrift fra den færøske kogebog "
Søtt & leskiligt
".
This time it was the 11 year old's turn to help, so we made a Date Cake with ChocolateOrange Cream - inspired by a recipe from the Faroese cookbook "Søtt & leskiligt".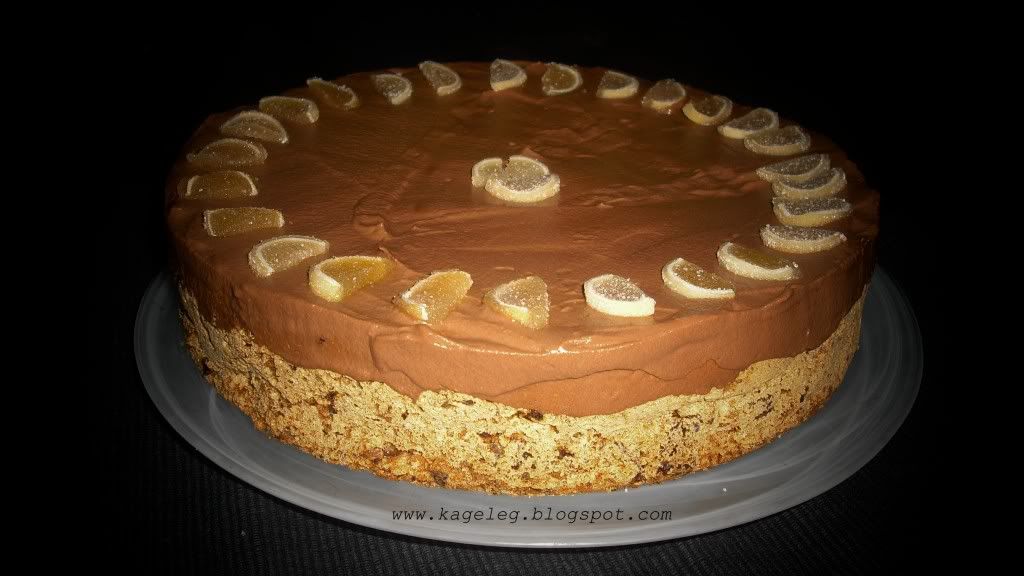 Opskrift på daddelkage/Date Cake recipe:
6 æggehvider/
eggwhites
200 g sukker/
sugar
250 g mørk chokolade/
unsweetened chocolate
100 g dadler
/dates
150 g valnødder/
walnuts
50 g mandler/
almonds
Pisk æggehviderne stive og pisk sukkeret i lidt af gangen. Hak chokolade, dadler og nødder groft og vend det i æggehviderne. Dejen kommes i en smurt 26 cm springform, som er beklædt med bagepapir i bunden. Bages i ca 90 min ved 160 grader.
Beat the eggwhites until stiff peaks form, then gradually add sugar. Coarsly chop chocolate, dates and nuts and gently fold it in the eggwhites. Pour the mixture in a buttered 26 cm tin lined with greaseproof paper. Bake for 90 minutes at 160 degrees.
Opskrift på Chokorangecreme/ChocolateOrange Cream recipe:
100 g mørk chokolade/
unsweetened chocolate
3/4 dl cointreau/
orange liqueur
2 tsk/
tsp
friskpresset citronsaft/
freshly squeezed lemonjuice
2 1/2 dl fløde/
whip cream
Smelt chokoladen over vandbad. Tilsæt likør og citronsaft og rør godt rundt. Fløden piskes til skum (ikke for stift). 2 store spsk flødeskum røres i chokoladeblandingen (som ikke må være varm), og derefter vendes chokoladeblandingen i resten af flødeskummet. Smøres på kagen, når den er kølet af.
Gently melt the chocolate (microwave or double-boiler style). Add liqueur and lemonjuice and stir well. Whip the cream. Stir 2 big tbsp whipped cream in the chocolatemixture (which shouldn't be warm), and then fold the chocolatemixture into the rest of the whipped cream. Spread over cake, when cooled.