Jeg plejer tit at lave en del "masseproduceret" konfekt, men havde engentlig ikke tænkt mig at lave noget i år. Så faldt jeg over en opskrift på orange-fudge med peanutbutter, som jeg absolut måtte prøve, og før jeg vidste af det, så havde jeg alligevel rodet mig ud i lave 9 forskellige slags konfekt:
I often "massproduce" confections, but hadn't planned to do that this year. But then I found a recipe for Orange-Fudge with Peanutbutter, which I had to try, and all of a sudden I had made 9 different kinds anyway: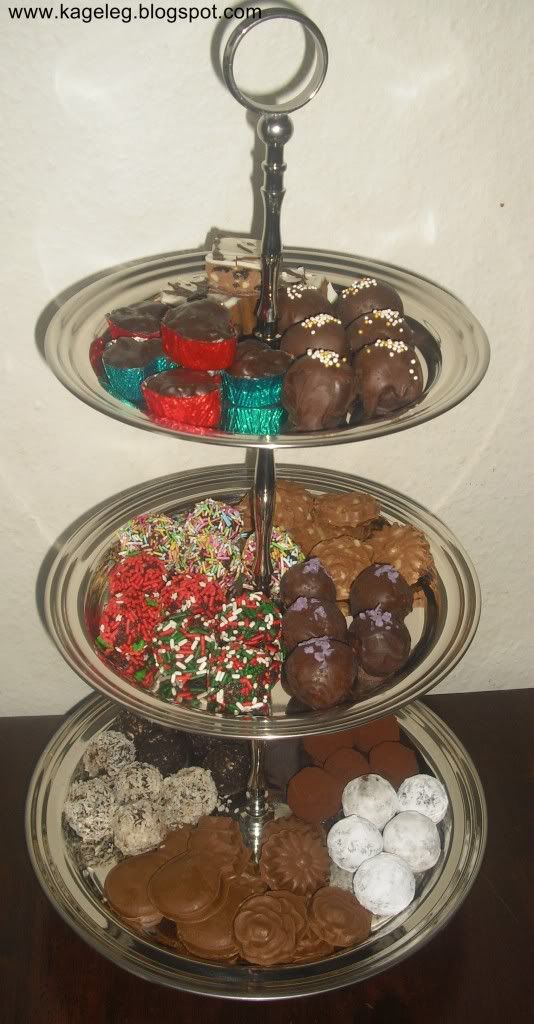 Opskriften var Anne Hjernøe's og de er helt vildt gode. Næste gang vil jeg dog undlade appelsinen - ikke fordi de ikke var gode, men bare fordi jeg kan finde på at lave en hel del med appelsinsmag, mens jeg faktisk aldrig laver nogen med peanutsmag. Hvis man ikke kan få fat i kondenseret mælk, er her en opskrift på hvordan man laver den selv:
Kondenseret Mælk
The recipe is Anne Hjernøe's and they are really good. Next time, I will try to make them without the orange though. Not because it wasn't good, but because I often make various confections with orange taste, but actually never make any with peanutbutter.
Opskrift på Orange-fudge med Peanutbutter/Orange-Fudge with Peanutbutter recipe
:
100 g mørk chokolade (min 70%)
/dark chocolate (min. 70%)
100 g peanutbutter
1 dl kondenseret mælk
/sweetened condensed milk
1/2 dl piskefløde
/whipping cream
1/2 dl usaltede, uristede jordnødder
/unsalted, untoasted peanuts
2 øko appelsiner, fintrevet skal af
/finely grated unwaxed oranges.
150-200 g mørk chokolade (min 70%)
/dark chocolate (min 70%)
Bræk chokoladen i stykker (eller hak den) og kom den i en gryde sammen med peanutbutter og kondenseret mælk. Lad det hele smelte, mens du rører det godt sammen. Tilsæt fløden og pisk massen blank. Kom jordnødderne på bagepapir og kom dem i ovnen ved 110 C i 10-15 minutter, eller til de er gyldne og sprøde (Tog altså betydelig længere tid i min ovn). Lad dem køle af, hak dem groft og tilsæt dem sammen med den fintrevne appelsinskal. Rør det hele godt igennem.
Kom massen i en form smurt med smør og stil den i køleskabet 4-5 timer, gerne til næste dag. Når massen er helt kold, smeltes chokoladen til overtræk i en skål over vandbad. Rul kugler af fudgen og dyp dem i den flydende chokolade. (Jeg lavede kuglerne, og satte dem på køl igen, mens jeg smeltede chokoladen - de blev nemlig ret klistrede af at blive trillet til kugler).
Chop the chocolate and put it in a pan with the peanutbutter and condensed milk. Melt it while stirring well, add the cream and whisk until glossy. Toast the peanuts on bakingpaper for 10-15 minutes at 110 C, or until they are golden and crunchy (Took quite a bit longer in my oven). Cool the nuts off, coarsly chop them and add them to the fudge with the grated orange. Stir well.
Put the fudge in a buttered pan and refrigerate for 4-5 hours or over night. When the fudge is completely cold, the chocolate is melted in a double boiler. Roll balls from the fudge and dip them in the melted chocolate. (I made the balls, and refrigerated them again while melting the chocolate, as they got quite sticky from being rolled).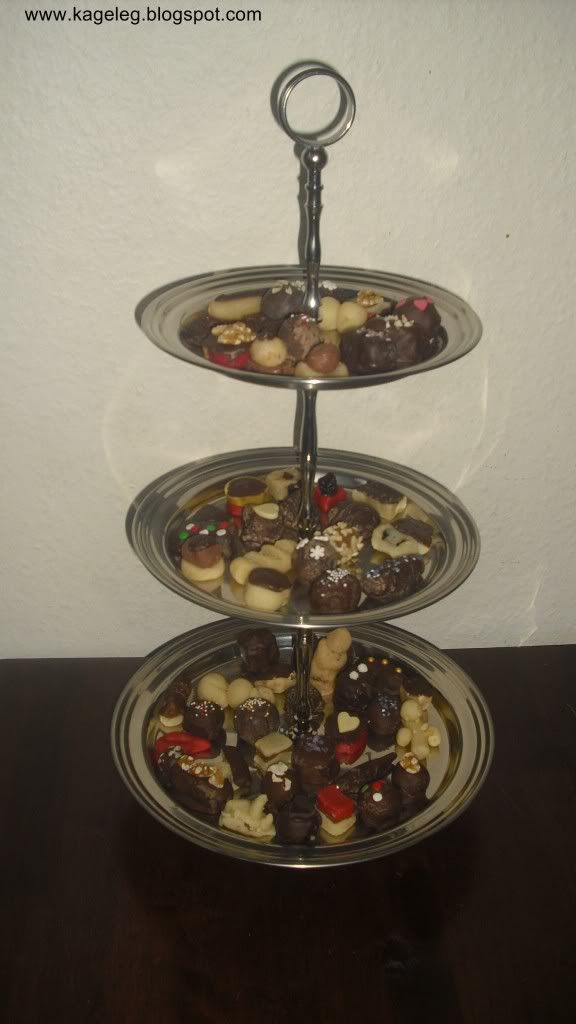 Det vi til gengæld ALTID laver, er konfekt med børnene, hvor eneste regel er, at der IKKE må være 2 ens stykker konfekt. Hvis det så sker at 2 ser ens ud, så kan man i hvert fald være sikker på at der ikke er det samme inden i. Lige som jeg husker det fra min barndom - omend det måske kun var en regel der galdt for mig selv dengang. I år var det dog kun den 6 årige, der lavede konfekt, da de store var hos deres far, og den yngste trængte til at sove. Så måtte vi få Daddy til at hjælpe med at lave konfekt, da det hjælper at være flere, når fantasien lige pludselig går i stå. Så lavede vi til gengæld 3 gange så mange som på billedet.
What we do EVERY year is make confections with the kids, where the only rule is, you can't make 2 pieces that look the same. And if they do happen to look the same, you can be sure, they don't contain the same filling. This is just as I remember it from my childhood - allthough the rule back then might only have applied to me. I always made rules up for myself, whether I was playing cards, or cooking, or... This year, I only had the 6 year old to help make confections as the big kids were with their dad and the youngest needed some sleep. So we made Daddy join us, as it is nice to have more people when the imagination occationally fails us. Maybe it wasn't needed though as we made 3 times as many as on the picture.