Normalt spiser jeg gerne sukker- og fedtfattigt, men når det kommer til kager og andre søde sager, så synes jeg simpelthen at det er selvmodsigende at spare på det "gode". Så hellere spise mindre af det. Ikke desto mindre, så brugte jeg både Cheasy Fraiche og Becel Light i denne opskrift. Ikke at kagen på nogensomhelst måde blev fedtfattig af den grund, men jeg havde nogen rester, som jeg gerne ville have brugt op. Og når man har så syndig en glasur, så kan man komme af sted med hvad som helst i kagen:
Generally I prefer eating low sugar and low fat products, but when it comes to cakes and other sweets, I find it inappropriate to hold back on the "good stuff". I'd rather have a small piece of really tasty cake, than be able to eat more of a cake, where the taste has been comprimised. Nevertheless, I used low fat sour cream and margarine in this recipe. Not that the cake in any sort of way ended up low fat - I just had some leftovers, that I wanted to use. And when the topping is as sinfull as this one, you can get away with anything with the cake anyway: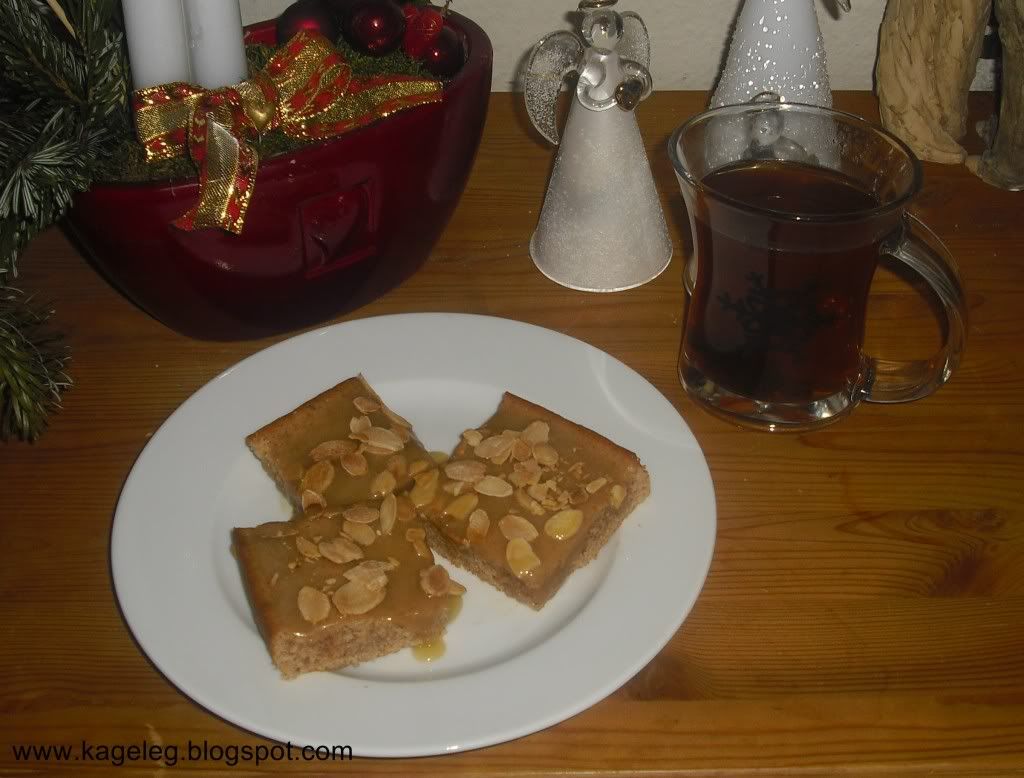 Opskrift på Krydderkage med Karamelglasur/Spiced Cake with Caramel Topping recipe
:
1 æg
/egg
160 g sukker
/sugar
1 1/2 dl creme fraiche
/sour cream
180 g mel
/flour
1 tsk
/tsp
kardemomme
/cardamom
1 tsk
/tsp
nellike
/cloves
1 tsk
/tsp
ingefær
/ginger
1 1/2 tsk
/tsp
kanel
/cinnamon
1 1/2 tsk
/tsp
bagepulver
/baking powder
50 g margarine
Glasur/
Topping
:
2 dl fløde
/whipping cream
1/2 dl lys sirup
/light syrup
80 g sukker
/sugar
50 g mandelflager
/flaked almonds
Pisk æg og sukker let og luftigt og rør creme fraichen i. Bland de tørre ingredienser og sigt dem i massen. Rør til sidst smeltet, afkølet margarine i. Hæld dejen i en lille smurt bradepande og bag ved 175 C i ca 20-25 min.
Glasur: Kog fløde sammen med sukker og sirup til en tynd sauce. Hæld den over den afkølede kage og drys den med mandelflager, der er i ristet i 3-4 minutter i en 200 C varm ovn.
Beat egg and sugar well and stir in the sour cream. Mix the dry ingredients, sift and stir them in. Stir in melted, cooled margarine and pour the batter in a small, greased baking pan. Bake at 175 C for 20-25 minutes.
Topping: Bring cream, sugar and syrup to a boil and let it reduce to a thin sauce. Pour over the cool cake and sprinkle with almond flakes that are roasted for 3-4 minutes at 200 C.
Gløggen smagte dejligt, dog var den lidt stærk for mig, og tror helt sikkert at jeg vil holde mig til cider eller rødvins versionerne.
The mulled wine was tasty, but a little too boozy for me. Think I have developed a taste for the apple cider based ones, beside our traditional mulled red wine.
Opskrift på Gylden Gløgg/Golden Mulled Wine recipe
:
7 1/2 dl halvtør hvidvin
/semi dry white wine
60 g farin
/brown sugar
1 tsk
/tsp
hel kardemomme
/whole cardamom
1 stykke hel ingefær
/piece whole ginger
12 stk hele nelliker
/pieces of whole cloves.
Hæld vinen i en gryde sammen med farinen. Læg alle krydderierne i og varm igennem under let omrøring. Sluk, læg låg på gryden og lad det stå og trække i nogle timer. Si krydderierne fra og varm vinen op igen (må ikke koge).
Pour the wine in a pan with the brown sugar. Add all the spices and heat through while stirring occasionally. Turn the heat off, put the lid on and leave for a few hours. Strain the spices and warm up the wine again (without boiling).