Jeg elsker at bage med børnene, men jeg må indrømme, at jeg er meget bedre til at tage mig tid til det i julemåneden end resten af året. Det har nok noget at gøre med traditionerne - dem skal man jo bare tage sig tid til :) I disse dage er problemet så bare, at hovedet er fyldt med fondant-idéer, og det er ligesom om alle de børnevenlige bare er feset ud. Derfor blev jeg så glad, da jeg faldt over denne Nissekage, som selv en fem årig kan være med til at pynte. Dvs, det kan han, hvis mor ellers husker at prøve at sprøjte glasuren ud, inden hun bare siger: "Det skal være lidt svært. Bare tryk til!", når han klager over, at det er svært at få glasuren ud. Da jeg tog over, måtte jeg indrømme, at glasuren vist var blevet liiige lovlig tyk, så det var en ommer, og så kunne han selv:
I love baking with the kids, but somehow I am much better at making time for it during December, than the rest of the year. Probably because traditions is something you just have to make time for :) Unfortunately, my head seems to be full of fondant ideas these days, and all childfriendly ideas have just gone missing. That is why I was glad to find this Elf Cake, which even a 5 year old can help decorate. That is, if Mommy would remember to try the icing before telling him, that it is supposed to be a bit difficult, and to just squeeze really hard. When I had to take over, I found the icing was definately too thick, so I had to fix that, so he could try again :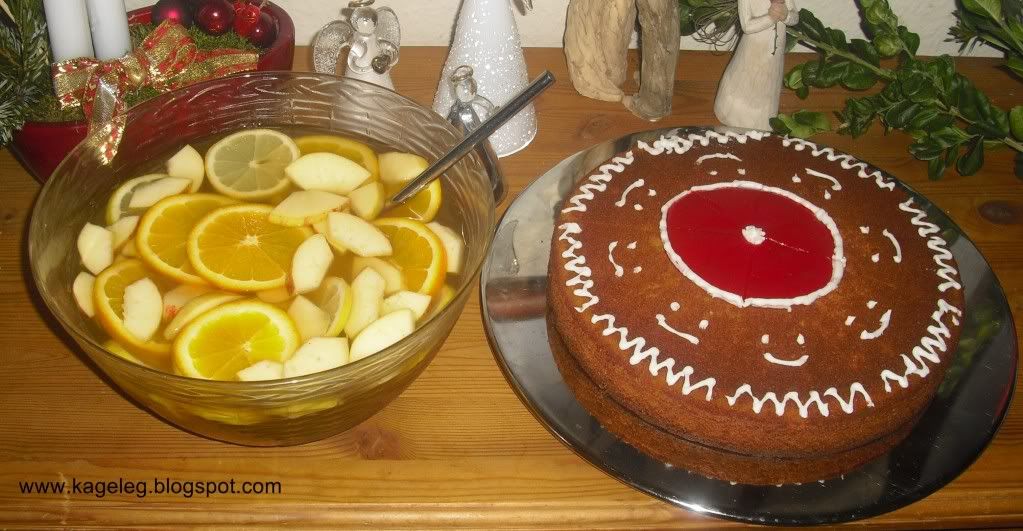 Kagen var en appelsinkage, som smagte så godt, at selv manden måtte indrømme, at den var god, af en hvid kage at være - og det er så stor en kompliment, som man kan få af den englænder.
The cake was an Orange Cake, which tasted so good, that even the husband had to admit, that it wasn't bad for a white cake - and that is as big a compliment as we're going to get from that Brit :p
Både ide, og opskrift er iøvrigt fra Amo's julebagebog. Den er blevet flittigt brugt i år, men nu må vi da også snart være færdig med den bog :)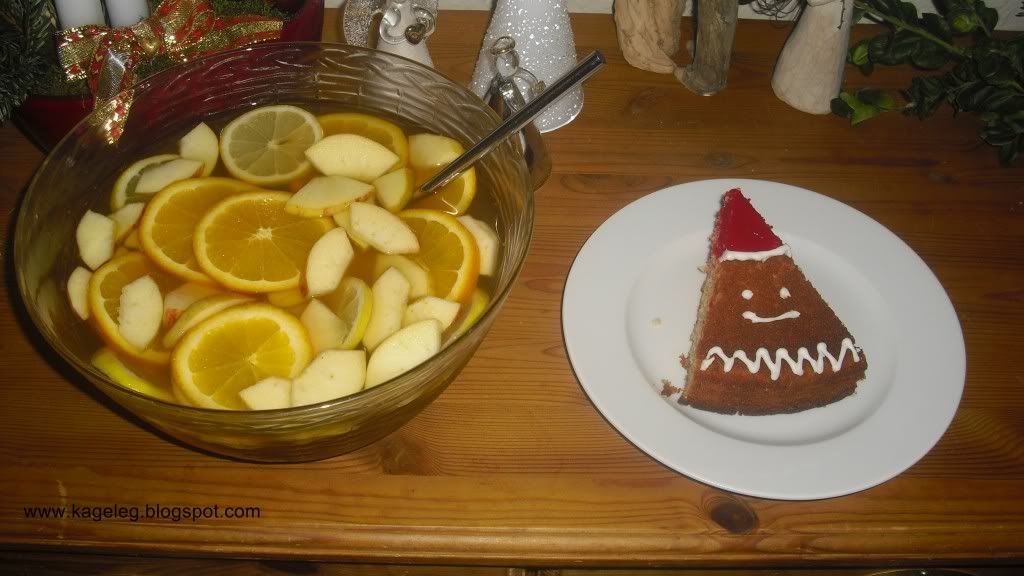 Opskrift på Appelsinkage/Orange Cake recipe
:
250 g mel/
flour
250 g smør el. margarine
/butter or margarine
200 g sukker
/sugar
4 æg
/eggs
4 spsk
/tbsp
orangemarmelade
1 tsk
/tsp
bagepulver
/baking powder
Lage/
Syrup
:
Saft af 2 appelsiner
/Juice from 2 oranges
75 g sukker
/sugar
1. Blødgør smørret uden at smelte det.
2. Rør smør og sukker godt sammen
3. Rør æggene i, et ad gangen.
4. Bland mel og bagepulver og vend det i dejen sammen med orangemarmeladen, og kom dejen i en springform.
5. Bag kagen nederst i ovnen ved 175 C i ca 45 min.
6. Kog en lage af appelsinsaft og sukker og afkøl den. Hæld appelsinlagen over den varme kage straks den kommer ud af ovnen. Lad den stå til lagen er trukket helt ned i kagen.
1. Soften the butter without melting it.
2. Beat butter and sugar well.
3. Stir the eggs in, one at a time.
4. Mix flour and baking soda, fold it in the batter with the orangemarmelade, and pour the batter in a round pan.
5. Bake the cake in the lower part of the oven at 175 C for 45 minutes.
6. Boil orangejuice and sugar to make the syrup, and let it cool off. Pour the syrup over the hot cake as soon as it is out of the oven. Let it soak in completely before turning the cake out of the pan.
Opskrift på Julebowle/Christmas Punch recipe
: ca 1 1/2 L
1 1/2 L æblecider
/applecider
2 røde æbler (ikke overfladebehandlet)
/red apples (non-waxed)
4-5 appelsiner (ikke overfladebehandlet)
/oranges (non-waxed)
2 citroner (ikke overfladebehandlet)
/lemons (non-waxed)
5 stk hel kanel
/whole cinnamon
2 1/2 tsk hele nelliker
/whole cloves
1 1/2 dl rosiner
/raisins
evt et kraftigt stænk cognac el. vodka
/perhaps a good splash of cognac or vodka.
Skrub og skyl alle frugter omhyggeligt. Tag et æble, to appelsiner og en citron fra til senere brug. Del det andet æble i kvarter og fjern kernehuset. Skær æblebåde og citrusfrugter i skiver. Hæld cideren i en stor gryde sammen med den udskårne frugt og krydderierne og varm op til kogepunktet. Skru ned for varmen og lad det småsimre i ca 8-10 min. Fjern de kogte frugtstykker og tilsæt i stedet friske, udskårne stykker. Et ekstra pift kan opnås med lidt cognac el. vodka. Serveres gloende hed.
Scrub and rinse all fruits thoroughly. Set a side one apple, two oranges and one lemon for use later on. Quarter the other apple and remove the core. Slice the applequarters and citrusfruits. Pour the cider in a big pot with the sliced fruit and the spices and bring it to a boil. Lower the heat and let it simmer for 8-10 minutes. Remove the boiled fruit and add fresh, sliced fruits instead. You can add some cognac or vodka for an extra punch. Serv hot.