Hvad er det dog for nogen børn, jeg har opdraget? Min 12 årige havde den frækhed at spørge, hvornår vi skulle have sunde desserter igen???? Jeg troede, at jeg ville være nødt til at skuffe ham, da der overhovedet ikke står sundhed på programmet i december... ok, i hvert fald ikke meget, men så blev jeg enig med mig selv om, at frugt og lidt mørk chokolade - det er vist så sundt, som jeg kan være med til denne måned:
Did I really raise my kids like this? My 12 year old actually asked when we were having healthy desserts again??? I thought, I would have to disappoint him, since healthy is not a word I use in December.... at least not much. But I figured that fruit and a little dark chocolate would be as healthy as I can do this month: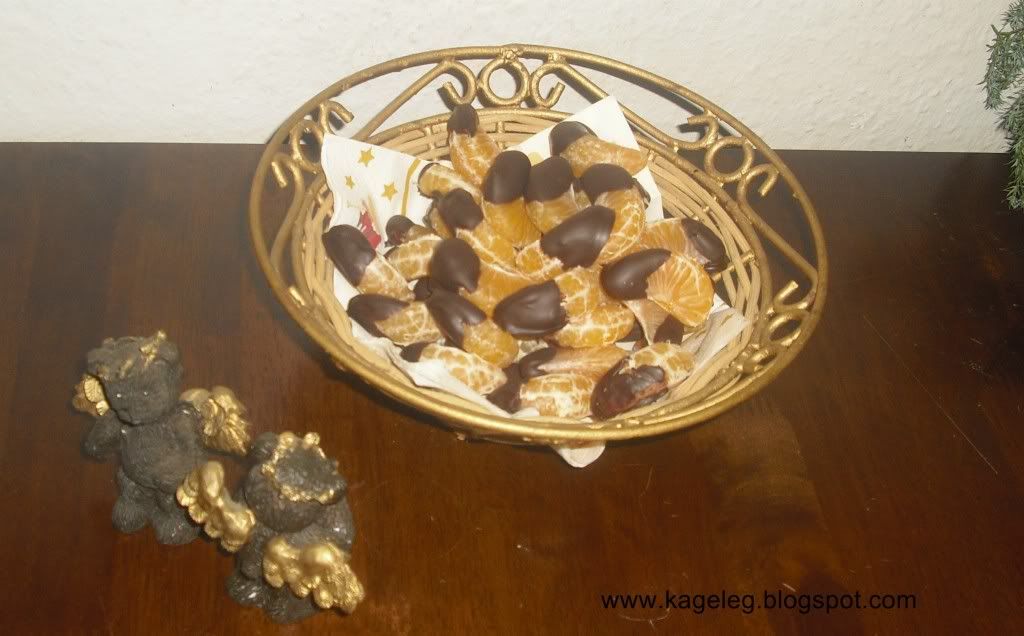 De smagte fantastisk, og består såmænd bare af mandariner i både, dyppet i mørk chokolade (70%). Jeg brugte ca 10 g chokolade pr hel mandarin. Halvdelen af chokoladen smeltes over vandbad, tages af varmen og resten af chokoladen røres i. Dyp mandarinbåde i chokoladen, og lad dem tørre et øjeblik. Serveres ellers straks, da indtørrede mandariner, nok ikke er så lækre.
They taste wonderful, and are just tangerines dipped in dark chocolate(70%). I used about 10g of chocolate for each whole tangerine. Melt half the chocolate in a bowl over barely simmering water, remove from heat and stir in the rest of the chocolate. Dip the tangerine segments in the melted chocolate, and leave them to dry for a moment. Otherwise it should be served immediately, as I am sure dried up tangerines aren't that appetizing.