Ja, nu begynder jeg lige pludselig at have for travlt til at opdatere bloggen. Men bage, det gør vi jo, og disse cupcakes var virkelig lækre:
Well, I seem to finally be too busy to update the blog. But we are still baking, and these cupcakes were delicious: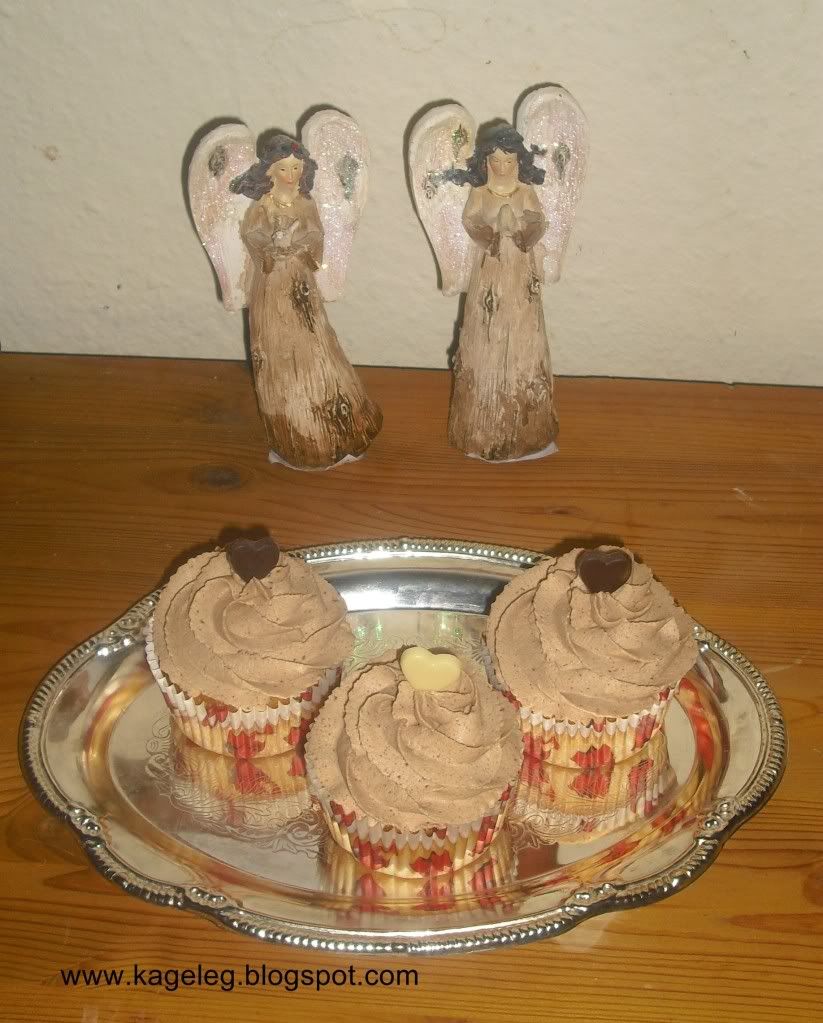 Opskrift på Marcipan Cupcakes/Marzipan Cupcake recipe
: 12 stk/
pieces
2 æg
/eggs
150 g sukker
/sugar
1 tsk
/tsp
vanillesukker
/vanilla sugar
1 dl mælk
/milk
40 g smør
/butter
125 g mel
/flour
1 tsk
/tsp
bagepulver
/baking powder
100 g marcipan
/marzipan
Æg, sukker og vanillesukker piskes tykt og hvidt. Smørret og mælken varmes sammen og vendes i dejen skiftevis med mel og bagepulver. Vend til sidst den groftrevne marcipan i dejen og fordel den i 12 muffinforme. Bages ved 185 C i 15-20 minutter.
Beat eggs, sugar and vanilla sugar until thick and white. Warm up the milk and butter and fold it in the batter alternating with the flour and baking soda. Finally fold in the coarsly grated marzipan and pour the batter in lined muffintin. Bake at 185 C for 15 to 20 minutes.
Opskrift på Nougatcreme/Nougat Creme recipe
: Startes dagen før/
Start a day early
2 dl piskefløde
/Whipping cream
100 g nougat
Nougat og fløde varmes langsomt op i en kasserolle under omrøring, til nougaten er helt smeltet. Rør til du har en helt jævn blanding og hæld cremen i en skål, der er stor nok til at du kan piske fløden i den. Dæk cremen til med plastfolie - helt nede i skålen, så den rører og dækker overfladen og kommer op ad siderne i skålen. Sæt så cremen i køleskabet i mindst 8 timer - gerne natten over. Når du skal bruge cremen piskes den op til en tyk creme. Pas på, det går pludselig stærkt, og hvis du overpisker cremen, skiller den og er ikke til at redde.
Slowly warm up nougat and cream in a pan while stirring, until the nougat is completly melted. Stir until you have a smooth mix and pour the cream in a bowl, big enough to whip the cream in later. Cover the creme with cling film - all the way down in the bowl, so it touches and covers the surface of the creme and comes up the side of the bowl. Put the creme in the fridge for at least 8 hours - overnight is fine. When you are ready to use the filling, whip it until it turns into a thick spreadable creme. Be careful, if you overwhip, the cream separates and isn't recoverable.