Disse cupcakes var utroligt populære herhjemme. De forsvandt simpelthen på 0.5. De består af Martha Stewart's Devil's Food Cake i cupcake version med Cream Cheese Frosting og dyppet i kokosmel.
These cupcakes were extremely popular at home. They disappeared in no time. They are just Martha Stewart's Devil's Food Cake in a cupcake version with Cream Cheese Frosting and dipped in coconut.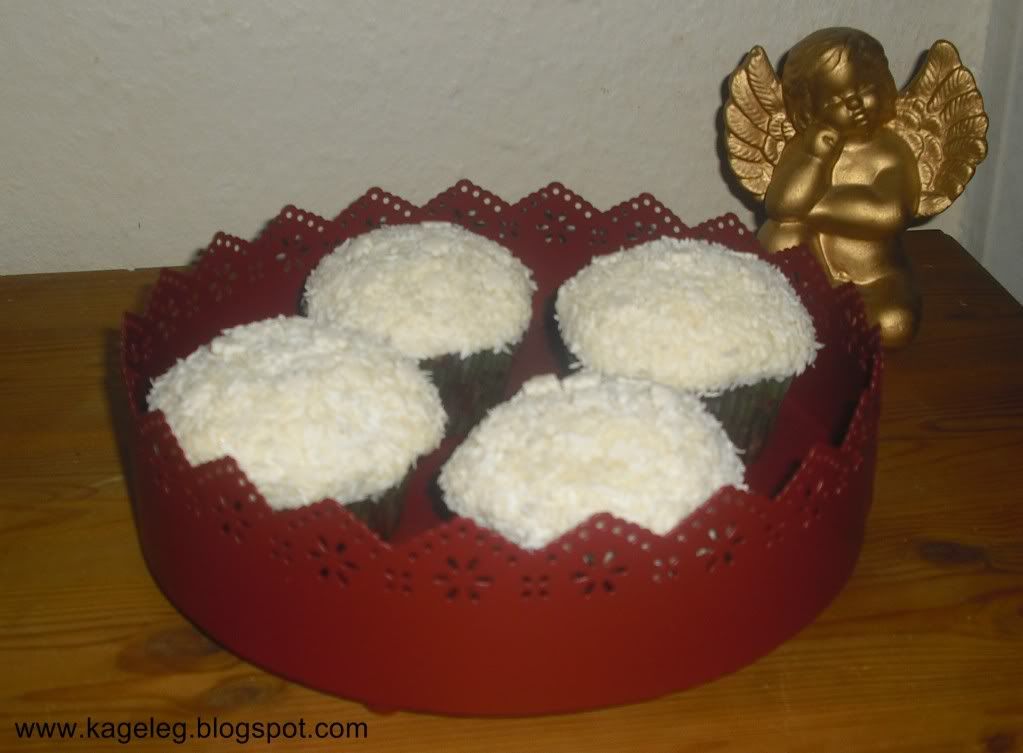 Opskrift på Devil's Food Cake Cupcakes/Devil's Food Cake Cupcake recipe
:
ca 18 stk/
makes 18
3/4 dl kakaopulver/
cocoa powder
3/4 dl varmt vand/
hot water
240 g mel/
flour
1/2 tsk
/tsp
bagepulver
/baking powder
1/2 tsk/
tsp
natron
/soda
1/2 tsk/
tsp
salt
175 g usaltet smør
/unsalted butter
260 g sukker
/sugar
2 æg
/eggs
2 tsk
/tsp
vanilleessens/
vanilla
1 1/4 dl creme fraiche
/sour cream
Pisk kakaopulver og varmt vand sammen til en jævn blanding. Bland mel, bagepulver, natron og salt sammen i en skål. Smelt smør sammen med sukker i en gryde ved jævn varme under omrøring. Tag gryden af og hæld indholdet i en stor røreskål og pisk med elpisker ved mellem hastighed indtil blandingen er kølet af (ca. 5 min). Tilføj æggene enkeltvis og rør godt i mellem hver. Tilsæt først vanilleessens, så kakaoblandingen, og pisk til det hele er blandet. Pisk ved lav hastighed mens du tilsætter melet skiftevis med creme fraiche ad 2 omgange og pisk kun til det lige akkurat er blandet. Fyld dejen i muffinsforme (3/4 fyldt) og bag ved 180 grader i 20 min. Køl helt af.
Mix cocoa and hot water until smooth. In another bowl, mix flour, soda, baking powder and salt. Melt butter with sugar in a saucepan over medium heat, stirring to combine. Remove from heat and and pour into a mixing bowl. With an electric mixer on medium speed, beat until mixture is cooled (about 5 minutes). Add eggs, one at a time, beating until each is incorporated. Add vanilla, then cocoa mixture and beat until combined. Reduce speed to low and add flour mixture in 2 batches, alternating with the sour cream, and beating until just combined after each. Bake in muffin pan (3/4 full) for 20 minutes at 180 C. Cool completely before frosting.
Opskrift på Cream Cheese Frosting/Cream Cheese Frosting recipe
:
115 g usaltet smør(stuetemp.)/
unsalted
butter (roomtemp.)
175 g flødeost (stuetemp.)
/cream cheese (roomtemp.)
250 g flormelis, sigtet/
icing sugar, sifted
1 tsk/
tsp
vanilieessens
/vanilla
ca 75 g kokosmel/
dessicated coconut
Pisk smør og flødeost sammen indtil let of luftigt. Ved lav hastighed tilsættes flormelis, 1 dl ad gangen. Tilsæt vanilie til sidst og pisk indtil cremen er jævn. Hæld et par skefulde frosting på hver cupcake og dyp straks i kokosmel.
Whisk butter and cream cheese together until light and fluffy. Reduce speed to low and add icing sugar, 1 dl at a time, and then vanilla. Mix until smooth and combined. Spoon some frosting on top of each cupcake and immediately dip in the coconut.