Den 12 årige skulle have kage med i skole til klassens time, og havde store forventninger om at jeg ville hjælpe ham med at lave en "fantastisk" kage! Og jeg siger hjælpe, for de skal altså selv være med til at lave kagen. Jeg var nu ikke så svær at lokke, fordi han faktisk sagde til i god tid, og jeg har altid haft lyst til at lave en jule/vinter kage, men plejer at have alt for travlt i december til pyntede kager - som regel fordi jeg pynter småkager :p
My 12 year old needed to bring a cake to school. They take turns bringing cake once a week, and he had big expectations of me helping him make a great cake. And I do mean help, because they do have to help make the cake themselves. He didn't have a hard time convincing me, since he actually told me way in advance, and I have always wanted to make a Christmas/Winter cake. I am just usually too busy in december to make decorated cakes - usually because I am too busy decorating cookies :p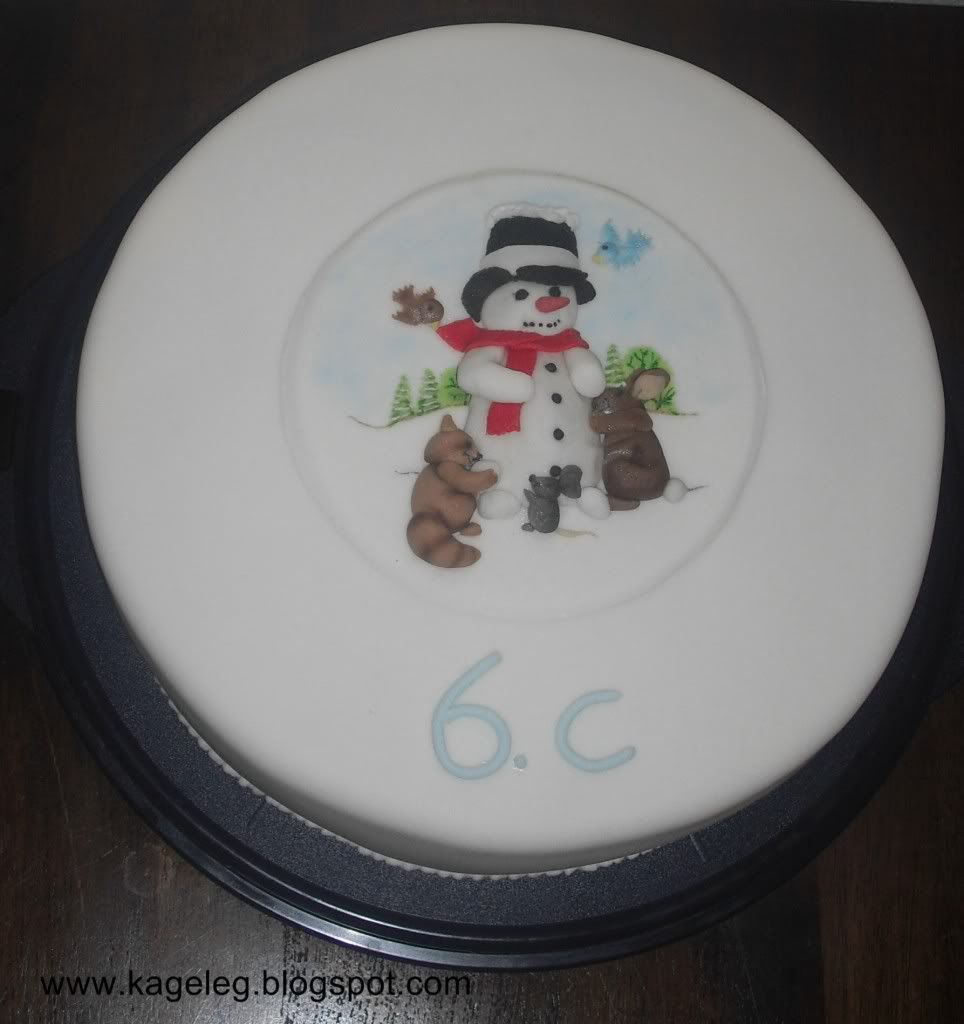 Kagen fik han planlagt, inden jeg vidste at vi skulle have en kage med til håndboldstævnet i weekenden, så nu blev det til 2 jule-kager i år. Faktisk bliver det til 3, hvis alt går som planlagt, da manden jo er englænder, og vi derfor også skal have en pyntet frugtkage til jul i år... men den bliver nok knap så pyntet, hvis jeg kender min julestress godt nok :)
He planned the cake before I knew we needed to bring one for his handball team last weekend, so now I got to make 2 Christmas cakes this year. Actually if all goes well, it will be 3 cakes, as my husband is British and we will be having a decorated fruitcake for Christmas this year... probably not much decorated though, if I am as stressed around Christmas as usual :)
Kagen er
Lette Lagkage-bunde
med
Skildpaddecreme
og
Hvid Chokoladecreme med Dajm
, smurt op med
IMBC
og pyntet med Wilton's fondant og RI.
The Cake is Sponge Layer Cake with Caramel-Chocolate Creme and White Chocolate Creme with Dajm. The cake is covered in IMBC and Wilton's fondant and the decorations are made of fondant and RI.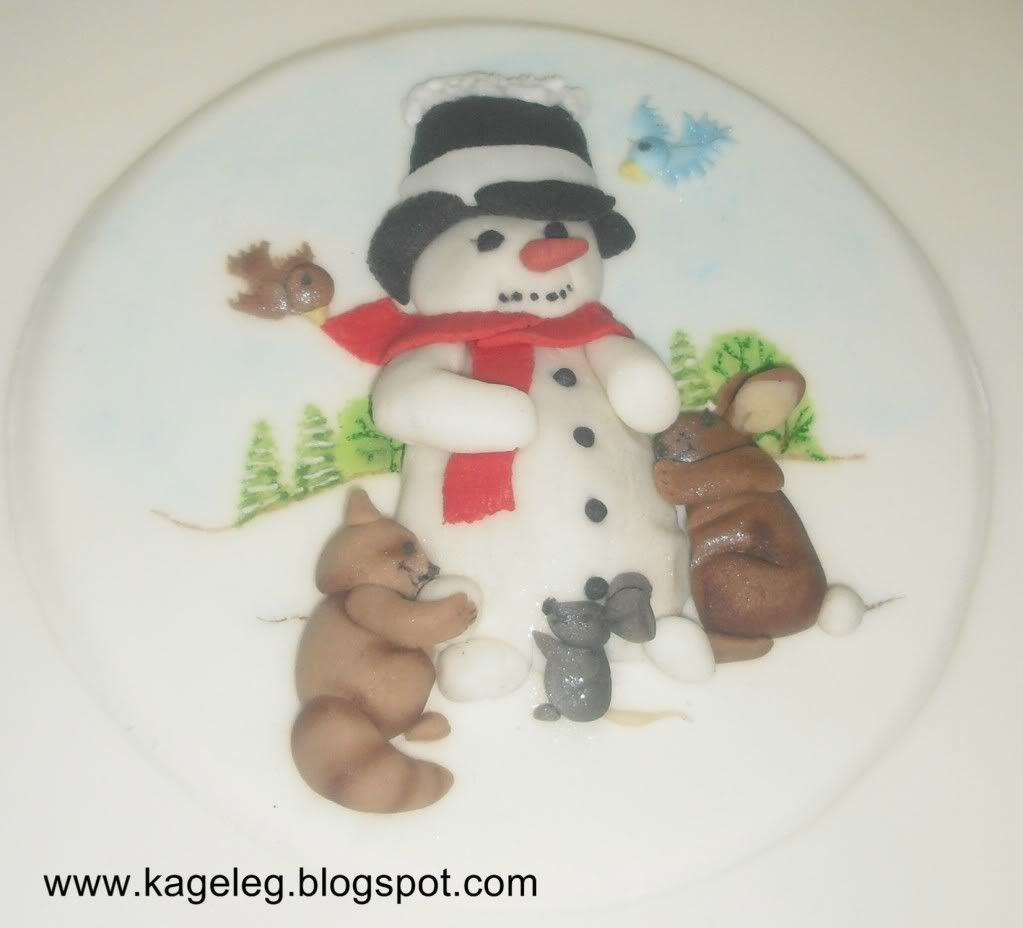 Sønnen har selv været med til at bage, lave fyld, dele kagen i bunde, fylde den og smøre den op, men overlod så pynten til mig. Den var sjov at lave, men tidskrævende. Nogen gange tager det urimelig lang tid at gøre ting, som jeg tror vil være hurtigt overstået. Blandt andet tog det længere tid at få trillet de små sorte knapper, øjne, næser og tænder end jeg lige troede, og MEGET længere tid at få dem sat fast! Selv om der var lavet huller med tandstik/pensel/balling tool og tyloselim var puttet på, så ville de små tingester absolut hellere hænge fast i mine fingre, tandstik, pincet eller hvad jeg nu prøvede at få dem på plads med!
Egentlig havde jeg også planlagt en del pynt til sidst, hvor jeg skulle bruge min sugargun, men fondanten ville bare ikke komme ud af den. Jeg prøvede forskellige typer fondant, jeg prøvede at smøre gun'en indvendigt, jeg prøvede håndvarmt, "under lår"-varmt, mikrovns varmt og hvad ved jeg, men der var ikke noget, der virkede! Og JA, den var altså samlet rigtigt! Jeg brugte selvfølgelig så lang tid på at prøve, at jeg ikke havde tid til alternative løsninger. Typisk mig! Jeg er altså ikke særlig god til at opgive en plan, når først jeg har lavet den :/
My son helped bake the cake, make the filling, split the cake into layers, fill it and butter it, but then he left the decoration up to me. It was fun to make, but timeconsuming. Sometimes it takes me extremely long time to make something, I expect to be simple. It took me way longer to roll the small black balls for eyes, noses, buttons and teeth than I expected and WAY longer to actually get them stuck in place! Even though I had made holes with toothpick/paintbrush/balling tool and glue was added, those little things insisted on sticking to my fingers, toothpick, tweezer or whatever I tried to place them with!
I had also planned to use my sugargun for final decorations, but the fondant just refused to squeeze through today. I tried different types of fondant, tried coating the inside of the gun with shortening, I tried handwarm, "sat on"-warm, microwaved and what ever else I could think of, but nothing worked! And yes, the gun WAS assembled correctly! I ended up wasting so much time trying, that I didn't have time for any alternative solutions. That is quite typical of me - I am horrible at giving up on a plan, once I've made it :(