Så gik endnu en dag med at pleje syge små og store, men kalenderhygge er der altid tid til og denne gang fik vi nogen helt vidunderlige brownies og de voksne kaffe-elskere fik en mindst lige så lækker mokka:
Another day spent caring for the little and big ill ones, but we always find time for a Christmas treat, and this time we had some really good brownies and for the grown up coffee-lovers we had an awesome mocha too: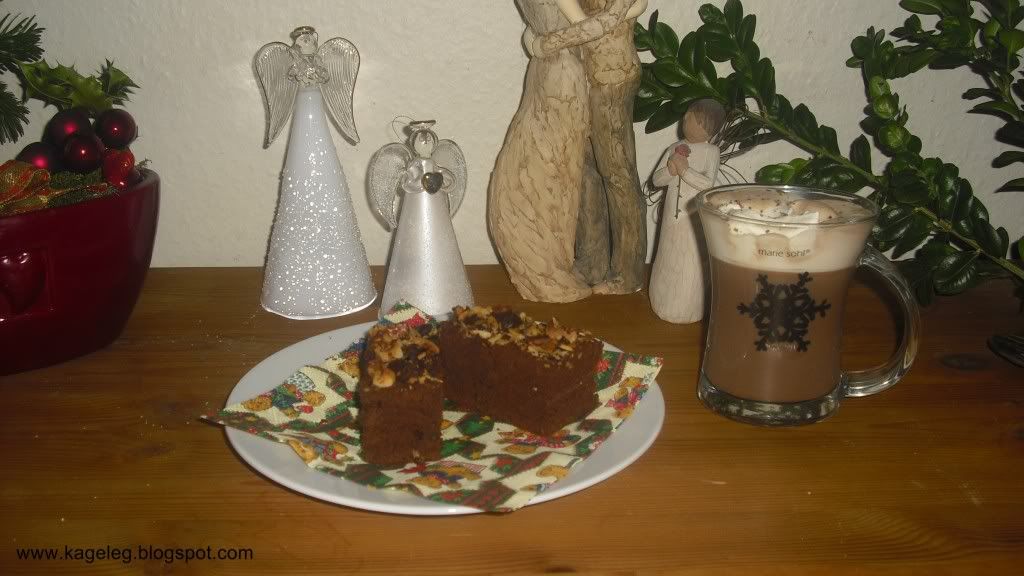 Opskriften på jule brownies er fra AMO's Store Julebagebog.
Opskrift på Jule Brownies med Bailey/Christmas Brownies with Bailey recipe:
250 g mel/
flour
200 g mørk chokolade
/dark chocolage
50 g blød nougat
/ soft nougat
200 g smør
/butter
250 g muscovado sukker eller brun farin
/muscovado or brown sugar
4 æg/
eggs
1/2 dl Bailey
1 tsk
/tsp
kanel
/cinnamon
2 tsk
/tsp
vanillesukker
/vanilasugar
2 tsk/
tsp
bagepulver
/baking powder
Pynt/
Decoration
:
100 g hakkede nødder
/chopped nuts
75 g hakket mørk chokolade
/chopped dark chocolate
1. Smelt chokolade, nougat og smør i en tykbundet gryde. Lad det køle lidt af og tilsæt Bailey.
2. Pisk æg og sukker luftigt og vend det i chokolademassen.
3. Sigt mel, krydderier og bagepulver i dejen og vend det forsigtigt sammen. Kom dejen i en smurt bradepande (22x30 cm).
4. Drys med hakkede nødder og chokolade inden kagen bages
5. Bages ca 45-50 min midt i en 175 grader varm ovn (Jeg brugte en større form, så den fik kun 30 min).
1. Melt chocolate, nougat and butter in a heavy pan over low heat. Let it cool of some and add Bailey.
2. Beat egg and sugar with eletric mixer until light and foamy, and fold it in the chocolatemix.
3. Sift flour, spices and baking powder and carefully fold it in the batter. Pour the batter in a greased pan (22x30 cm).
4. Sprinkle chopped nuts and chocolate over the batter before baking the cake.
5. Bake for 45-50 min at 175 degrees (I used a bigger pan, so it was done after 30 minutes).
Opskrift på Gylden Mokka/Golden Mocha recipe
: (1-2 kopper/
1-2 cups
)
2 dl mælk
/milk
2 spsk
/tbs
kakaopulver (Nesquick el lignende)/
sweetened cocoapowder (Nesquick or similar)
1 portionspose Nescafé Espresso/
sachet Nescafé Espresso
Pynt/
Decoration
:
1 1/2 dl flødeskum
/whipped cream
revet chokolade/
grated chocolate
Bring mælken i kog. Bland kakaopulver og kaffepulver sammen. Hæld den kogende mælk over og rør hurtigt rundt. Hæld drikken i termoglas, top op med et par skefulde flødeskum og drys lidt reven chokolade over.
Bring milk to a boil. Mix chocolate and coffepowder. Pour boiling milk over and give it a quick stir. Pour the drink in thermal glasses, add a couple of spoonfulls whipped cream on top and sprinkle with grated chocolate.