Min ældste datter fyldte 17 i går, og ville derfor have cupcakes med i skole.
My daughter turned 17 yesterday and wanted to bring cupcakes to school.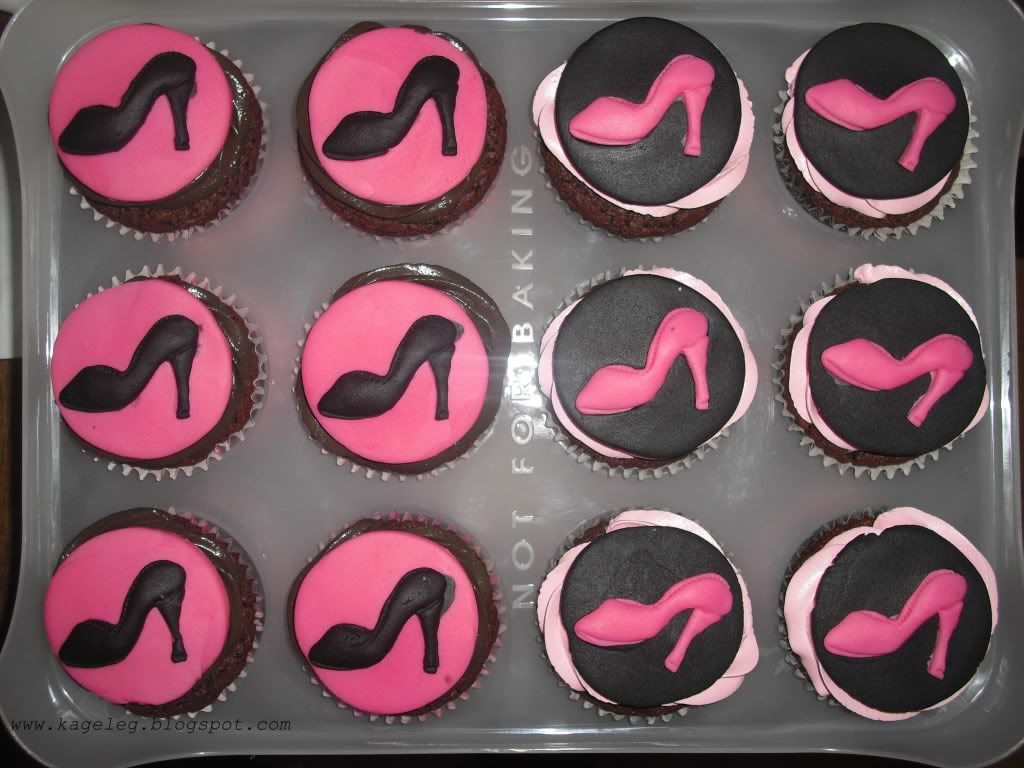 Hun bagte selv Mudcake Cupcakes og lavede Chokolade Smørcreme, som jeg farvede sort og tilsatte lidt
pebermynte smag
. Jeg havde en rest IMBC, som jeg farvede pink og tilsatte
hindbær smag
, og så lagde hun pynten på, som jeg havde lavet med min nye
Karen Davies Cupcake Top Mould
, efterhånden som jeg fik sprøjtet smørcremen på. Teamwork er nødvendigt, når man skal have 36 cupcakes pyntede indenfor 1 time, samtidig med at man laver morgenmad, og får de yngste gjort klar til at komme af sted. Det tog også hele familiens samarbejde at holde den 2 åriges fingre (og mund!) væk fra de cupcakes imens. Når man skal transportere 36 cupcakes, så er en
Cupcake Courier
guld værd.
She baked Mudcake Cupcakes herself and made a Chocolate Buttercream, which I coloured black and added some peppermint aroma to. I had some leftover IMBC which I coloured pink and added som raspberry aroma to, and then she placed the decorations that I made with my new Karen Davies Cupcake Top Mould, as I got the buttercream piped on. Teamwork is neccessary when you need to decorate 36 cupcakes within an hour, at the same time as you are fixing breakfast and helping the youngest get ready to leave. In the mean time it required the whole family's cooperation to keep the 2 year old's fingers (and mouth!) away from the cupcakes. When transporting 36 cupcakes, a Cupcake Courier is extremely handy.
Opskrift på Mudcake Cupcakes/Mudcake Cupcake Recipe:
24 stk/
pieces
190 g smør
/butter
190 g mørk chokolade
/dark chocolate
4 tsk
/tsp
pulverkaffe
/instant coffee
140 ml vand
/water
110 g selvhævende mel
/self-raising flour
110 g mel
/flour
40 g kakaopulver
/cocoa powder
1/4 tsk natron
/bicarbonate of soda
420 g sukker
/caster sugar
3 æg
/eggs
2 spsk smagsneutral olie
/vegetable oil
95 ml kærnemælk
/buttermilk
Smelt smør, chokolade og kaffe i en gryde ved svag varme sammen med vandet. Sigt begge meltyper, kakao og natron i en stor skål. Tilsæt sukker, bland og lav en fordybning i midten af blandingen. Pisk æg, olie og kærnemælk let sammen med en gaffel og rør det i mel/sukkerblandingen sammen med chokoladeblandingen.
Dejen hældes i muffinsforme (fyld kun halvt op) og bages ved 160 grader i 20-25 min.
Denne dejmængde er også passende til en 20 cm rund form og opskriften er fra "the essential guide to cake decorating".
Put the butter, chocolate and coffe in a pan with the water nd stir over low heat until melted, tn remove from the heat. Sift the flours, cocoa and soda into a large bowl. Stir in the sugar and make a well in the centre. Add the combined eggs, oil and buttermilk and the chocolae mixture, stirring with a large spoon until completely combined.
Pour the mixture into muffintins (only half full) and bake at 160 degrees for 20-25 minutes.
This amount is also suitable for a 20 cm/8in round tin and the recipe is from "the essential guide to cake decorating".
Jeg kan ikke få selvhævende mel i nærheden, så jeg laver mit selv: 215 g mel, 2 1/2 tsk bagepulver, 3/4 tsk salt blandes. Blandingen kan holde sig et par måneder i en lukket beholder.
Self-raising flour isn't available anytwhere near me, so I make my own: Mix 215 g flour, 2 1/2 tsp baking powder and 3/4 tsp salt. The mix keeps for a couple of months in an airtight container.
Opskrift på Chokolade Smørcreme/Chocolate Buttercream recipe:
4 past. æggeblommer
/pasteurised eggyolks
60 g flormelis
/confectioner's (powdered/icing) sugar
100 g chokolade (Hvid, mørk, lys)
/chocolate (white, dark, semisweet)
100g blødt smør (rigtig smør, ikke smørbare produkter)
/softened butter
Chokoladen smeltes over vandbad og køles af (mærk efter, den skal ikke være varm). Æggeblommer og flormelis piskes, smør i tern tilsættes og til sidst piskes den smeltede chokolade i. Hvis chokoladen er varm, så får du en meget tynd smørcreme, som ikke er til at sprøjte med.
Put the chocolate in a heatproof bowl over a pan of barely simmering water (don't let the base of the bowl sit in the water) and stir occationally until melted. Remove from heat and cool down. Whisk eggyolks and sugar, add the softened butter a little at a time, and stir the melted chocolate in (should no be warm to the touch anymore). If the chocolate is warm, the buttercream ends up runny and not suitable for piping.
Jeg plejer at tilsætte 50 g smeltet After Eight, når det er After Eight Smørcreme, jeg vil have, men i dag skulle det gå stærkt, så den fik bare et par dråber pebermynteolie.
I usually add 50 g of melted After Eight, when I want After Eight Buttercream, but I was in a hurry today and just added a few drops of peppermint oil.
Opskrift på Italian Meringue Butter Cream (IMBC)/recipe:
110 ml vand
/water
180 g sukker
/caster sugar
9 pasteuriserede æggehvider
/pasteurised eggwhites
615 g usaltet smør
/unsalted butter
1-3 tsk
/tsp
vanilie ekstrakt (Jeg bruger Wilton's Clear Vanilla når jeg vil have en meget hvid smørcreme)
/vanila extract (I use Wilton's Clear Vanilla, when I want a white buttercream)
Vand og sukker bringes i kog. Dannes der sukkerkrystaller på grydens kant, fjernes disse ved at pensle med koldt vand. Læg et låg halvt over gryden for at minimere risikoen for krystaller. Efter ca. 5 minutters kogning ved middel varme startes piskning af æggehviderne. Efter ca. 2 minutters piskning er hviderne stive og sukkersiruppen har dermed kogt i alt 7 minutter. Det er meget vigtigt at sukkersirup og de piskede æggehvider er færdige samtidig.
Under piskning ved høj hastighed (skift fra piskeris til røre-ris(K-spade)) tilsættes sukkersiruppen til æggehviderne. Det er bedst at tilsætte siruppen, så den løber ned langs skålen. Der piskes ved høj hastighed til skålen føles kold (det tager mindst 10 minutter).
Når skålen føles kold tilsættes smørret i terninger. Der piskes ved medium hastighed indtil smørcremen samles. Skulle den gryne/skille undervejs, pisk da blot videre. Den skal nok samle sig igen. Når cremen er samlet tilsættes vanille eller en anden smags-variant.
Pour the eggwhites into the kitchen mixer with whisk attachment. Bring water and sugar to a boil and boil at medium heat for 5 minutes. If sugar crystals form on the side of the pan, use a brush and cold water to brush them down. Placing a lid half over the pan will help preventing sugar crystals from forming. After the 5 minutes, start whisking the eggwhites stiff. This should take 2 minutes, so the sugar syrup has boiled for 7 minutes in total. It is very important that sugar syrup and whisked eggwhites are ready at the same time.
Switch to the paddle attachment and while mixing at highs speed, start pouring the sugar syrup slowly into the eggwhites. Pour the syrup so it runs down the side of the bowl. Keep mixing on high until the mixer bowl is cool to the touch (it takes at least 10 minutes)
When the bowl is cool, reduce the speed to medium and start adding the butter - max 1 tbsp at a time. Keep whisking until you have a smooth silky buttercream. Don't worry if it curdles, just keep whisking - it will get smooth again. Finally, add vanilla or another flavouring.
Dette er en meget stor portion, men den egner sig fint til at fryse ned. Jeg deler den op, og fryser den ned før jeg tilsætter smag. Den kan holde sig et godt stykke tid i køleskabet, men jeg kan ikke huske hvor længe, for jeg har aldrig ekstra plads i køleskabet, mens jeg laver kager. Hvad enten du har den på køl eller frys, så skal den have stuetemperatur og lige piskes igennem inden den er klar til brug.
This makes a lot of buttercream, but it is suitable for freezing. I split it up and freeze it before adding flavouring. It also keeps in the fridge for a while, but I don't remember how long, since I never have spare room in the fridge when I am caking. Whether you refridgerate or freeze it, bring it back to room temperature and whisk it on low speed before use.