Jeg har været så heldig og haft besøg af min engelske svigerfamilien i
nogle
dage, og min svigermor er en af de få "voksne" jeg kender, som insisterer på at forblive barnlig, og som kan forstå og matche min kærlighed til blomsterfeer.
Da hun (og resten af familien) også er vild med kager, så var det jo en oplagt mulighed for at lave en Fe-kage.

I've just had a lovely visit from my British in-laws, and my mother in law is one of the few "adults" I know who insist on remaining childish enough to understand my love of Flower Fairies. Since she (and the rest of the family) also loves cakes, it was a perfect excuse to make a Fairy-cake.


Ikke den bedst konstruerede kage - ok faktisk så behæftet med tanketorsk-fejl, at det er helt pinligt, men netop derfor er jeg alligevel ret tilfreds med resultatet. Jeg havde nemlig samlet trekants-kagerne uden at tænke på, at trekanten jo ikke var ligebenet, og stod pludselig med en høj trekantet, smørcreme-belagt kage, som var spejlvendt af det planlagte design. Så burde jeg vel bare kunne spejlvende hele designet, men det kunne min kagetrætte hjerne slet ikke overskue, da alle feer så ville vende den "forkerte" vej. Så jeg lagde da bare et spækbræt ovenpå trekanten, og vupti - vendte kagen på hovedet. Det fungerede fint nok, men så begyndte problemerne pludselig at hobe sig op...
Not the best constructed cake - ok actually so full off blunder errors that it is quite embarrassing, but that is exactly why I am still quite happy with the outcome. I had stacked triangular cakes without considering that it wasn't an isosceles triangle, and suddenly had a high triangular, butter cream-covered cake, which was a mirrorimage of the planned design. So I should have been able to just mirror the whole design, but I was all caked out and couldn't wrap my head around all the fairies facing the "wrong" way. So I just placed a board on top of the triangle, and voila - turned the cake upside down. It worked fine, but then the problems started piling up ...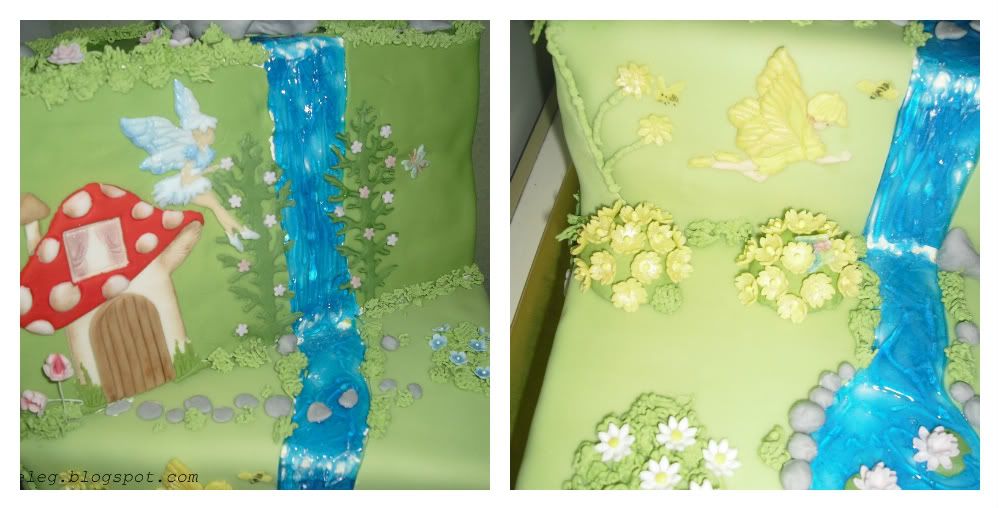 For det første, så havde min ellers trofaste kageudstyrs pusher svigtet mig. 2 uger hvor ordren står som "pakkes"??? Godt jeg ellers er glad for og afhængig af min pusher, så ingen navne nævnes her. Jeg havde så bare ikke den ønskede mængde af fondant hjemme, og heller ikke tid til at lave min egen. Men jeg plejer altid at indfarve ALT for meget fondant for en sikkerheds skyld, så jeg mente nok det gik med den mængde jeg havde.... det gjorde det så ikke, så efter at have overtrukket de 2 nederste kager, så havde jeg ikke nok til trekanterne. Så måtte jeg blande rester af grønt jeg havde til at ligge, men det kunne jo umuligt give den samme grønne nuance. "Pyt med det", det var jo alligevel bare en hyggekage, og vi leger bare at nuanceforskellen var helt planlagt, og med til at give lidt "spil" i bakkelandskabet, ik? Så kunne jeg endelig overtrække trekanten med fondant - altså efter at jeg havde fjernet det kagepap i toppen, som jo egentlig skulle have været i bunden, men "pyt med det" (et udtryk som jeg sammen med børnehaven har skullet lære den 5 årige - og så samtidig egentlig fået lært at sige selv, i stedet for at gå i baglås, når ting ikke går som han (jeg) vil have det. Ok, jeg har ikke helt lært det endnu, men denne kage var da en meget god øvelse!).
First of all, my otherwise loyal cake decorating pusher (ok, supplier) failed me. 2 weeks of the order being listed as " being packed"?? Good thing I'm normally happy with and depending on my pusher, so no names mentioned here. It just meant I hadn't got the amount of fondant that I wanted, nor the time to make my own. But I usually colour way too much fondant "just in case", so I figured it would probably be enough with the amount I had .... Guess not, so after having covered the 2 first cakes with fondant, I didn't have enough left to cover the triangle. So I had to mix various green leftovers I had, but of course it's impossible to get the same green shade. "Nevermind", it was still just a cake for fun, and we can just pretend that the different shades were entirely planned, right? Then I could finally cover the triangle with fondant - that is, after I removed the cake board on the top, which in fact should have been at the bottom, but "nevermind" ( I have had to teach the 5 year old to say that - and thereby learn it myself, instead of throwing a fit when things don't go his(my)way. Ok, I haven't quite learned that yet, but this cake was a very good exercise!).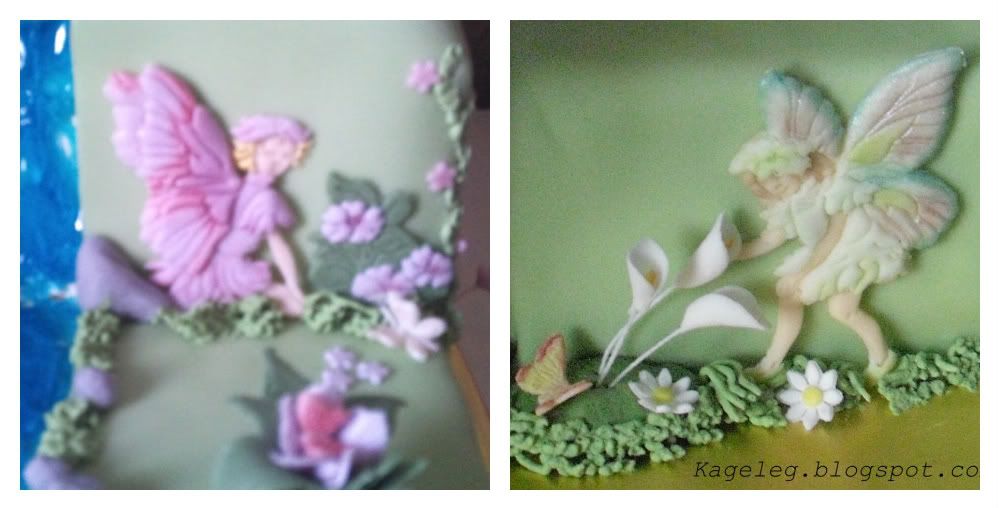 Kagen havde jo stadigvæk, kagepap imellem alle andre lag (inkl midten af trekanten), så jeg tænkte at det nok skulle gå. Nu skulle jeg så bare have den fondant klædte trekant over på resten af kagen, og det er altså ikke helt nemt, når den er klistret til brættet med smørcreme - som jo skulle have været toppen. Den ville da overhovedet ikke glide af, eller skubbes med en kageplade, så der måtte hænder på fondanten og både løftes og skubbes, med deraf resulterende buler i både sider og hjørner, men "pyt med det"? Det her var jo ikke en pænt anlagt terrassehave, men et bulet bakkelandskab, ik? Jeg sagde, ik???? Set i bakspejlet, så burde jeg selvfølgelig bare have stillet trekanten på køl igen, så smørcremen kunne hærdes, og jeg ville have haft en mere stabil kage at smide rundt med, men bakspejlet var jo ligesom ikke indstillet korrekt, så...
The cake of course still had cakeboards between all other layers (including the middle of the triangle), so I hoped it would be fine. Then I just needed to move the fondant-covered triangle onto the rest of the cake, which btw is not easy when it is glued to the board with butter cream - which of course should have been on top. It then would NOT slide off, or be pushed off with a cake circle, so it had hands on fondant and both lifting and pushing, with resultant dents in both sides and corners, but "Nevermind"? This was not a nicely built terrace garden, but rolling hills, right? I said, right??
I should have jsut refrigerated the triangle again before attempting to move it, as the buttercream would have firmed up and made for a more stable cake to throw around with, but oh well - I didn't.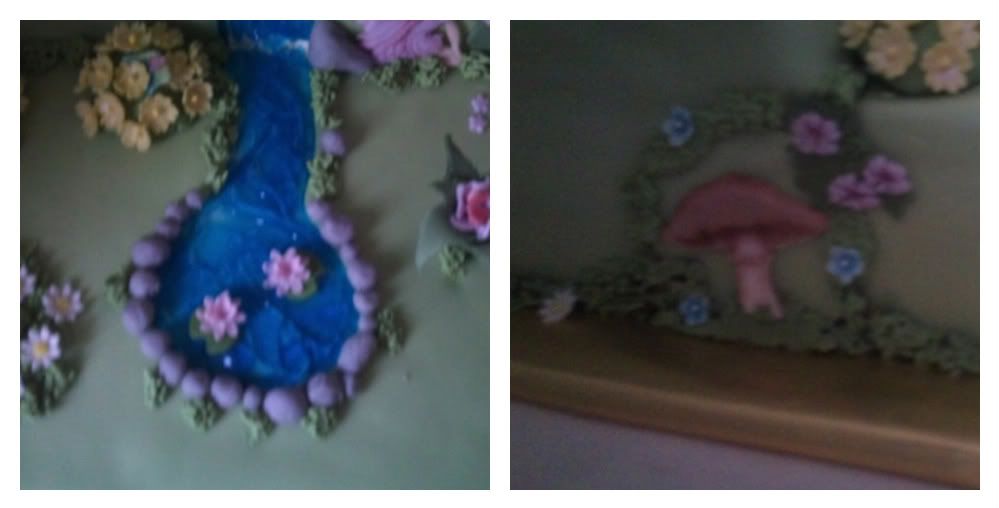 Jeg kunne så endelig begynde at pynte kagen, men det varede selvfølgelig ikke længe før jeg kom i tanker om, at kagestøttepindene, der skulle have været i kagens 3. lag for at støtte det øverste lag, ja de var nu i det øverste lag, og ingen støtte i det 3. lag, som heller ikke stod på kagepap... Jeg kunne måske godt sige "pyt med det", men jeg kunne ikke længere bilde mig selv ind, at kagen ikke ville komme til at hælde.... mere.. og mere... og da den var færdigpyntet, så kunne jeg godt se, at der altså skulle tages billeder
inden
kagen skulle flyttes. Og når jeg nu hentede kameraet, så kunne familien heldigvis godt regne ud, at det var en god ide at komme ud i køkkenet og udbryde "iih" og "aaah"
inden
det skæve tårn væltede.
I could finally begin to decorate the cake, but it obviously didn't take long before I realized that the cake support pins that should have been in the third layer to support the top layer, were now in the top layer, and no support in the third layer, which wasn't even placed on a cakeboard ... I could of course just say "nevermind", but there was no way I could keep deluding myself into thinking that the cake wasn't going to topple...more .. and more ... and when I had finished decorating, it was obvious that I needed to take pictures before attempting to move the cake. When I went to get the camera the family fortunately figured out that it would probaly be a good idea to get into the kitchen and "Ooh" and "Aah" before the cake toppled.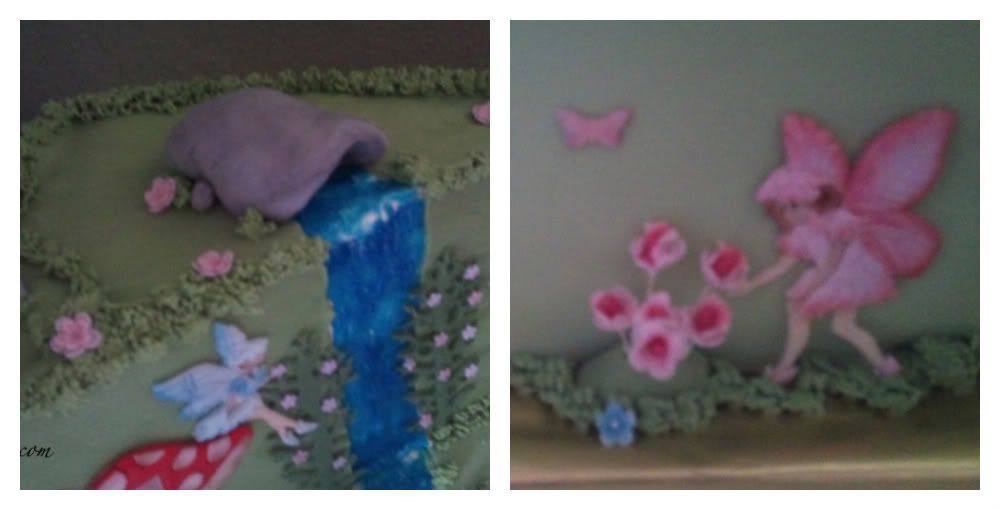 Den nederste kage var iøvrigt Mudcake med
After Eight Creme
, mens resten var
Drømmekage-bunde
med Skildpadde Creme og Hindbær Mousse. Det hele var smurt op med IMBC, og al pynten var af fondant bortset fra vandfaldet som var Piping Gel farvet blå og græsset var Royal Icing. Dette indlæg er allerede alt for langt, så opskrifter må vente til en anden god gang :)
The base cake was a Mudcake with After Eight Cream, while the rest were Dream Cake Layers with Caramel/Chocolate Cream and Raspberry Mousse. It was all covered in IMBC and all the decorations were made of fondant with the exception of the waterfall which was Piping Gel colored blue and the grass was Royal Icing. This post is already too long, so recipes will have to wait for another time.