Lene ville gerne have en dåbskage til hendes første barnebarn, og bortset fra en baby på toppen, så fik jeg frie hænder til både indhold og pynt.
Lene wanted a Christening cake for her first grandchild, and besides the baby on the top, it was all up to me - both decorations and fillings.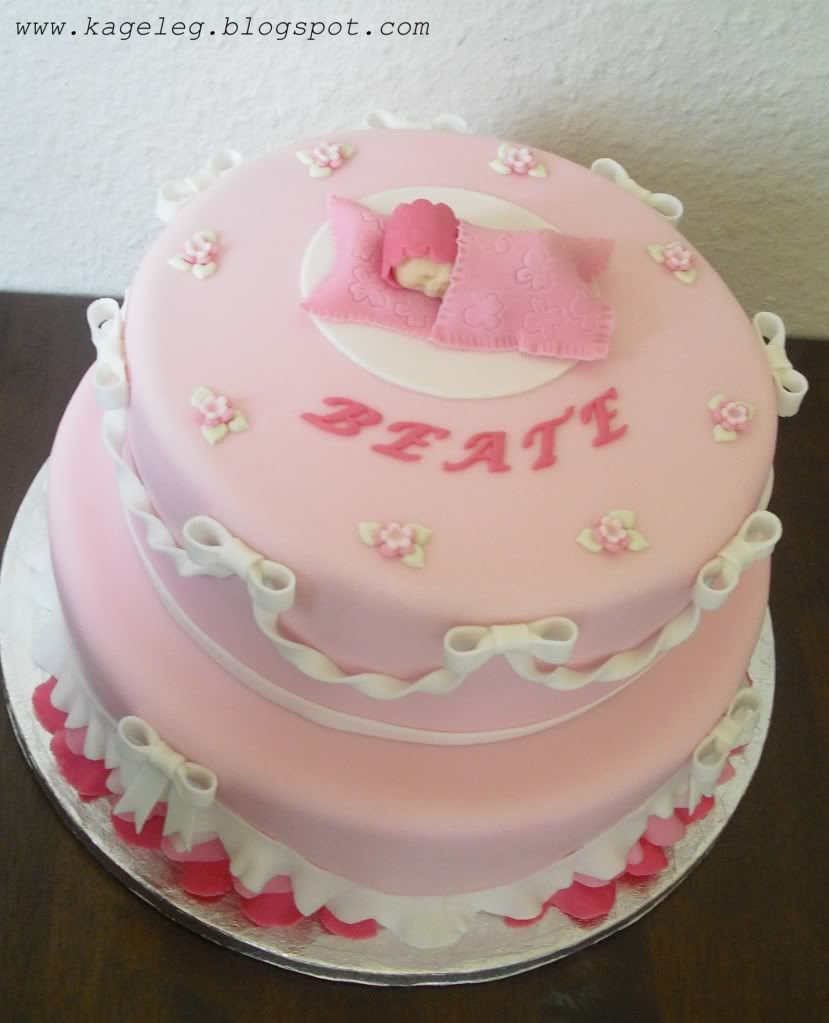 Kagen blev heldigvis lige som jeg havde planlagt, men den blev noget kun mere tidskrævende end planlagt og var først færdig 2 timer inden den skulle hentes - og det var efter 2 dage med kun 4 timers søvn. Denne gang var det ikke butikken, men postvæsenet der var sløvt. Pakken blev sendt (fra DK) for 10 dage siden , og den er stadigvæk ikke dukket op... Uden stripcutters og sløjferedskab tog det lang tid med lineal og sløv kniv (jeg vil ikke have ridser i min udrulningsmåtte) at lave 12 sløjfer og 8 strips, der jo skulle være lige store. Endnu værre var det at skulle undvære frillcutteren til flæserne. Jeg måtte så lave min egen skabelon at skære efter, og med mit sædvanlige held - eller rettere mangel på samme, så var børnene ikke hjemme, og jeg kunne kun finde den enes passer, som så selvfølgelig ikke havde noget bly. Så var jeg lige pludselig meget glad for ternet papir og mine runde udstikkere i alverdens størrelser. I stedet for sprøjtede blade (ingen tyl), så lavede jeg bare fondant blade, og det var vist den eneste ændring fra det oprindelig planlagte. Desuden kunne jeg også have sparet en del tid, hvis mit Cake Dividing Set havde dukket op.
The cake ended up as I had planned, but it did end up a whole lot more timeconsuming than intended and wasn't ready until 2 hours before it was picked up - and that was after 2 days with only 4 hours sleep. This time it wasn't the shop letting me down, but the mail. The package was sent (within DK) 10 days ago, and still hasn't arrived... Without stripcutters and bow cutter it took an awful long time with ruler and dull knife (don't want scratches in my roll mat) to make 12 bows and 8 strips of reasonably equal size. Worse yet, was not having the frillcutter. I had to make my own template, and with my usual luck - or rather lack there of - the kids weren't home and I could only find one of their compasses, which of course was without lead. Suddently I was very happy with graph paper and my round cutters in all sizes. Instead of piped leaves (no tip) I made fondant leaves, and that was the only deviation from my original plan. I could also have saved quite a bit of time, if my cake dividing set had turned up, but oh well....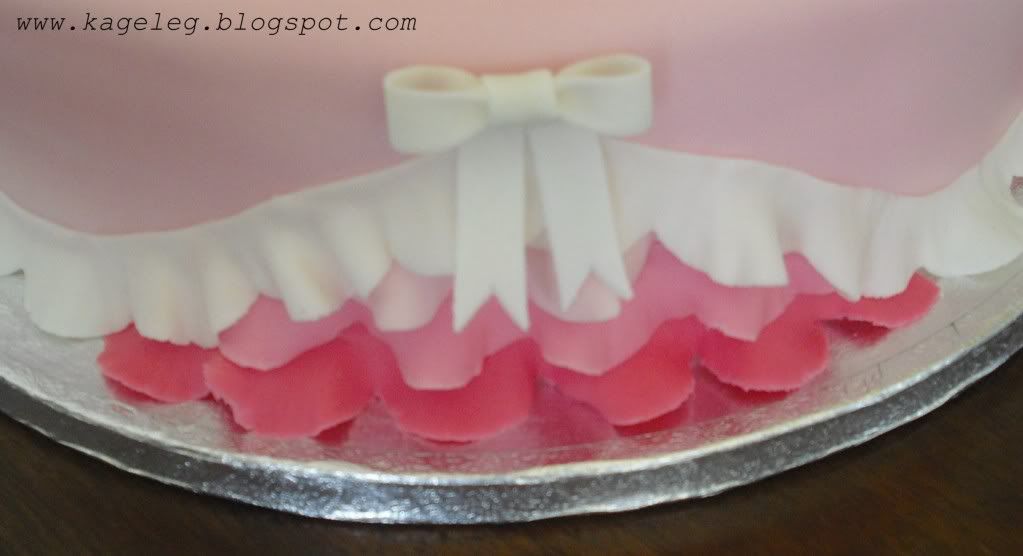 Kagen var lavet af
Drømmekagebunde
med Skildpadde Creme og Hindbærmousse, smurt op med Hvid
Chokolade Smørcreme
smagt til med lidt hindbær aroma. Al pynten var lavet af fondant farvet med Wilton's Pink farve.
The cake was made of Dreamcake Layers with Caramel-Chocolate Creme and Raspberry Mousse, covered in white Chocolate Buttercream with some raspberry aroma. Al decorations were made with fondant coloured with Wilton's Pink.
Opskrift på Skildpaddecreme/Caramel-Chocolate Creme recipe:
6 Kæmpeskildpadder/170 g chocolate with runny caramel filling
1/2 L fløde/whip cream
Skildpadderne hakkes og kommes i en skål (den skal være stor nok til at man kan piske en halv liter fløde i den). Fløden bringes i kog og hældes over den hakkede chokolade. Lad den stå nogle minutter og rør så rundt til du har en ensartet masse. Dæk cremen til med plastfolie - helt nede i skålen, så den rører og dækker overfladen og kommer op ad siderne i skålen. Sæt så cremen i køleskabet i mindst 8 timer - gerne natten over. Når du skal bruge cremen piskes den op til en tyk creme. Pas på, det går pludselig stærkt, og hvis du overpisker cremen, skiller den og er ikke til at redde.
Chop the chocolate and put it in a bowl big enough to whip half a liter of whip cream in. Bring the cream to a boil and pour it over the chopped chocolate. Leave it to stand for a few minutes, then stir until you have a homogeneous creme. Cover the creme with cling film - all the way down in the bowl, so it touches and covers the surface of the creme and comes up the side of the bowl. Put the creme in the fridge for at least 8 hours - overnight is fine. When you are ready to use the filling, whip it until it turns into a thick spreadable creme. Be careful, if you overwhip, the cream separates and isn't recoverable.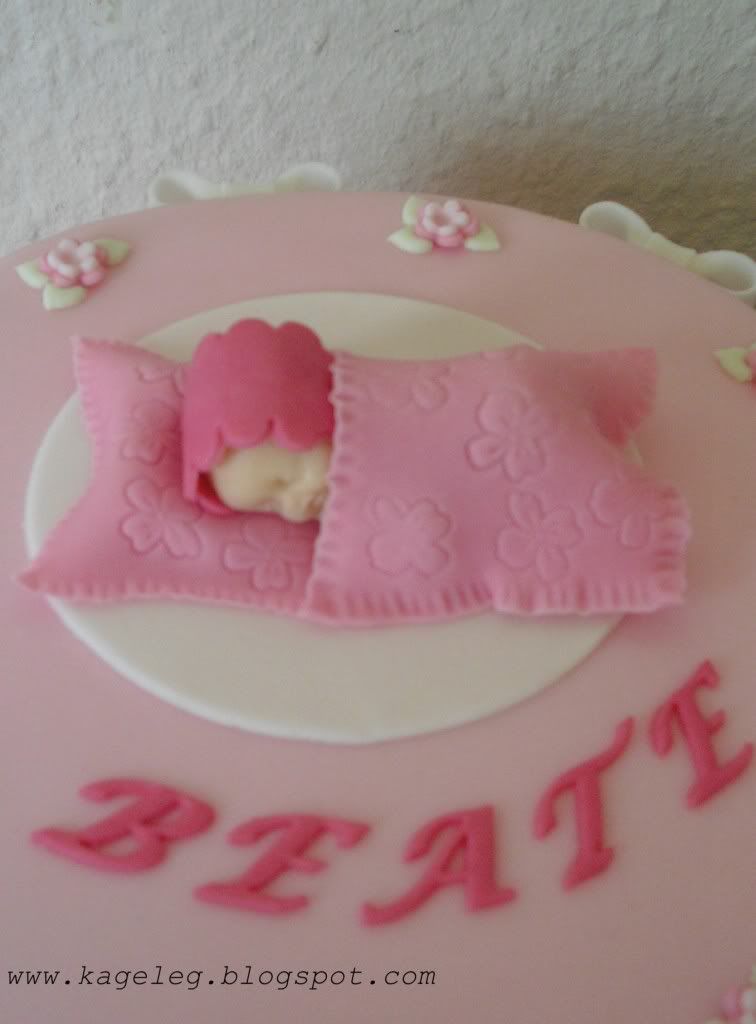 Opskrift på Hindbærmousse/Raspberry Mousse recipe:
6 blade husblas/gelatine sheets
400 g frosne hindbær/frozen raspberries
200 g sukker/sugar
1 vanillestang/vanilla pod
1 citron, saften af/lemon, juiced
1/2 L fløde/whip cream
Husblas sættes i blød mens hindbær og sukker koges op i en gryde. Bærene koger i ca 5 min. Gryden tages af varmen og bærene blendes forsigtig med en stavblender (hvis kernerne blendes bliver den bitter). Tilsæt korn fra vanillestangen og presset citron saft. Lad blandingen køle lidt af, før du tilsætter den udblødte husblas. Rør godt indtil al husblas er smeltet og lad så blandingen køle af til stuetemperatur. Pisk fløden stiv, rør 1/3 af fløden i hindbærrene, og vend til sidst hindbærblandingen i resten af den piskede fløde. Sæt moussen på køl indtil du skal bruge den, og pisk den igennem inden den anvendes.
Soak your gelatine according to instructions on your pack. Bring the raspberries and sugar to a boil and let it simmer for 5 minutes. Remove from heat and blend the berries carefully - avoid blending the pips, as they will turn it bitter. Add the seeds of the vanilla pod and the squeezed lemon juice. Leave the mix to cool for a bit, before you add the gelatine. Stir until all gelatine is melted and then leave it to cool to roomtemperature. Whip the cream stiff, stir 1/3 of the cream in the raspberries, and finally gently fold in the rasberry mix in the remaining whip cream. Refrigerate the mousse until you need it, and whisk it lightly before you use it.