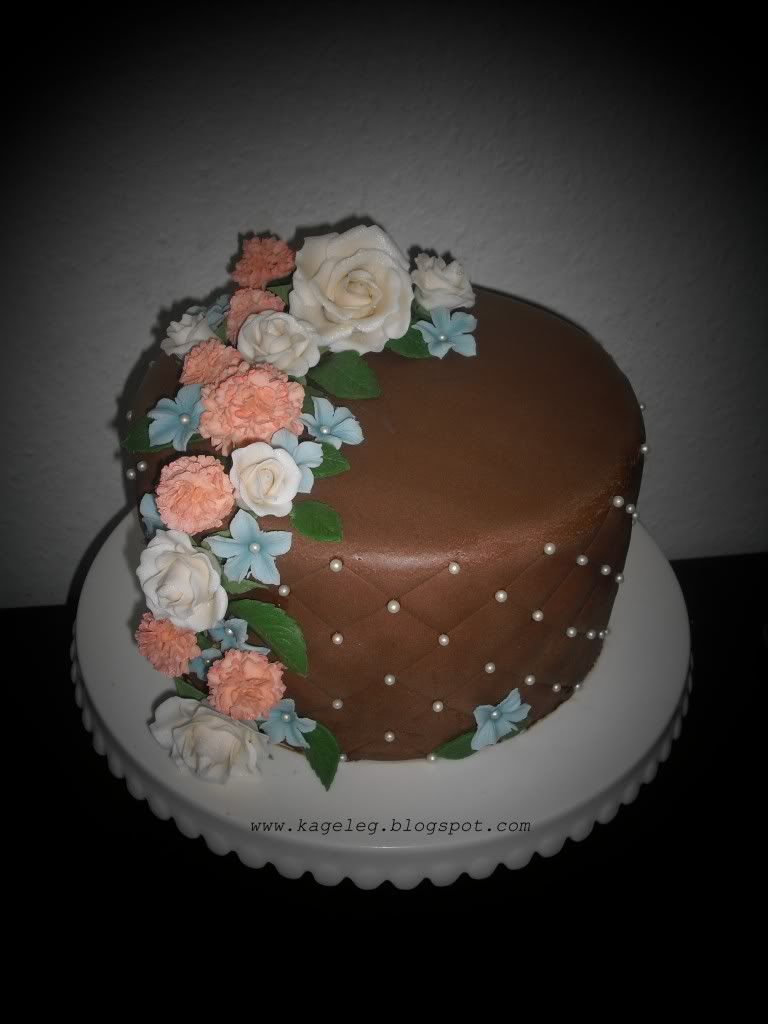 Det slidte læderlook var da helt planlagt! Det havde da slet ikke noget at gøre med, at jeg havde købt en chokoladefondant fra Funcakes, som var fuldstændig umulig og krakelerede lige så snart den blev lagt på, vel? Det manglede da også bare, efter at den 5 årige besluttede sig for at udhule kagen, mens den kølede af i går. Og som stod op før alle andre i morges og besluttede sig for at spise størstedelen af blomsterpynten.... Godt at han var kommet i mini-SFO, inden jeg opdagede det, så jeg nåede at komme ned på jorden og tage den pædagogiske snak med ham, da han kom hjem, i stedet for den hysteriske som ellers kunne have været resultatet.
Kagen blev lappet med afskåren kagetop og smørcreme. Jeg kunne ikke nå at lave nye roser (midten skal tørre et par dage, inden man kan fortsætte), men så måtte jeg bare lave flere nelliker, som i øvrigt er hyggelige at lave, men forholdsvis tidskrævende at male, og flere femblads-blomster.
The antique leather look was totally planned of course! It couldn't possibly have anything to do with the new chocolatefondant from Funcakes, that I had bought, which was impossible to work with and cracked imediately as it was put on the cake, right? Figures, as the 5-year-old decided to hollow out the cake as it was cooling yesterday. and just to top it off, he got up before the rest of us this morning and decided to eat most of the flowers, that I had spent days making... Luckily, I didn't notice until after he had gone to school, so I had time to cool off and was able to calmly discuss it with him when he got home, instead of the hysterical antics that he otherwise might have been subjected to.
The cake was repaired with buttercream and cake cutoffs. I didn't have time to make new roses (the centers need a couple of days to dry before continuing), so I just made extra carnations, which btw are fun to make, but rather timeconsuming to dust, and more filler flowers.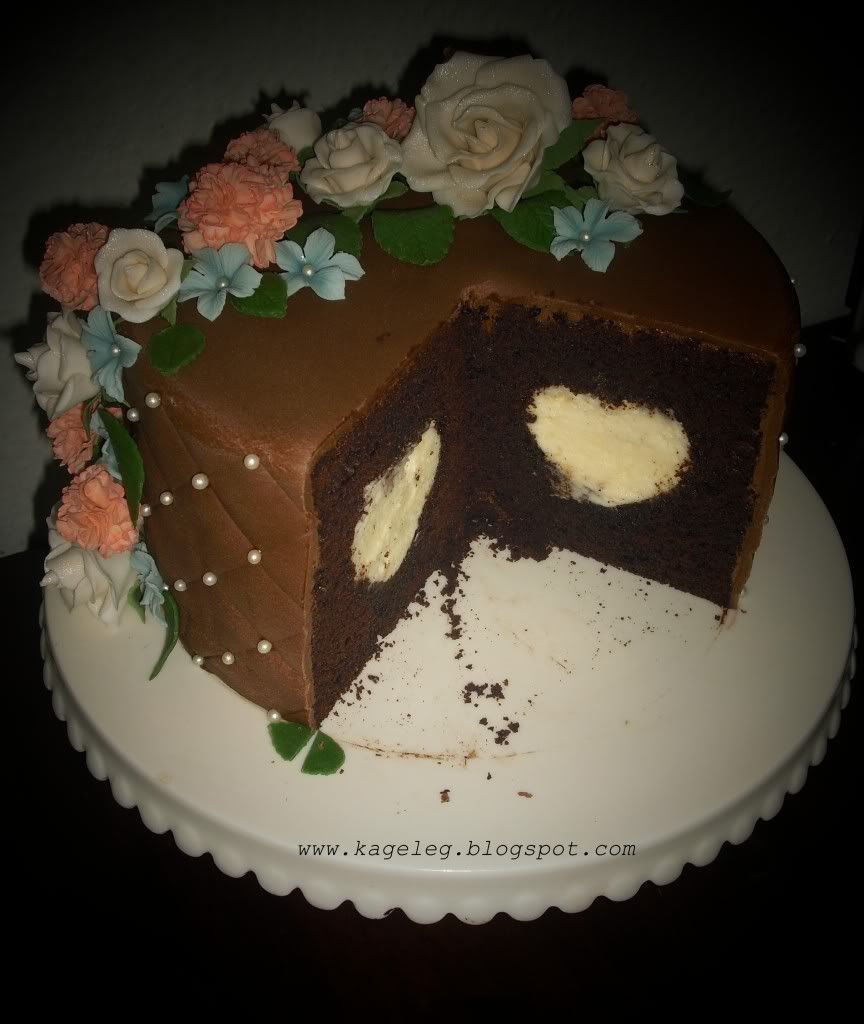 Da kagen var til manden, var det den obligatoriske Mudcake med After-Eight Creme. Han spiser jo ikke andet. Kagen var lavet i
Wilton's Heart Tasty-Fill Cake Pan Set
og derfor havde jeg lavet min creme med
Fromagepulver
, da den stivner med det samme, og man helst ikke skal have et fyld, der er for flydende, når man skal klaske de to halve kager sammen. Da instruktionerne anvender amerikanske kageblandinger og færdig fyld, er det værd at nævne, at formen svarer til en 25 cm rund kage, og 1/2 L fyld. Kagen var smurt op med
Chokolade smørcreme
og dækket med den famøse chokoladefondant, som jeg så absolut ikke vil anbefale. Faktisk havde jeg endda lidt på fornemmelsen, at den ville give mig problemer, da jeg for nogen dage siden hørte om andre kagenørder med samme problemer med Funcakes fondant. Så næste gang må jeg bare lave min egen chokoladefondant igen - den smager også meget bedre :)
Since the cake was for my hubby, it was the mandatory Mudcake with After Eight Creme. He doesn't eat any other after all. The cake was made with Wilton'sHeart Tasty-Fill Cake Pan Set, so I made the creme with instant mix, as it stiffens imediately, and you don't want a runny filling, when you have to quickly flip one filled cake layer over, and position precisely on top of the other. Since the pan instructions use american cake mixes and fillings, it is worth mentioning that the pans are equal to a 25 cm round cake and holds about 1/2 L filling. The cake was covered in Chocolate Buttercream and the infamous chocolate fondant , which I would not recommend under any circumstances. Actually, I had a feeling that the fondant might prove to be nothing but trouble, since I heard a few days ago that other cakenerds were having the same issues with Funcakes' fondant. So next time, I will just have to make my own chocolate fondant again - it tastes much better anyway :)