Kage lavet sammen med min 17 årige datter til hendes kæreste. Han er til fodbold og badminton, og eftersom min boldform er lånt ud, og vi gerne ville lave en nem kage pga tidsmangel, så var det nemt at beslutte sig for temaet, og da han godt kan lide sort, rød og hvid, så gav farverne også sig selv.
This cake was made with my 17 year old daughter for her boyfriend. He likes football(soccer) and badminton, and since my ball shaped pan is lent out, and we wanted an easy cake to make due to time constraint, the theme picked was an easy choice. So were the colours, since he likes black, red and white.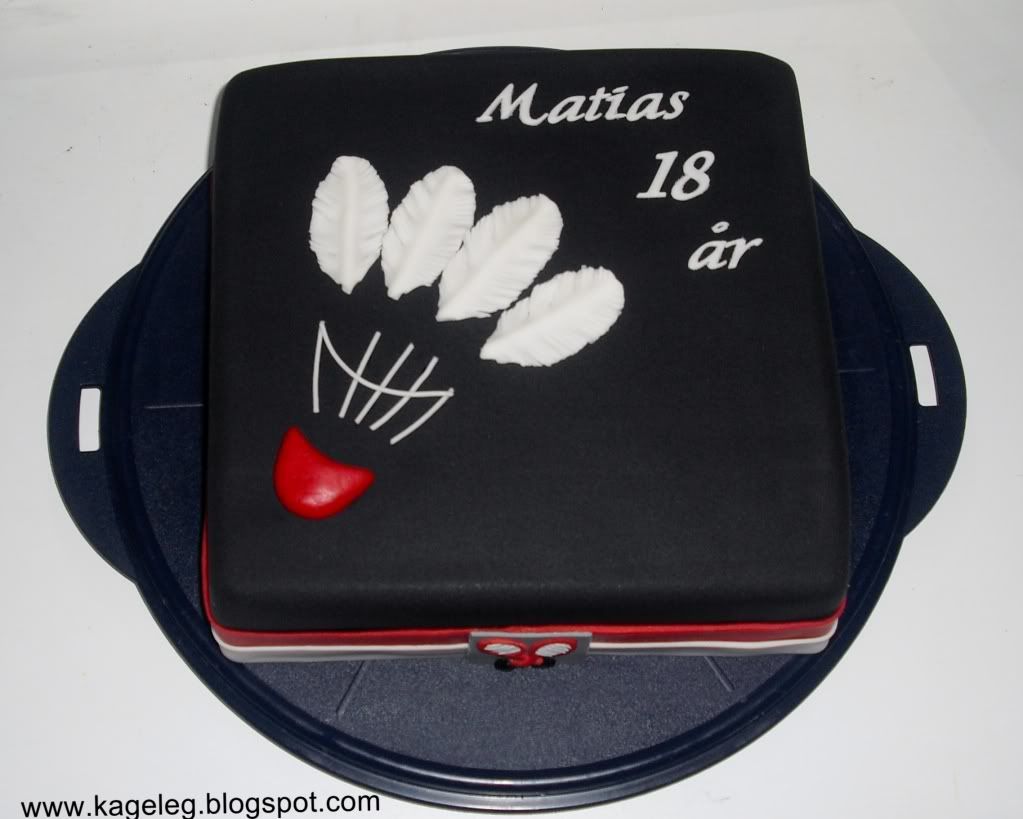 Kagen er en
Mudcake
med
After Eight Creme
, smurt op med
Chokolade smørcreme
og overtrukket med Pettinice fondant og pyntet med Wilton's fondant og
Rød Candymelts Fondant
.
The cake is a Mudcake with After Eight Creme, covered in Chocolate Buttercream and Pettinice fondant and decorated with Wilton's fondant and Red Candymelts Fondant.
Datteren er efterhånden helt ferm til det med kager - hun lærer lidt mere hver gang. Så denne gang har hun selv bagt, delt i bunde, lavet fyld og fyldt kagen, lavet smørcreme og for første gang smurt den op. Jeg har overtrukket kagen, men det skal hun nok snart få lært, og pynten har vi lavet sammen.
My daughter is getting quite good at "caking", as we call it - learning something new every time. This time she has baked the cake herself, cut it in layers, made filling, filled it, made buttercream and for the first time coated with buttercream. I covered the cake in fondant, which she will learn soon enough I'm sure, and we made the decorations together.