Da jeg legede med fondant sammen med min veninde i sidste uge, bagte jeg lige disse muffins. Eftersom det er muffins og ikke cupcakes, burde de heller ikke pyntes, og det blev de fleste heller ikke. Men jeg ville så gerne afprøve konsistensen på det Wilton's Decorating Icing, som jeg lige havde købt, så jeg smagte det til med lidt
naturlig Ahornsirup Aroma
og smed et par resteblomster oveni:
When my friend visited last week, and we had fun playing with fondant, I also baked these muffins. Since they are actually muffins, and not cupcakes, they shouldn't be decorated, and most of them didn't. But I really wanted to test the consistancy of the Wilton's Decorating Icing that I had just bought, so I added some natural Maple flavor, swirled and threw a couple of leftover flowers on top.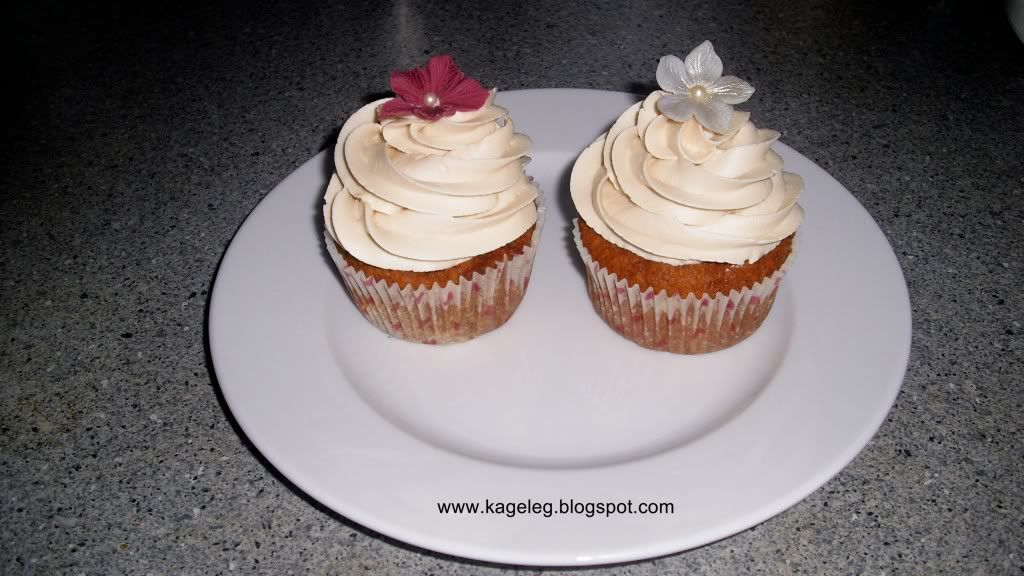 Begge dele smagte iøvrigt dejligt - både hver for sig, og sammen.
Both tasted really well - seperately as well as combined.
Opskrift på Muffins med havregryn og kærnemælk/Muffins with oats and buttermilk recipe: 12 stk/pieces
115 g havregryn
/ 1 cup rolled oats
2,5 dl kærnemælk
/ 1 cup buttermilk
115 g smør
/ 1 cup butter
75 g farin
/ 1/2 cup brown sugar
1 æg
/ 1 egg
115 g mel
/ 1 cup flour
1 tsk bagepulver
/ 1 tsp baking powder
1/2 tsk natron
/ 1/2 tsp soda
1 knivspids salt
/ pinch salt
25 g rosiner
/ 1/4 cup raisins
1. Bland havregryn og kærnemælk i en skål, og lad det stå i blød i en time.
2. Pisk smør og sukker let og luftigt med elpisker. Tilsæt derefter ægget.
3. Sigt mel, bagepulver, natron og salt og rør blandingen i smørmassen, skiftevis med havregrynblandingen. Vend rosinerne i dejen.
4. Fyld muffinforme 2/3 op med dejen og bag ved 200 C i 20-25 min.
1. Mix oats and buttermilk in a bowl and leave it for 1 hour.
2. Cream butter and sugar well with a mixer, then add the egg.
3. Sift flour, baking powder, soda and salt and stir it in the buttermixture alternately with the oatmix. Fold in the raisins.
4. Fill muffintray lined with baking cups about 2/3 full with the batter and bake at 200 C for 20-25 minutes.