Jeg har ikke lavet en Valentin's kage endnu i år (færdig i hvert fald), men sidste år lavede jeg denne her:
I haven't made a Valentine's Cake yet this year (or haven't finished one anyway), but last year I made this one: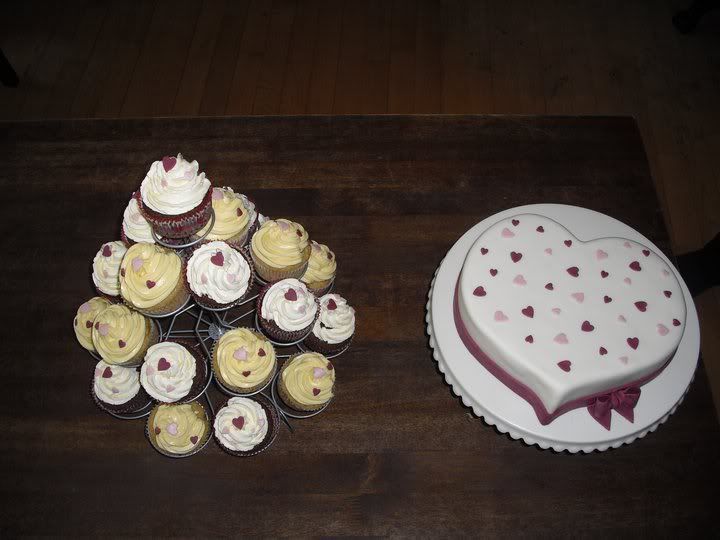 Ikke så tosset, eftersom det var en af mine første kager, og så uden hjerteform og første gang jeg lavede MMF, som jeg iøvrigt synes var alt for tidskrævende at lave, men smager bedre end Wilton's og Kagebutikken's og så synes jeg den var ret nem at overtrække kagen med. Kagen var bare købebunde med med jordbærmousse, skåret i form efter skabelon lavet af bagepapir, efter den var samlet og så smurt op med IMBC.
De to slags cupcakes var
Nati's Caramel Mudcake Cupcakes
med
IMBC
og Cupcakes med rabarber og hvid chokolade, med
Hvid Chokolade Smørcreme.
.
Not too bad, considering it was one of my early cakes, made without a heartshaped pan. It was the first time I used MMF, which I found to be too timeconsuming to make, but tastes better than Wilton's and I found it surprisingly easy to cover the cake with. The cake was shopbought Sponge cake with Strawberry-mousse, cut into shape after a template made in baking paper, then covered in IMBC and MMF.
The cupcakes were Nati's Caramel Chocolate Mudcake Cupcakes topped with IMBC and Rhubarb/White Chocolate Cupcakes topped with White Chocolate Buttercream.