Jeg havde lavet Valentin's Cupcakes til manden at have med på arbejde i dag:
I made Valentine's Cupcakes for my husband to bring to work today: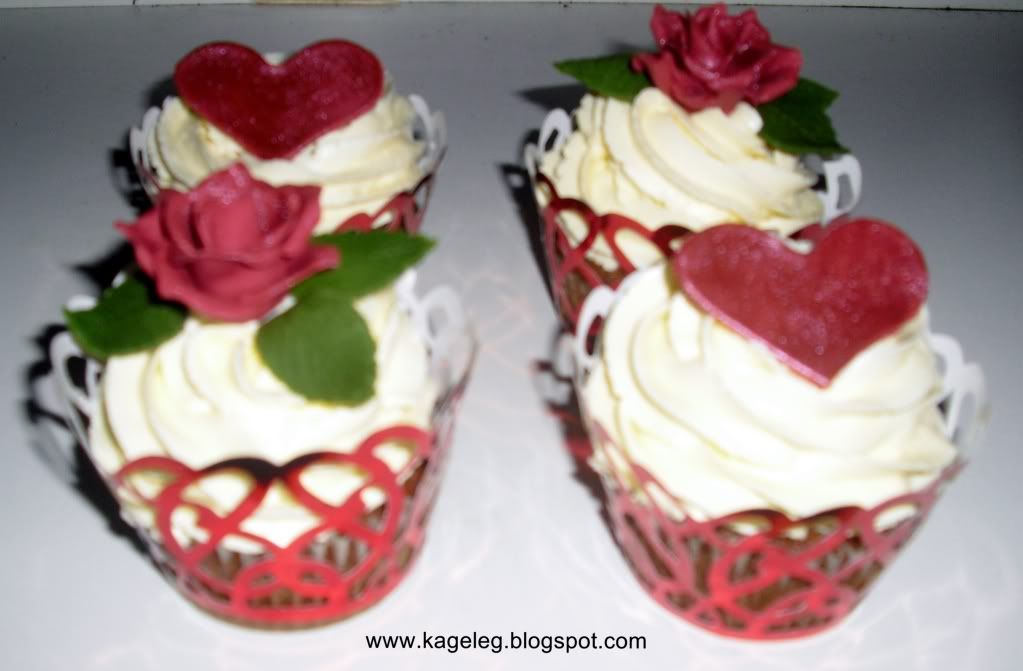 For at han ikke skulle blive drillet alt for meget (og fordi, de længe har spurgt, om de ikke snart skal til at have kage igen), så lavede jeg også nogen cupcakes til hans kollegaer, men da ikke alle er til sådan noget Valentin's fis, så lavede jeg også nogen Anti-Valentin's Cupcakes:
To avoid too much teasing (and since his co-workers have been asking for a long time, if he isn't bringing cake to work soon), I also made some cupcakes for his co-workers. Not everyone is a fan of this Valentine's hoopla, so I also made some Anti-Valentine's Cupcakes:
Alle dagens cupcakes var
Nati's Caramel Mudcake Cupcakes
med
IMBC
og pyntet med Wilton's, Pettinice (sort) og/eller
Rød Candymelts Fondant
.
All the cupcakes were Nati's Caramel Mudcake Cupcakes with IMBC and decorated with Wilton's, Pettinice(black) and/or Red Candymelts Fondant.
Den ældste datter har haft for travlt op til Valentin's til selv at bage, så jeg bagte også lidt for hende, og så skulle hun bare pynte dem, når hun kom hjem fra skole, og tage dem med til kæresten om aftenen. Når så kæresten vælger at overraske hende med, at de skal ud at spise, så fik hun godt nok travlt, og de båndroser, som hun havde planlagt, var vist ikke helt så nemme at lave, som moren havde påstået, så hun endte med at låne et par af mor's roser - det er vel det man har en mor til. Samme cupcakes, fyld og pynt, bortset fra den lyserøde frosting, som er Wilton's Decorating Icing.
My oldest daughter has been too busy these last few days, and has had no chance to bake herself, so I baked some for her to decorate when coming home from school, before going to see her boyfriend tonight. But since he surprised her by asking her out to dinner, she was extremely pressed for time, and the ribbon roses, she had planned to make, weren't quite as easy, as her mother had claimed, so she ended up borrowing a couple of Mum's roses - isn't that what mothers are for? Same cupcakes, filling and decorations, except the pink frosting, which is Wilton's Decorating Icing.