Den anden dag ville jeg absolut bage, men jeg havde lovet mig selv kun at bruge hvad jeg havde til at ligge, fordi jeg allerede havde for mange ting åbnet, som skulle bruges. Når man så opdager, at man alligevel mangler en del basisting, så må man altså være kreativ, og det var jeg så:
The other day I was intent on baking a cake without going shopping, since I had to many opened ingredients that I needed to use. When I realised that I was actually missing quite a few staple items, I had to be creative, so I was: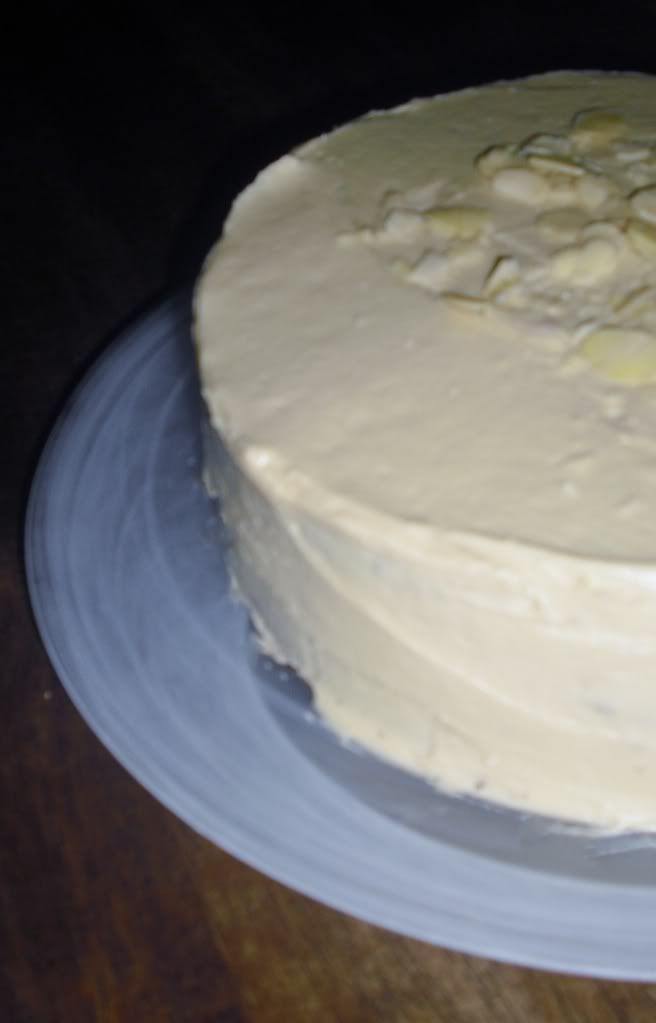 Det var ikke meningen, at kagen skulle på bloggen, men bare serveres hurtigt for lækkersultne unger (og mand!), så der er ikke gjort noget ud af udseendet. Til gengæld var den altså overraskende god, så nu ender den alligevel på bloggen, til næste gang jeg har for meget fløde, jeg gerne vil bruge.

The cake wasn't meant to end up on the blog, but needed to be made quickly for kids (and husband!) with cravings and demands, so I paid no attention to the looks. It just ended up surprisingly delicious, so I am putting it on the blog anyway for future reference, since I often have cream, that I need to use.

Opskrift på Chokolade Flødeskums Kage/

Chocolate Whipped Cream Cake recipe

:

75 g smeltet, afkølet chokolade

/ 75 g melted chocolate, cooled

2 dl fløde

/ 2 dl cream

2 æg

/ 2 eggs

3/4 tsk mandelessens

/ 3/4 tsp almond extract

225 g mel

/ 225 g flour

200 g sukker

/ 200 g sugar

1 stor tsk bagepulver

/ 1 heaped tsp baking powder.

1. Pisk fløden stiv. I en anden skål piskes æggene godt. Vend forsigtigt de piskede æg, chokoladen og mandelessensen i flødeskummet.

2. Bland de tørre ingredienser og vend dem forsigtigt i dejen.

3. Kom dejen i en smurt 20 cm rund form og bag kagen ved 175 C i ca 50 min.

4. Afkøl kagen, del den i to, og fyld og smør op med smørcreme.

1. Beat cream until stiff. In another bowl, beat the eggs well. Gently fold the eggs, chocolate and almond extract into the cream. 2. Mix the dry ingredients and fold them gently into the batter. 3. Pour into a greased 20 cm round pan and bake at 175 C (350F) for about 50 minutes. 4. Cool the cake completely, split into 2 layers and fill and frost with buttercream.

Jeg ville egentlig bare have lavet en almindelig vanille smørcreme, men da jeg ikke en gang havde de par spiseskefulde mælk, jeg skulle bruge, så blev det i stedet til en ahornsirups smørcreme, som var et stort hit her i huset. Men nu elsker vi jo også alting der drypper af ahornsirup...

I had intended to make an ordinary vanilla buttercream, but since I didn't have any milk, I made Maple Syrup Buttercream, which was definitely a major success. But then again, we love anything and everything that is dripping with maple syrup, so why not cake... Opskrift på Ahornsirup Smørcreme/Maple Syrup Buttercream recipe

:

75g smør

/ 75 g butter

300 g flormelis

/ 300 g confectioners' sugar

1 1/4 dl ahornsirup

/ 1 1/4 dl maple syrup

Pisk smør og flormelis godt sammen. Tilsæt ahornsirup og pisk den grundigt, til den er cremet og smørbar.

Blend butter and sugar. Stir in maple syrup and beat until creamy and of spreading consistency.