Det er ikke fordi vi går op i Velntine's dag herhjemme - her er da Valentine's dag, HVER dag - men, da jeg jo benytter mig af enhver undskyldning til at bage kager og søde sager, så har jeg da bagt lidt de sidste par dage. Og når jeg først er i gang i køkkenet, så er jeg ikke sådan lige til at stoppe igen, så når nu manden for et par dage siden for sjov begyndte at plage om de her "Æg- og Bacon Cupcakes", der løber rundt på facebook lige for tiden, og havde den frækhed, at spørge, om jeg ikke elsker ham nok til at lave dem, så tog fanden jo ved mig, og så fik han Valentine's morgenmad!
We don't really celebrate Valentine's here - we have Valentine's day EVERY day instead - but since I am always lookin for a good excuse to bake, I have been baking the last couple of days. And once I am in the kitchen, I just keep going, so when my husband started nagging me about the picture of Bacon and Egg Cupcakes, that I have seen often on facebook lately, and had the nerve to ask, if I didn't love him enough to make them, I decided to show him alright, so here is our Valentine's breakfast:
Jeg var jo nødt til at lave lidt research på de velsignede cupcakes, og endte med at lave en kombination af et par eller tre af dem, men brugte hovedsagelig
Martha Stewart's opskrift
. Red Velvet Scones opskriften, er fra
Cupcakeluv
, og selvom mine kun lignede hendes, indtil de havde været i ovnen (hvor blev den røde farve af? Og hvorfor hævede de så sindsyg meget?), så smagte de helt vildt godt. Der går tit år i mellem at jeg laver vafler, så jeg glemmer altid, at jeg skal halvere min opskrift, for ellers ender jeg med at stå og bage vafler i over en time! Ellers havde jeg også farvet den varme chokolade rød, men det kan jo ikke ses på billedet.
I had to research the infamous cupcakes, and ended up using a combination of a few of the recipes that I found, but mainly used Martha Stewart's. The Red Velvet Scones recipe is from Cupcakeluv, and even though mine only looked like hers until they had been in the oven (What happened to the red colour? Why did they raise so insanely much?), they tasted really good. I don't bake waffles very often, so I always forget to half my recipe, and then I end up having to bake waffles for more than an hour! I also coloured the hot chocolate red, but sadly that doesn't show in the picture.
Jeg kunne selvfølgelig ikke styre mig, så manden (og børnene) fik også en madpakke:
Of course, I couldn't help myself, so my husband (and the kids) also got a packed lunch: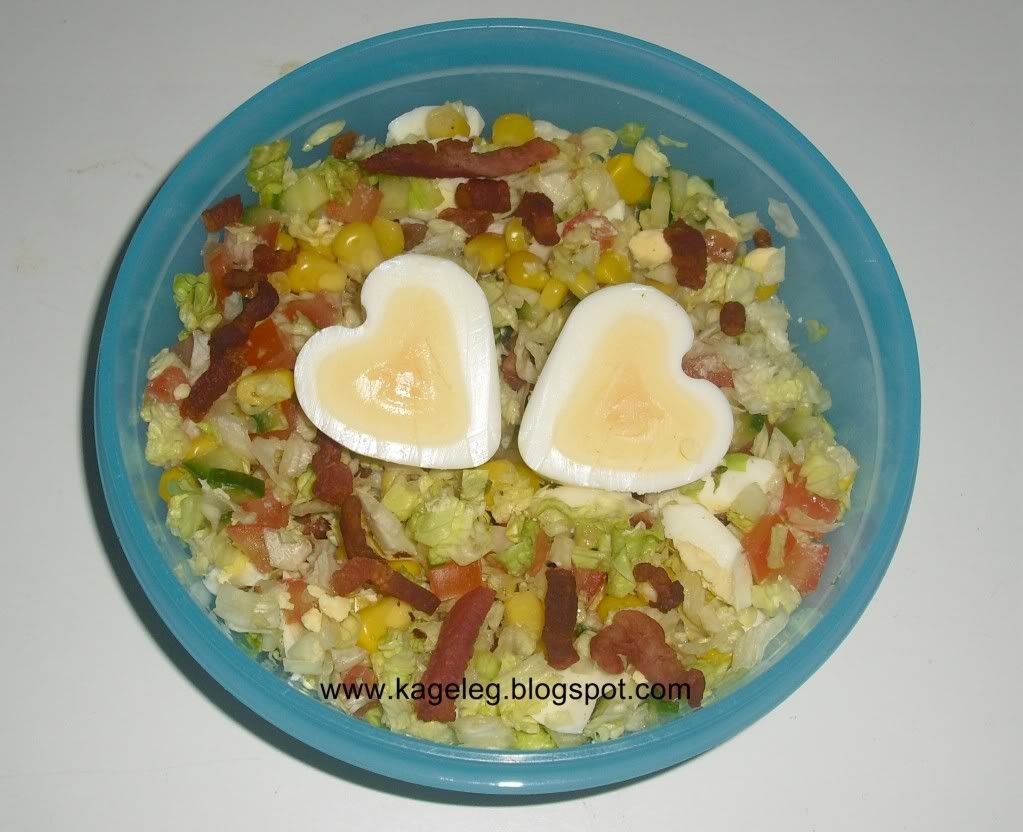 Æggene har jeg lavet hjerteformet, efter anvisningen
her
.
I shaped the eggs, like shown in this tutorial.
Og jo, manden fik skam også cupcakes med på arbejde:
And of course my husband also got cupcakes with his lunch: