Som før nævnt kom min yngste søn hjem kort før hans fødselsdag og insisterede på en Sørøver fest, så den ellers nemme 2D Avatar kage, som han havde fablet om i evigheder, passede ligesom ikke ind. Jeg ville nok være gået i panik, hvis jeg ikke havde husket at have set en fantastisk beskrivelse af en skattekiste kage lavet af cakemummy som kan ses
hér
. Jeg tror ikke rigtigt jeg lavede nogen ændringer, men måske et par tilføjelser, og så endte den sådan her:
As previously mentioned, my youngest son came home a week before his birthday and insisted on a Pirate party, so the otherwise easy 2D Avatar Cake, that he had been talking about for ages, suddently didn't seem to be fitting. I would have paniced if I hadn't remembered a great How-to on a treasure chest made by cakemummy which can be seen here. I didn't make many changes, and it ended up like this: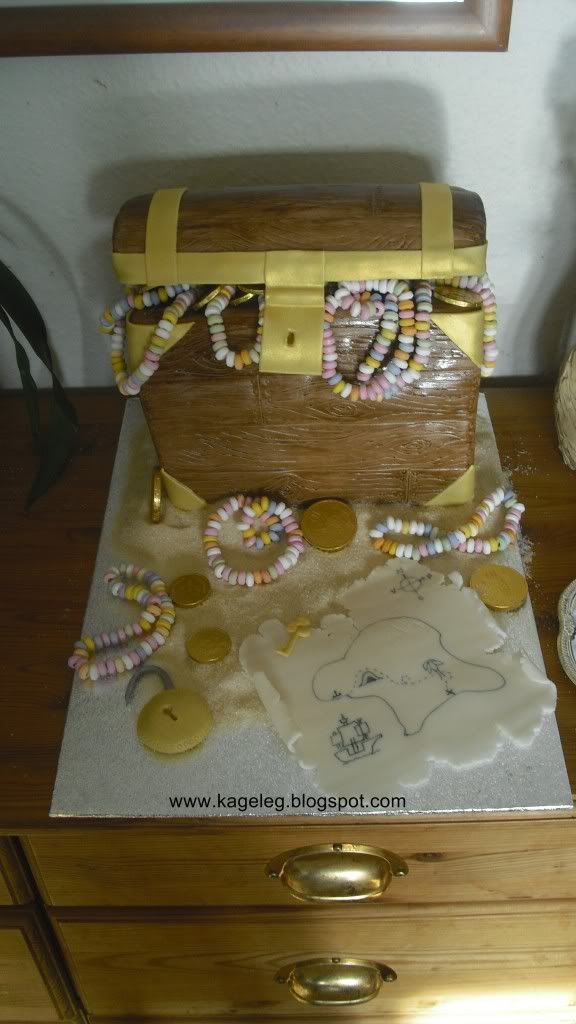 Drengen havde selv valgt kage og fyld, så det blev en
Mudcake
med
Hvid Chokoladecreme med Dajm
og
Skovbær Mousse
(eller "den lilla", som han sagde). Kagen er smurt op med
Chokolade Smørcreme
og pyntet med en blanding af Wilton's Fondant og FunCakes Chokolade Fondant. Låget er lavet af Cocopops Treats.
He chose cake and filling himself, so we ended up with a Mudcake with White Chocolate Cream with Dajm and a Forrestfruit Mousse (or "the purple" one, as he said). The cake is crumbcoated with Chocolate Buttercream and covered with a mix of Wilton's Fondant and FunCakes Chocolate Fondant. the lid is made out of Cocopops Treats.
Opskrift på Cocopops Treats/Cocopops Treats Recipe:
20 g smør
/butter
10 Marshmallows
150 g Cocopops
Smelt smør og Marshmallows i en tykbundet gryde over svag varme. Tag gryden af og rør Cocopops i. Hele massen hældes ud på et palminsmurt bagepapir, hvor papiret foldes over og massen formes nogenlunde mens massen stadigvæk er varm. Når den er kølet helt af (gerne på køl), skæres den til.
Melt butter and Marshmallows in a pot over low heat. Remove from heat and stir the Cocopops in. Pour all of it on greased bakingpaper, fold the paper over and use it to shape and mould the treat roughly while still warm. When it is cooled off (refrigerated is fine), you can trim the shape.
Nu var denne kage ret så afhængig af chokolademønter, og jeg kunne altså overhovedet ikke støve en enkelt op her i byen. Så jeg var glad for at huske, at de er sæsonvare til jul i England, og for en gangs skyld, kunne jeg være glad for at julen starter så tidligt, så jeg aftalte med svigermor, som alligevel ville komme et par dage før fødselsdagen, at hun tog nogen med fra England. Genialt, hvis ikke lige at hendes kuffert altså ikke var med flyet til Aalborg. Jeg ville måske have ærgret mig mere, hvis ikke jeg havde været mere bekymret over, at hendes insulin var i kufferten.... Manden blev så sendt i en chokoladebutik i Hjørring, hvor han købte rigeligt til en stykpris, vi slet ikke tør tale om. Og så kom kufferten alligevel frem før fødselsdagen....
This cake was sort of depending on chocolate coins, and I couldn't find any anywhere in town. Luckily I remembered they are seasonal in UK during Christmas, and for once I was glad that retail Christmas starts early, so I arranged for my mother in-law to bring some with her, as she was arriving a couple of days before the birthday. Great idea, if only her suitcase hadn't gotten lost. I might have been more concerned, if I hadn't been more worried about the fact that her insuline was in the suitcase! So I sent the husband on a traintrip to the closest chocolate shop where he bought plenty, at a priece pr piece that we don't dare talk about. And then the suitcase was found and delivered before the birthday anyway :P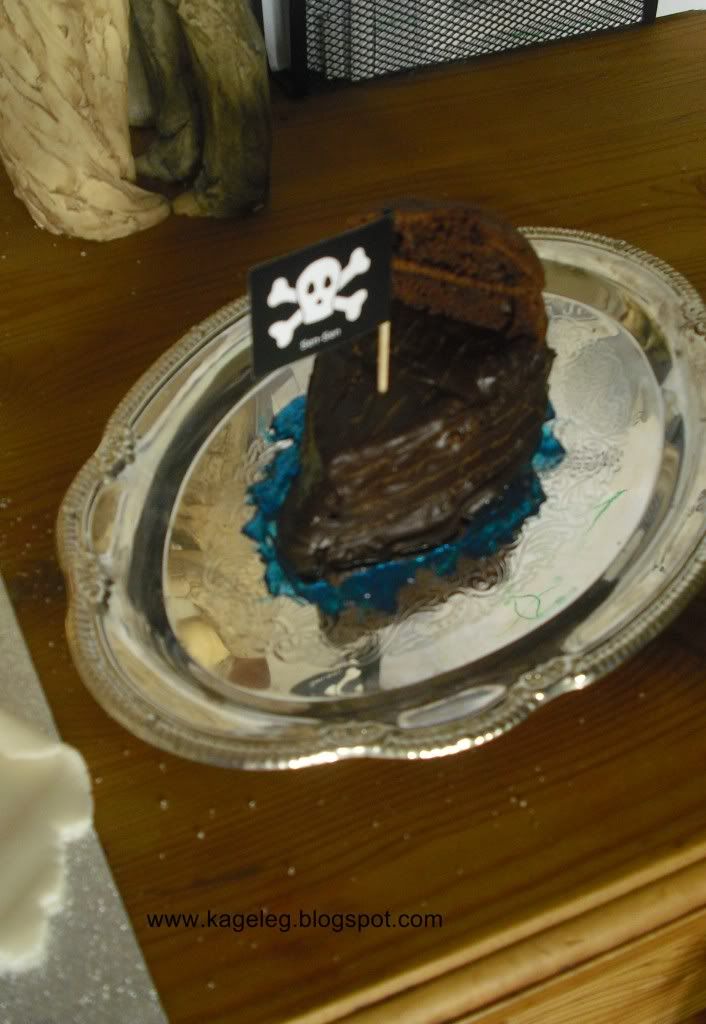 Nu var der så også en dreng med sukkersyge til fødselsdagen, så jeg bagte nogen sukkerfri chokolademuffins (som smagte hæsligt efter min mening, så deler ikke opskrift) og lagde sammen med skovbær vendt med fløde, og overtrukket med sukkerfri chokolade. Drengen var vældig glad og spiste det hele, så måske var det alligevel tæt nok på hvad han var vant til.
Since a diabetic boy was attending the party, I baked some sugarfree chocolate muffins (which tasted absolutely horrendous in my opinion, so not sharing a recipe), mixed some whipcream and berries for the filling and coated with sugarfree chocolate. The boy was happy and ate it all, so maybe it was close enough to what he was used to anyway.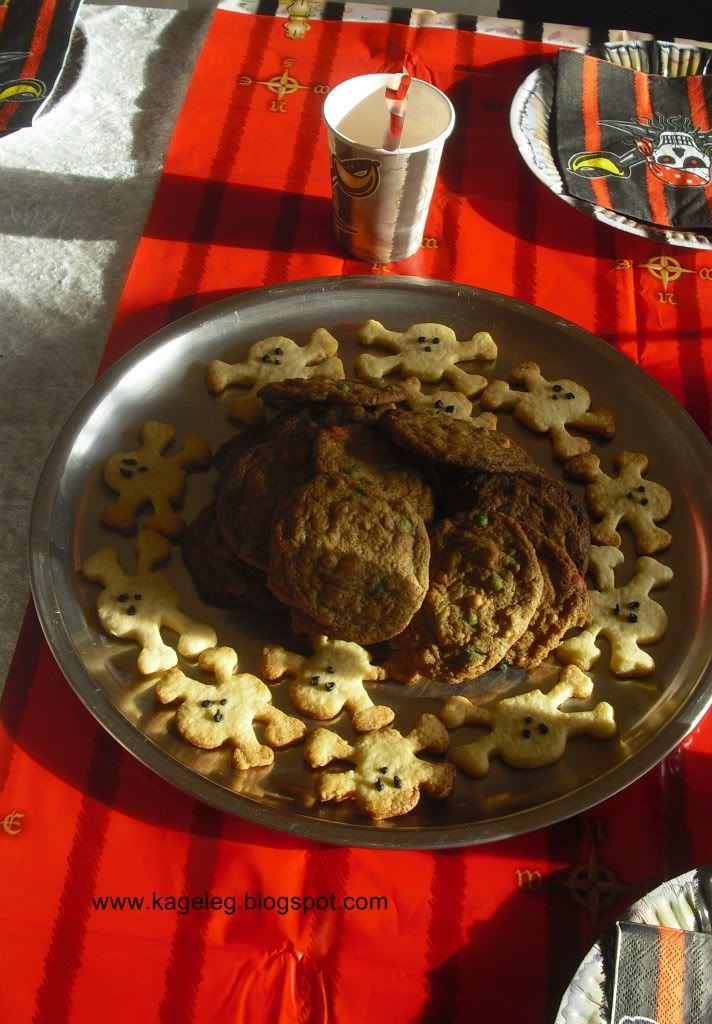 Der blev også bagt Juvel-småkager (Chocolate Chip Cookies m. sukkerklædte chips) og Dødningehoveder (mørdej m. RI), som fødselsdagsbarnet selv kunne være med til.
We also baked Jewel Cookies (Chocolate Chip Cookies with candy coated chips) and Skull and Crossbones (butterdough with RI), which the birthdayboy helped make.