Manden skulle også lige have en kage herhjemme på sin fødselsdag. Da jeg i sin tid ønskede mig kagebøger med Debbie Brown i fødselsdagsgave (var betaget af hendes eventyr kager), fik jeg en bog med 3 pole dancere udenpå, og så kunne jeg jo godt regne ud, at det ikke var Askepot's karet han skulle have...
My husband deserved a cake for his birthday of course. When he asked me what I wanted for my last birthday, I said cakebooks and that I really liked Debbie Brown's books (I loved her fairy tale cakes). So of course he got me a book with 3 pole dancers on the cover, so I figured he really didn't want Cinderella's carriage for his birthday....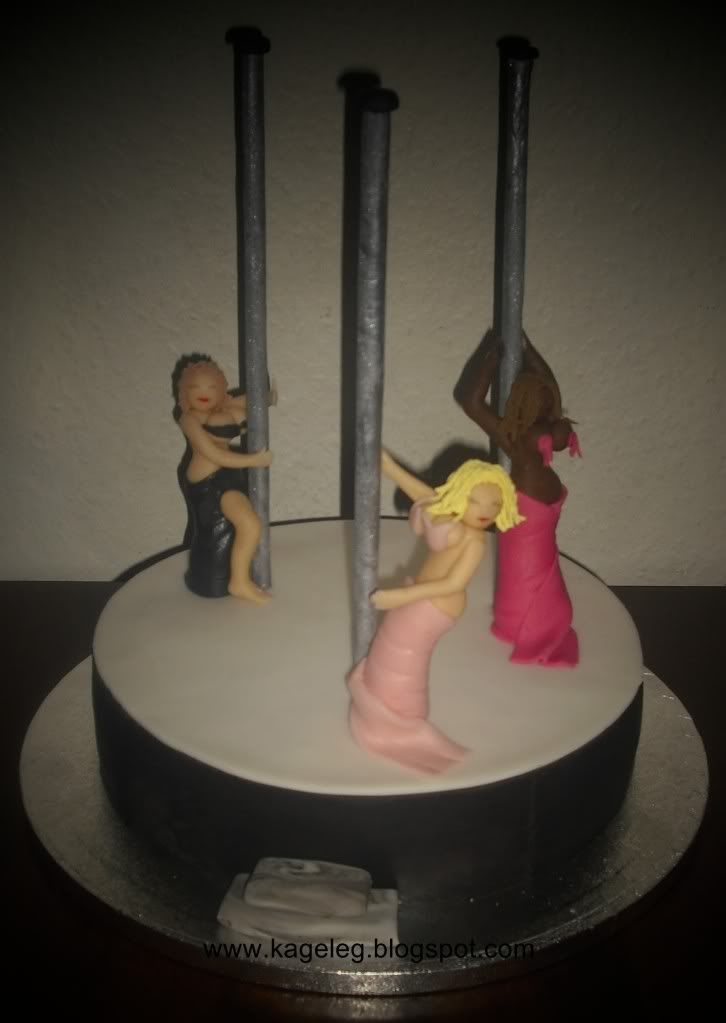 Desværre fik jeg en rystende nyhed, mens jeg var ved at pynte kagen, og kunne ikke koncentrere mig om at få den færdig, hvilket jeg godt kan ærgre mig over nu - især når jeg havde brugt rigeligt tid på forarbejdet. Den mangler detaljerne, finish, kanter m.m., men jeg valgte til sidst bare at gøre det vigtigste som manglede - nemlig male ansigtstræk på og lave håret. Jeg skal hilse og sige, at ingen af de to dele er særlig smart at lave, når man bogstaveligt talt ryster på hænderne! Da jeg endelig var færdig, og kun ville børste en enkelt RI krumme af der var faldet ned, præsterede jeg at ramme den foreste pige, som tabte halvdelen af sit hår :/
Unfortunately, I got some distrurbing news while I was decorating the cake. I was unable to focus on finishing the cake, which of course annoys me a bit now - especially since I spent plenty of time preparing for this cake. It lacks details, finish, borders etc, but in the end I just chose to do the most important missing things - painting facial features and piping the hair. Btw, neither of those tasks are suitable to do, when your hand is literally shaking - just in case anyone was wondering :P When I finally finished, and just wanted to brush of a single crumb of RI that had fallen down, I managed to knock of half the blond's hair :/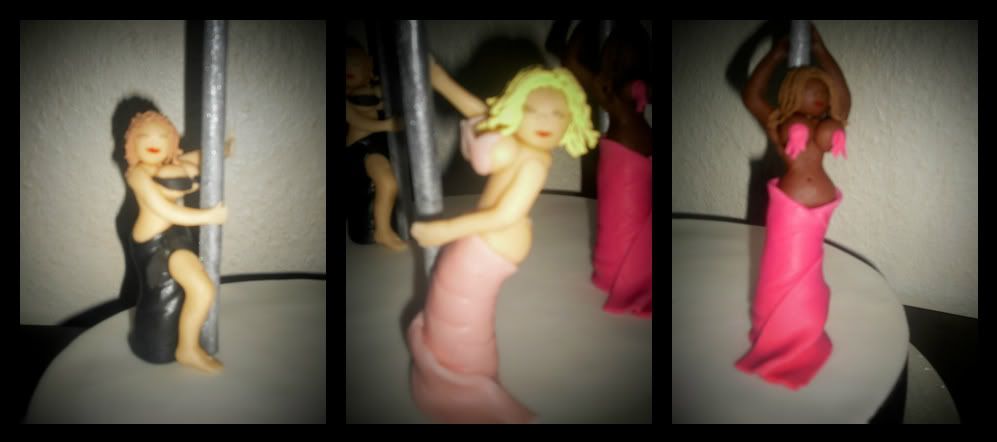 Kagen bestod af Kakao-lagkagebunde med
Hvid Chokoladecreme med Dajm
og Skovbær Mousse og var smurt op med
Chokolade Smørcreme
.
The cake was made using Cocoa Sponge Cake Layers with White Chocolate Cream with Dajm and Forrestfruit Mousse.
Opskrift på Kakao-lagkagebunde/Cocoa Sponge Cake Layers:
9 æg/
eggs
200 g flormelis/
powdered sugar
100 g majsstivelse/
cornstarch
100 g hvedemel/
flour
1 1/2 tsk/
tsp
bagepulver/
baking powder
Pisk æggeblommerne lyse of luftige sammen med flormelis (ca 5 min). Bland de tørre ingredientser og pisk dem hurtigt i dejen. Pisk hviderne stive i en ren, tør skål. Pisk ca 3 spsk stive æggehvider i dejen, og fold så forsigtig resten af æggehviderne i dejen.
Dejen kommes i en springform med bagepapir i bunden og bages ved 200 grader C i ca. 15-20 min. Når kagen er bagt og kølet af kan den deles i 2-3 bunde alt afhængig af størrelsen på formen.
Beat eggyolkes with the powdered sugar for approx. 5 minutes. Mix the dry ingredients and whisk them in the batter just long enough to get it all mixed in. Whisk the eggwhites stiff in a separate dry and clean bowl. Beat 3 tbsp off stiff eggwhites into the batter, then gently fold in the remaining eggwhites.
Put the batter in a cake pan, lined with greaseproof paper on the bottom only, and bake it at 200 degrees C for 15-20 minutes. When the cake is baked and cooled off, it can be split into 2 or 3 layers - depending on the size of the cake pan.