Datteren skulle jo også lige have en kage med i skole, og denne gang blev det virkelig til "bare en med blomster":
My daughter also needed a cake to bring to school for her birthday, and this time I really did "just one with some flowers":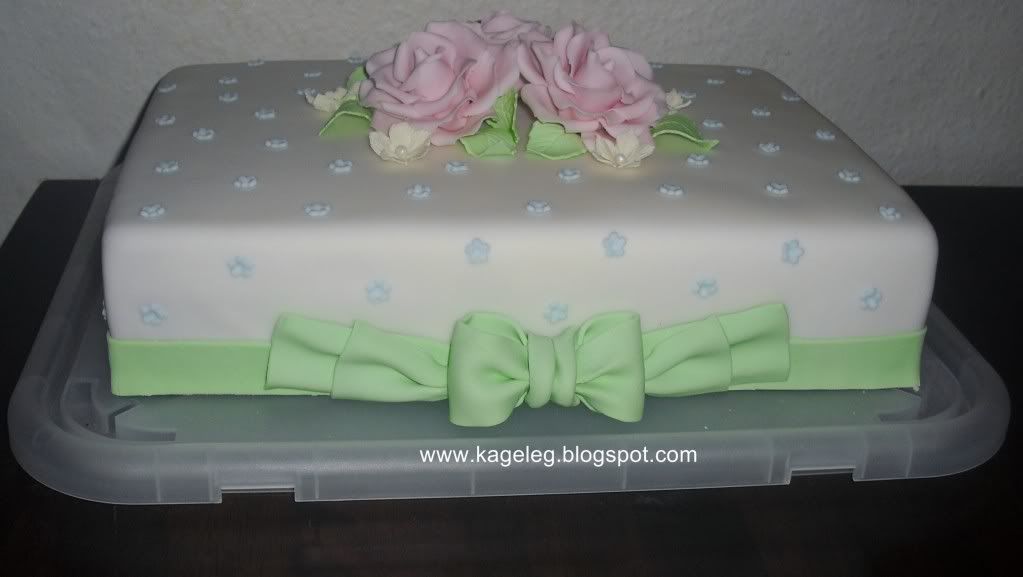 Kagen bestod af 1 lag
Mudcake
og 2 lag Sort Midnats Kage. Den var fyldt med Chokorangecreme og Jordbær Mousse, smurt op med
Chokolade Smørcreme
og overtrukket og pyntet med Wilton's fondant.
The cake was made using 1 layer of Mudcake and 2 layers of Black Midnight Cake. It was filled with Chocolate-Orange Cream and Strawberry Mousse, coated with Chocolate Buttercream and covered and decorated with Wilton's fondant.
Opskriften på Sort Midnats Kage er fra min ældgamle Betty Crocker kogebog, og er en helt vild god og nem chokoladekage.
The Black Midnight Cake recipe is from my ancient Betty Crocker Cookbook and is a really good and easy chocolate cake.
Opskrift på Sort Midnats Kage
/Black Midnight Cake recipe:
365 g mel /
2 1/4 cup flour
240 g sukker /
1 2/3 cup sugar
80 g kakaopulver /
2/3 cup cocoa
1 1/4 tsk natron /
1 1/4 tsp soda
1 tsk salt /
1 tsp salt
1/4 tsk bagepulver /
1/4 tsp baking powder
3 dl vand /
1 1/4 cups water
175 g smør /
3/4 cup shortening
2 æg /
2 eggs
1 tsk vanilie essens /
1 tsp vanilla
Hæld alle ingredienser i en stor skål. Pisk ved lav hastighed i 1/2 min for at blande ingredienserne, pisk derefter i 3 min ved høj hastighed. Fyldes i smurt, meldrysset form og bages ved 175 C i 45 min i aflang form, 30-35 min i springform. Denne portion rækker til en aflang form 33x23 cm, eller 3 lag i 20 cm eller 2 lag i 22 cm rund form.
Heat oven to 350F. Grease and flour baking pan 13x9x2 inches, or three 8-inch or 2 9-inch round layer pans. Measure all ingredients into large mixer bowl. Blend 1/2 min on low speed, scraping bowl constantly. Beat 3 minutes high speed, scraping bowl occasionally. Pour into pan(s). Bake oblong about 45 minutes, layers 30 to 35 minutes or until wooden pick inserted in center comes out cean. Cool.
Opskrift på Chokorangecreme/
Chocolate-Orange Cream recipe:
200 g Chocolade med appelsinkrokant /
200 g Orange flavoured milk chocolate
1/2 L fløde /
1/2 L cream
Chokoladen hakkes og kommes i en skål (den skal være stor nok til at man kan piske en halv liter fløde i den). Fløden bringes i kog og hældes over den hakkede chokolade. Lad den stå nogle minutter og rør så rundt til du har en ensartet masse. Dæk cremen til med plastfolie - helt nede i skålen, så den rører og dækker overfladen og kommer op ad siderne i skålen. Sæt så cremen i køleskabet i mindst 8 timer - gerne natten over. Når du skal bruge cremen piskes den op til en tyk creme. Pas på, det går pludselig stærkt, og hvis du overpisker cremen, skiller den og er ikke til at redde.
Chop the chocolate and put it in a bowl big enough to whip half a liter of whip cream in. Bring the cream to a boil and pour it over the chopped chocolate. Leave it to stand for a few minutes, then stir until you have a homogeneous creme. Cover the creme with cling film - all the way down in the bowl, so it touches and covers the surface of the creme and comes up the side of the bowl. Put the creme in the fridge for at least 8 hours - overnight is fine. When you are ready to use the filling, whip it until it turns into a thick spreadable creme. Be careful, if you overwhip, the cream separates and isn't recoverable.
Opskrift på Jordbær Mousse/
Strawberry Mousse recipe:
7 blade husblas /
7 gelatine sheets
400 g frosne jordbær /
400 g frozen strawberries
200 g sukker /
200 g sugar
1 spsk vaniliesukker /
1 tbsp vanilla sugar
1/2 L fløde /
1/2 L whip cream
Husblas sættes i blød mens jordbær og sukker koges op i en gryde. Bærene koger i ca 5 min. Gryden tages af varmen og bærene blendes forsigtig med en stavblender (hvis kernerne blendes bliver den bitter). Tilsæt vaniliesukker. Lad blandingen køle lidt af, før du tilsætter den udblødte husblas. Rør godt indtil al husblas er smeltet og lad så blandingen køle af til stuetemperatur. Pisk fløden stiv, rør 1/3 af fløden i jordbærrene, og vend til sidst jordbærblandingen i resten af den piskede fløde. Sæt moussen på køl indtil du skal bruge den, og pisk den igennem inden den anvendes.
Soak your gelatine according to instructions on your pack. Bring the strawberries and sugar to a boil and let it simmer for 5 minutes. Remove from heat and blend the berries carefully - avoid blending the pips, as they will turn it bitter. Add vanillasugar and leave the mix to cool for a bit, before you add the gelatine. Stir until all gelatine is melted and then leave it to cool to roomtemperature. Whip the cream stiff, stir 1/3 of the cream in the strawberries, and finally gently fold in the strawberry mix in the remaining whip cream. Refrigerate the mousse until you need it, and whisk it lightly before you use it.