Jeg havde planlagt nogen vilde cupcakes til min datters fødselsdag, hvor jeg skulle bruge
SugarVeil
for første gang. Selvom jeg havde lavet alt hvad jeg kunne i forvejen, så endte jeg med slet ikke at have tid til at pynte dem, da problemer med kagen til fødselsdagen stjal al den tid, der var afsat til cupcakes. Alt blev bare klasket på i huj og hast, så det er ikke nogen cupcakes jeg er stolt af, men jeg blogger om dem alligevel for at huske de meget få ting, som jeg alligevel fik lært:
I had planned some crazy cupcakes for my daughter's birthday, using SugarVeil for the first time. Even though I had made everything in advance that could be made in advance, I still ended up without time to decorate them, since problems with the birthday cake stole all of the time I was supposed to decorate cupcakes. Everything was just thrown on the cupcakes, and these are not cupcakes that I am proud of, but I am still blogging about them to remember the very few things I still managed to learn: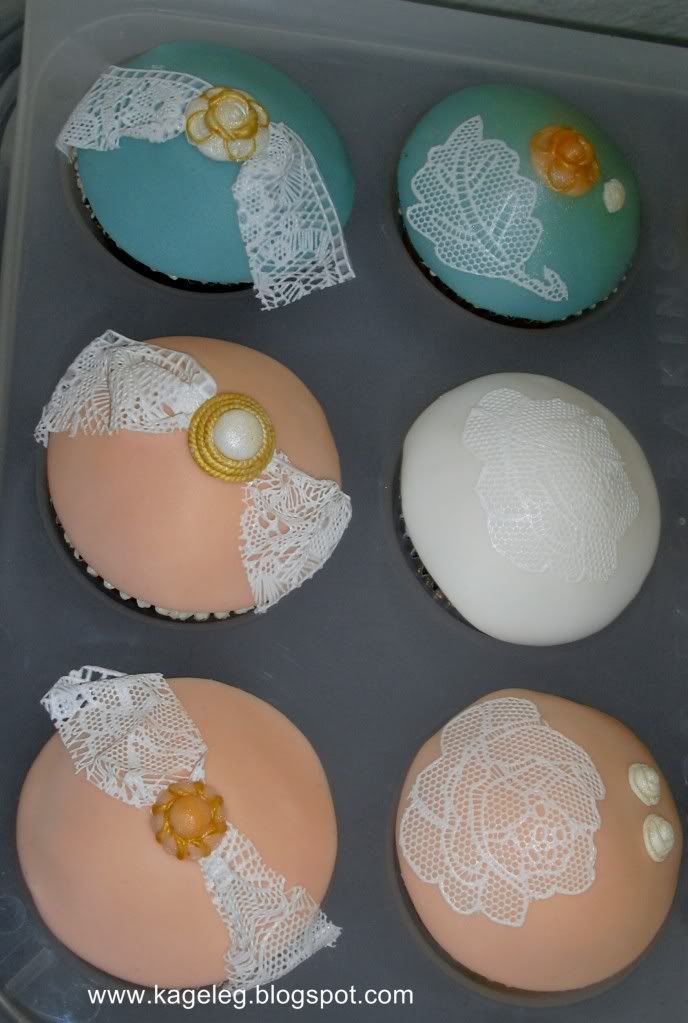 For det første, så har jeg ikke lavet "domed" cupcakes før, og med den begrænsede tid, så må jeg indrømme at jeg faktisk ikke rigtig lærte noget af mit forsøg denne gang, så jeg må afsætte noget tid en dag, til bare at lege med det. Mht SugarVeil, så var jeg lidt i tvivl om hvilken opskrift jeg skulle bruge - den på pakken, eller den fra en britisk kagedame som (som så mange andre) havde problemer med pakkeopskriften og havde ændret lidt på den. Jeg gjorde som den britiske (60g pulver + 40g kogende vand), men næste gang vil jeg prøve pakken, bare for at se, hvilken fungerer bedst for mig. Blandingen på pakken skal røres sammen dagen før man spreder blandingen ud på måtten, og så skal den gerne stå og tørre en nat også - så start mindst 2 dage før. Den britiske opskrift kan bruges efter 5 min, så kan stadigvæk nås, hvis den amerikanske kikser.
First things first: I haven't made domed cupcakes before, and with the limited time, I must admit I didn't actually learn anything from my poor attempt, so I will have to take some time one of these days (ok probably not until after we are done moving) to just play around with it. Regarding the SugarVeil, I was a bit torn on wether to try the recipe on the package, or a modified recipe from a British cakeartist, who (as so many others) was having issues with the original recipe. I ended up trying the British one (60g powder + 40g boiling water), but next time I will try the original, just to see what works best for me. The original recipe has to be mixed 24 hours before spreading on the mat, and then should be left to set over night - so start at least 2 days early. The modified recipe can be used after 5 minutes, so can still be done if the original fails.
Mht tørring af sugar veil, så tørrede min ikke helt i løbet af natten, så jeg gav den 10 min i kold ovn ved 75C . Jeg prøvede først kun at tænde lyset i ovnen (skulle være laveste grad), men der var ingen varme overhovedet, men satte den så på de 75 og tog dem ud ret hurtigt. Sugarveil bager i stedet for at stivne allerede ved ret lave grader, men den fremgangsmåde virkede altså for mig.
About the drying of the veil, mine didn't completely set over night, so I gave it 10 minutes in a cold oven and turned it to 75C. I tried just using the pilot light first, but it didn't warm up the oven at all, so I turned it to 75 and removed the mat after a short amount of time. SugarVeil bakes instead of setting already at a very low temperature, but this method worked for me.
Jeg havde så bare ikke tid til at klippe de forskellige designs ud, og heller ikke tid til at pynte dem pænt (snøft - jeg havde sådan glædet mig), men én ting fik jeg da lært: Sugarveil'en klaskede sammen og klistrede til cupcake carrier'en da jeg havde transporteret mine cupcakes lufttæt - det skal man så ikke gøre, hvis man ikke vil have sugarveil'en til at ligge fladt - og det ville jeg ikke med sløjferne.
I just didn't have the time to cut out the intricate designs or to actually decorate nicely with them (*sniffle* - I was so lucking forward to it too!), but I did learn one important lesson: The veil fell flat and stuck to my cupcake carrier, since I transported the cupcakes airtight - so don't do that, if you don't want the sugarveil laying flat on the surface, which I didn't want my bows to do.
Jeg havde faktisk så lidt tid til at pynte cupcakes at jeg måtte give op, og bare swirle nogen - for det kan jeg da gøre hurtigt, ik'? Tjah, det kan jeg måske nok, når jeg ikke SKAL gøre det hurtigt, for ikke engang de blev pæne, men jeg kan så trøste mig med, at de smagte lige så godt som de skal :)
I actually was so pressed for time, that I had to give up on trying to decorate the cupcakes and just quickly swirl some, since I can at least do that fast, right? Well, maybe I can when I don't have to, because not even the swirled ones turned out alright, but at least they all tasted as good as they were supposed to :)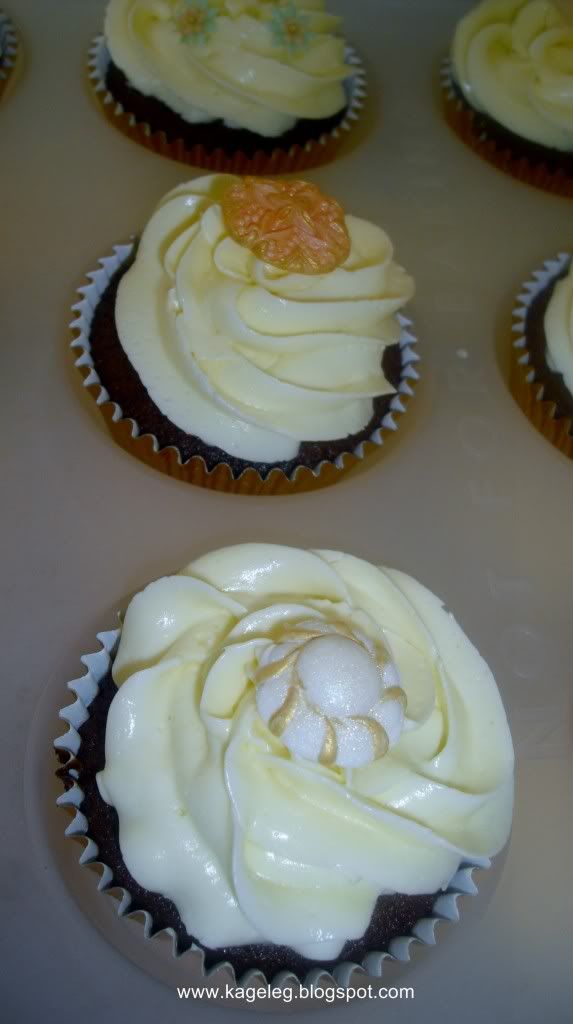 Til sidst skal jeg lige sige, at jeg stadigvæk glæder mig vildt meget til at lege med SugarVeil, men det må bare vente indtil efter 1.juni hvor vi skal flytte. Jeg har et par kager mere, som jeg skal lave i denne uge (og et enkelt indlæg, jeg også er bagud med), men så må jeg hellere gå i gang med at pakke og så glemme alt om kager i et lille stykke tid.
I am still looking forward to playing with SugarVeil, but it will have to wait until after 1st of June when we are moving. I still have a couple of cakes to make this week (and I am a single blog post beind too), but then I'd better start packing and forget all about cakes for a little while.