Så blev det tid til at lave klassens-time-kage sammen med den 12 årige igen. Han bagte, jeg pyntede, og det endte sådan her (undkyld dårlig billedkvalitet):
It was time again for the 12 year old to bring cake to school. He baked, I decorated and this is what we ended up with (excuse the poor quality of the pictures):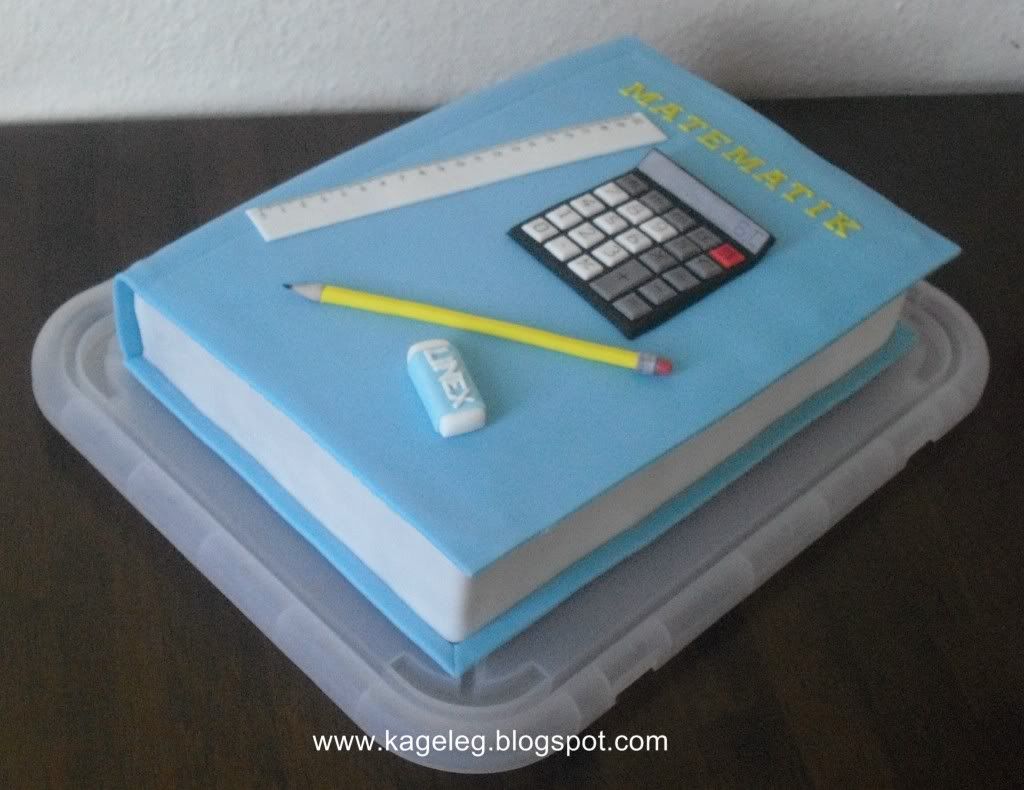 Kagen er en Chocolate Chip Kage, fyldt og smurt op med
Chokolade Smørcreme
og overtrukket med Wilton's fondant.
The cake is a Chocolate Chip Cake, filled and frosted with Chocolate Buttercream and covered with Wilton's fondant.
Til den obligatoriske fejlrapport: Jeg lavede 1 1/2 portion af kagedejen, og bagte den i 2 forme. Jeg var forberedt på at skære en hel del top af, da den hæver meget i midten, men jeg var ikke forberedt på at begge bunde var meget højere i den ene ende end den anden. Jeg kunne så vælge mellem at ende med 2 meget tynde lige bunde, eller forsøge at smøre den lige op. Jeg valgte det sidste, da der trods alt skulle være kage nok til alle de sultne klassekammerater. Det var noget værre pangel, og nogen må have fået stykker med en hel del smørcreme (men ingen klager), så næste gang, så skal jeg altså bare spise kagerne og bage nye. Det er trods alt verdens nemmeste opskrift. Og hvis jeg skal lave en sekskantet blyant igen, så skal jeg lige huske at klippe takker i den gule del, der vender mod stiften, for at gøre den mere naturlig, men ellers var jeg meget tilfreds.
My mandatory error-report: I made 1 1/2 batch of the batter and backed it in 2 oblong pans. I was prepared to have to cut a lot off the top, as it raises a lot in the center, but I wasn't prepared for both layers being way higher in one end than the other. I then had to choose between ending up with 2 very thin but level layers, or having to correct the difference with buttercream. I chose the latter, as we still needed to have enough cake for all those classmates. It was a lot of trouble, and some of the students must have gotten quite a lot of buttercream in their piece (but no complaints), so next time, I really should have just eaten the cakes and baked new ones. It is the simpest recipe after all. And if I ever have to make a six sided pencil again, I need to remember to cut points in the yellow end closest to the writing tip, to make the transition more natural, but other than that, I was happy with the result.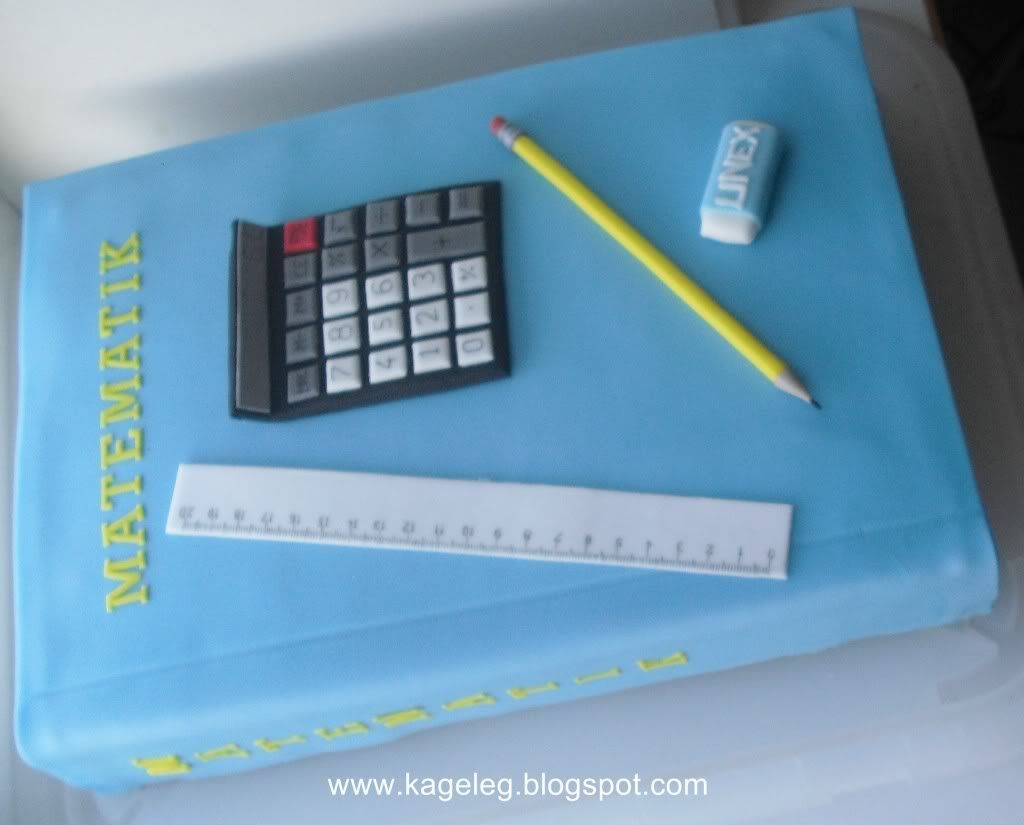 Opskrift på Chocolate Chip Kage
/ Chocolate Chip Cake recipe:
250 g mel
/ 2 cups flour
225 g brun farin
/ 1 cup brown sugar (packed)
100 g sukker
/ 1/2 cup sugar
3 tsk bagepulver
/ 3 tsp baking powder
1 tsk salt
/ 1 tsp salt
1/2 tsk natron
/ 1/2 tsp soda
115 g smør/margarine
/ 1/2 cup shortening
3 dl mælk
/ 1 1/4 cups milk
3 æg
/ 3 eggs
100 g chocolate chips
/ 1/2 cup chocolate chips
1 1/2 tsk vanilie essens
/ 1 1/2 tsp vanilla
Hæld alle ingredienser i en stor skål. Pisk ved lav hastighed i 1/2 min for at blande ingredienserne, pisk derefter i 3 min ved høj hastighed. Fyldes i smurt form og bages ved 175 C i 50 min i aflang form, 40-45 min i springform. Denne portion rækker til en aflang form 33x23 cm, eller 2 lag i 20-22 cm rund form.
Heat oven to 350F. Grease and flour baking pan 13x9x2 inches, or two 8 or 9-inch round layer pans. Measure all ingredients into large mixer bowl. Blend 1/2 min on low speed, scraping bowl constantly. Beat 3 minutes high speed, scraping bowl occasionally. Pour into pan(s). Bake oblong about 50 minutes, layers 40 to 45 minutes or until wooden pick inserted in center comes out cean. Cool.