Nu har det jo været "in" ret længe at lave macarons i kageverdenen, og jeg har længe haft lyst til at prøve. Selv om jeg aldrig har lavet dem før, er det lidt typisk mig, at gabe over for meget i første omgang, og så prøve at dekorere forskellige macarons inden jeg har fået lært den grundlæggende teknik... Men så har jeg tilgengæld lært en hel del forskelligt på en aften (eller nat var det vist).
It has been "IN" for quite some time now to make macarons, and I have wanted to try to make them for a long time. Even though I haven't made any before, I (as usual) go way overboard and have to try and decorate several different mcarons, before learning the basic tecnique... But at least it resulted in lots of lessons learned in one evening (or should I be honest and say night).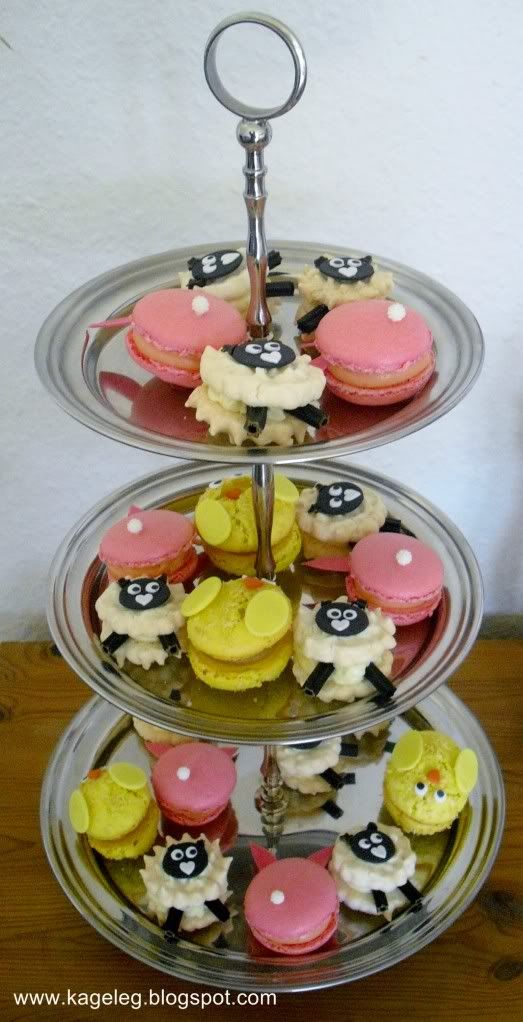 De er alle lavet af én portion, efter opskrift der kan downloades her:
Master the Macaron
og blev delt i 3 og så farvet. De er også alle pipet inden nogen var bagte, så derfor nåede jeg ikke at lære noget før alle var bagt, og så kan jeg bare være bagklog og så ellers huske det hele til næste gang. Jeg lavede først de hvide lam, og jeg vidste, at dejen skulle være ret tyk, for at beholde formen, men jeg fandt senere ud af, at SÅ tyk, som jeg lavede den, havde nu ikke været nødvendigt. De lyserøde troede jeg, at jeg havde ødelagt ved at overrøre dejen, da jeg farvede den, men det var faktisk dem, der lykkedes bedst mht. foden (den hævede nederste del), nogle enkelte krakelerede, men de var heller ikke helt tørre, da jeg satte dem i ovnen - jeg opgav bare, eftersom de allerede havde stået i 2 timer. De gule lavede jeg til sidst, og der er dejen så igen for tyk - og så var det alt for svært at lave ovaler - jeg skal da helt sikkert holde mig til cirkler indtil jeg har fået det grundlæggende på rygraden.
They are all made of a single portion of the recipe that can be downloaded here: Master the Macaron, split in 3 and then dyed. They were all piped before any of them were baked, so I didn't get to learn anything before they all were baked, so now I have to remember it for next time instead. I made the white ones first, and knew the batter had to be pretty thick to retain the shape, but as I later got to see, it didn't have to be THAT thick. The pink ones I though I had ruined by overbeating them when adding the colour, but they actually turned out best. A few of them cracked, but they weren't quite dry when I baked them - I just gave up, since they had already been sitting for 2 hours. I made the yellow ones last, and once again, they are too thick - and besides, I really shouldn't try ovals again until I have the basics down.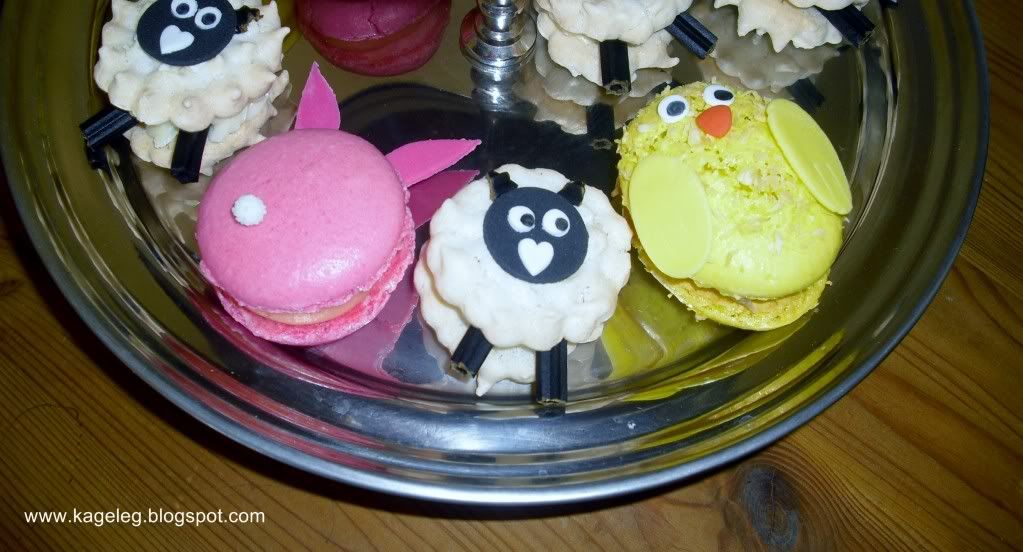 Til sidst vil jeg lige sige, at de har ret, når de siger, at selv de mislykkede (udseendemæssigt), jo smager fint nok stadigvæk. De hvide er fyldt med vanilie IMBC, de lyserøde er med hvid chokoladecreme med hindbær og de gule er fyldt med lemoncurd, og de sidste var altså min favorit - det syrlige fyld stod rigtig godt til de meget søde macarons.
Finally, I will just say that they are right, when they say that even the failed ones (on the looks) still taste fine. The white ones are filled with vanilla IMBC, the pink ones with white chocolate/raspberry creme and the yellow ones with lemoncurd. And the last ones were my favourites. The tart filling goes really well with the very sweet macarons.