Denne kage er lavet til en dreng, der fyldte 14. Han vil gerne være forsker, og er meget interesseret i universet (og computere, men det er der så mange, der er, så det tema gemmer jeg altså til en, der ikke har andre interesser, og det er faktisk overraskende mange), så det endte med denne kage:
This cake was made for a boy's 14th birthday. He wants to be a scientist and is very interested in the universe (and computers, but so many are, that I decided to save that theme for someone who has no other interests - there are surprisingly many of those too), and this is what I came up with: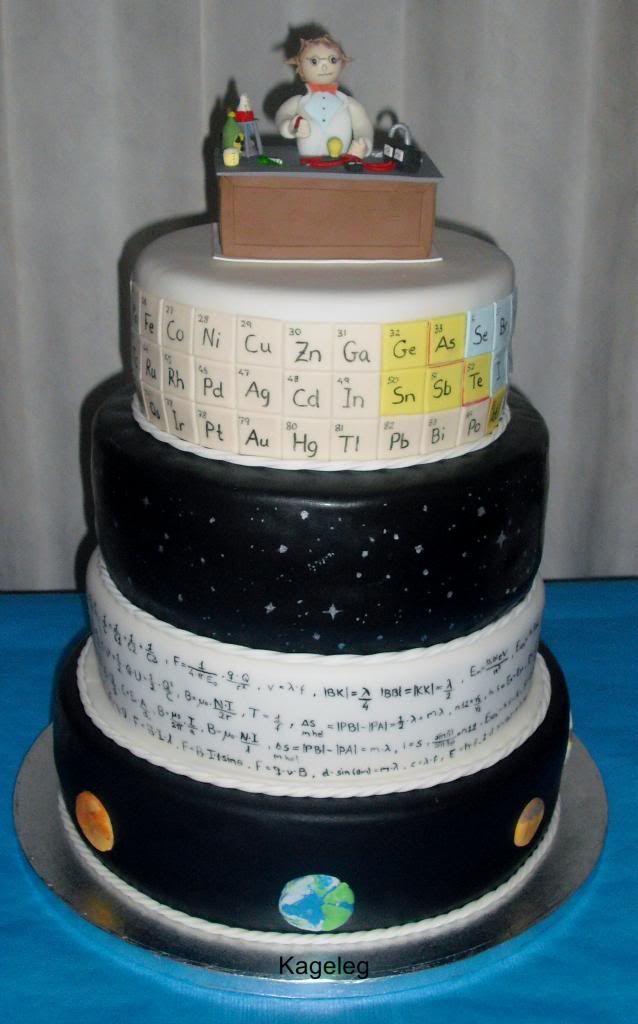 Det øverste lag bestod af
Sort Midnats Kage
med
Jordbærmousse
og
Chokorangecreme
.
Lag 2:
Lette Lagkagebunde
med Blåbærmousse og
Hvid Chokoladecreme m. Daim
.
Lag 3: Sort Midnats Kage med
After Eight Creme
Lag 4: Lette Lagkagebunde med
Hindbærmousse
og
Skildpaddecreme
Alle lag var smurt op med
Chokolade Smørcreme
og overtrukket med enten Sort Pettinice fondant eller hvid Wilton's fondant.
Top tier is Black Midnight Cake with Strawberry Mousse and Chocolate-Orange Creme.
2nd tier: Sponge Layer Cake with Blueberry Mousse and White Chocolate Creme with Daim (crunchy butter almond bar covered in milk chocolate).
3rd tier: Black Midnight Cake with After Eight Creme.
Bottom tier: Sponge Layer Cake with Raspberry Mousse and Chocolate-Caramel Creme.
All layers are coated with Chocolate Buttercream and covered in either Black Pettinice or white Wilton's fondant.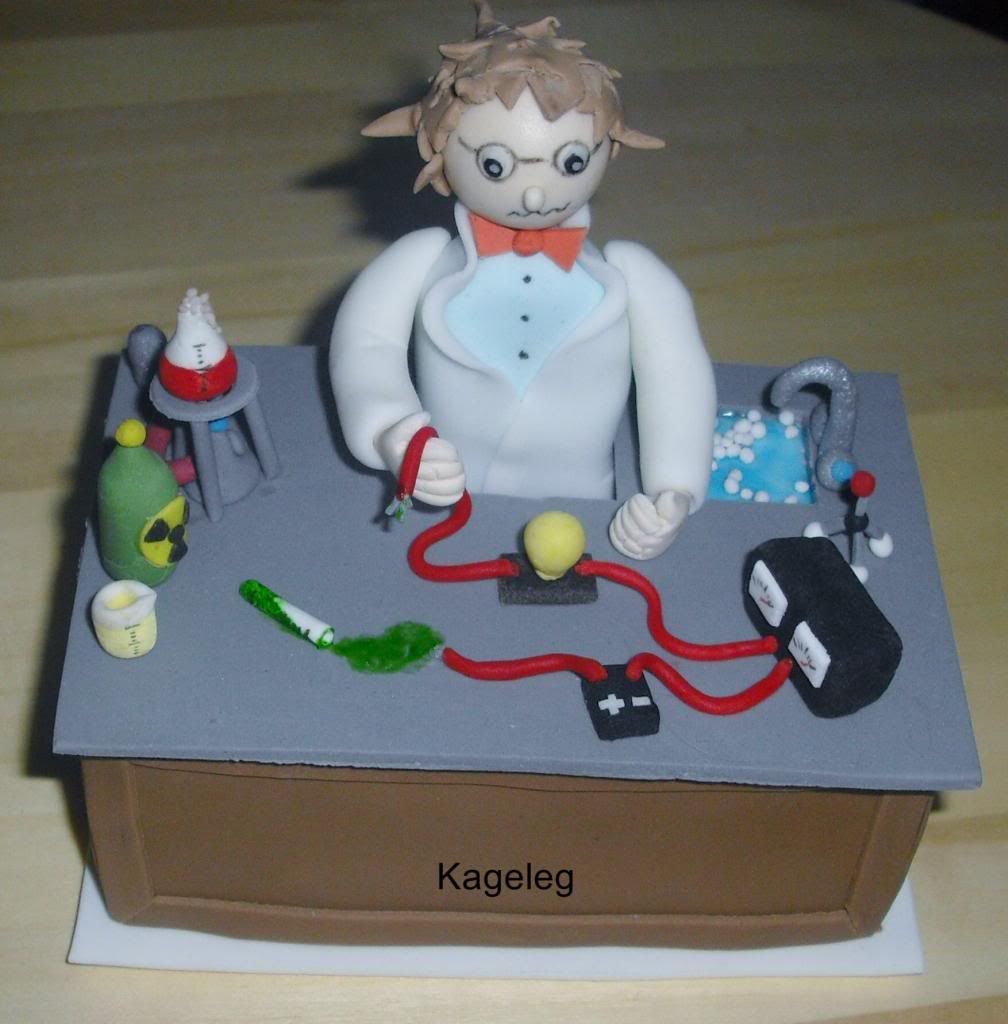 Bordet var lavet af
Cocopops Treats
, og overtrukket med Chokolade Smørcreme. Resten af pynten var fondant og lidt piping gel.
The desk was made using Cocopops Treats, covered with Chocolate Buttercream and then fondant. The rest of the decorations were made using fondant and a little bit of piping gel.
Kagen var vildt sjov at lave, og så fik jeg jo repeteret både fysik og kemi ovenikøbet :)
I had a lot of fun making the cake, and got to brush up on my physics and chemistry too :)