Så blev den yngste 3 år, og jeg må indrømme, at jeg var ret træt af, at hun ønskede sig en Dora kage igen i år. Jeg var tilfreds nok med den jeg lavede sidste år, og følte, at hvis jeg lavede en igen, så skulle den ligesom være bedre, og hvordan skulle jeg så lige gøre det? Dora skal jo altid 3 steder på kortet, så med mandens hjælp med idéer blev det til Krokodillesøen, Broen - Regnbuen:
My youngest just turned 3 and I must admit, that I was not too happy about her wanting a Dora cake again this year. I was happy enough with the one I made last year, and felt that if I had to do one again, I somehow had to top it, and how on earth would I do that? Well, Dora always has to go to 3 places on the map, so with the help of my husband regarding I ideas, I settled on the Crocodile Lake, Bridge and Rainbow:
Taget i betragtning, at jeg ikke har modelleret figurer uden anvisning før, så er jeg tilfreds nok med den, selv om den er helt gal med proportionerne. Jeg gik igang med at lave Dora først, og lavede hende stor nok til at jeg kunne håndtere, at alle de andre figurer skulle være mindre og mindre. At hun så er for stor til kagen, tjah - det må jeg lære noget af til næste gang. Det har ellers taget mig 5 dage at lave alle figurerne og 36 cupcake toppers, og imens har jeg haft Trolde sangen på hjernen, og torteret hele familien med at synge den konstant.
Considering the fact, that I haven't modelled a figure without tutorial before, I am happy enough with the cake, even though the proportions are out of whack. I made Dora first, and decided to make her big enough so I could handle having to do the remaining figures smaller, and smaller. The fact that she would end up too big for the cake, hadn't even crossed my mind - so that will be my lesson for next time. It took me 5 days to make all the figures and the 36 cupcake toppers, and in the mean time I have had the Troll song stuck in my brain, and have been torturing my family by singing it constantly.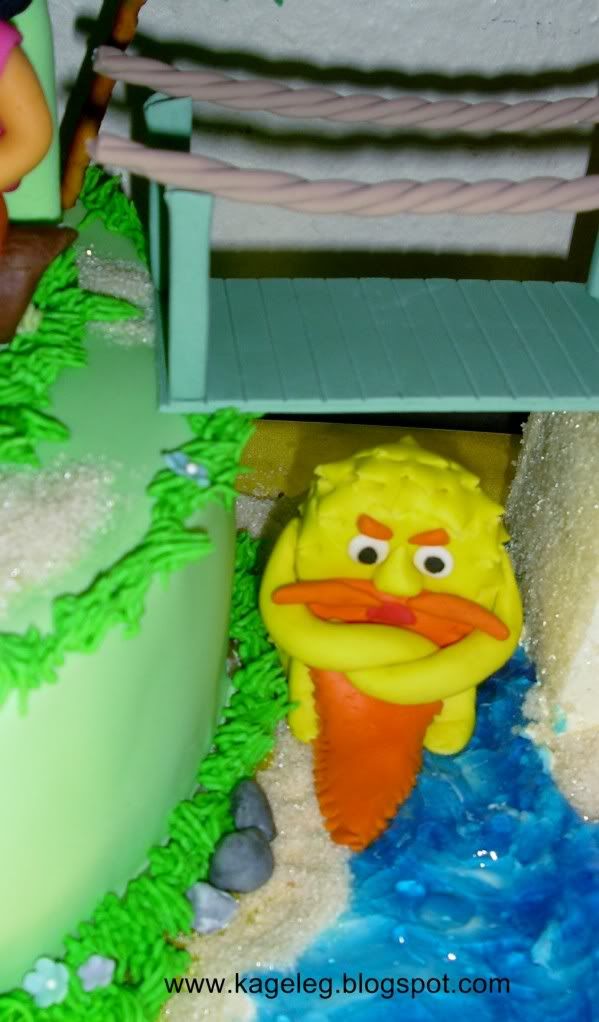 Jeg er en gnaven gammel trold
Under broen bor jeeeeg
Jeg er en gnaven gammel trold
Under broen bor jeeeeeg.
Hvis du vil over broen
Må du først gøre noget
Må du først gøre noget
LØS MIN GÅDE!



Jeg lavede Caramel Mudcake i håbet om at den ville falde i mandens smag, da han næsten synes at det er utilgiveligt, hvis jeg ikke laver Mudcake med After Eight Creme, hver gang jeg laver en kage, og det synes jeg altså er monotont, uanset hvor lækker den ellers er. Og planen lykkedes - jeg har nu hele 2 kager jeg kan vælge imellem, når det er manden jeg vil behage. Desuden var den også et hit hos resten af familien. Dog skal jeg bare huske, at en kage med Dulce de Leche nok ikke lige er det smarteste valg til en kage jeg vil skære i form, for så er en smørcreme dæmning altså ikke til meget nytte :)
The cakes were Mudcake with After Eight Creme, Caramel Mudcake (same recipe as Nati's Caramel Mudcake Cupcakes. The amount fits a 20 cm round pan and needs to bake for about 2 hours) with Dulce de Leche and IMBC and the last one was Dreamcake Layers with White Chocolate Creme with Dajm and Caramel/Chocolate Creme. The cakes were covered in Chocolate Buttercream or IMBC and Satin Ice fondant.
I made the Caramel Mudcake, hoping that my husband would like it, since he basically considers it an unforgiveable sin if I don't make a Mudcake with After Eight Creme, every single time I make a cake, and I find that quite monotonous, no matter how tasty it is. And the plan succeeded, and I now have all of 2 cakes to chose from when trying to please my husband. Yay! Besides, the rest of the family loved it too. I should just remember that a cake with Dulce de Leche isn't the best choice for a cake I am planning on cutting into shape :)


Opskrift på Dulce de Leche/Dulce de Leche recipe:
1 dåse kondenseret mælk/ 1 can of sweetened condensed milk
Put dåsen i en gryde (Ja , hele dåsen, uden at åbne den!) og dæk den med vand. Lad den så koge i 4 timer (den må ikke koge tør, så fyld mere vand på efterhånden, om nødvendigt) og lad den afkøle inden du åbner dåsen. Du får så den lækreste karamel, som bare lige skal piskes igennem med en el-pisker inden du bruger den. Nemmere bliver det altså ikke.
Mængden passede med et 2 cm tyk lag i en 20 cm rund kage.
Put the can in a pan (Yes, the whole can without opening it) and cover it with water. Boil it for 4 hours (check every now and then if it needs topping up with water) and let it cool of before you open the can. This makes a delicious caramel creme which just needs to be beaten with electric beater before you use it. It doesn't get easier than that.
The amount made a 2cm thick layer in a 20 cm round cake.
Og så er Kageleg nu også at finde på
Facebook
.
And Kageleg can also be found on Facebook now.