Min tidligere kollega's barnebarn skulle døbes og i den forbindelse ønskede moren sig en kage med lyse
Lette lagkagebunde
, tobleronecreme og jordbærmousse. Hun kunne godt lide babyen fra en tidligere dåbskage, jeg har lavet, så det fik jeg følgende ud af:
My former colleague's granddaughter was being Christened, and the mother wanted a cake with classic sponge layers, Toblerone Creme and Strawberry Mousse. She liked the baby I had put on another Christening Cake, from before I blogged, and I ended up with this: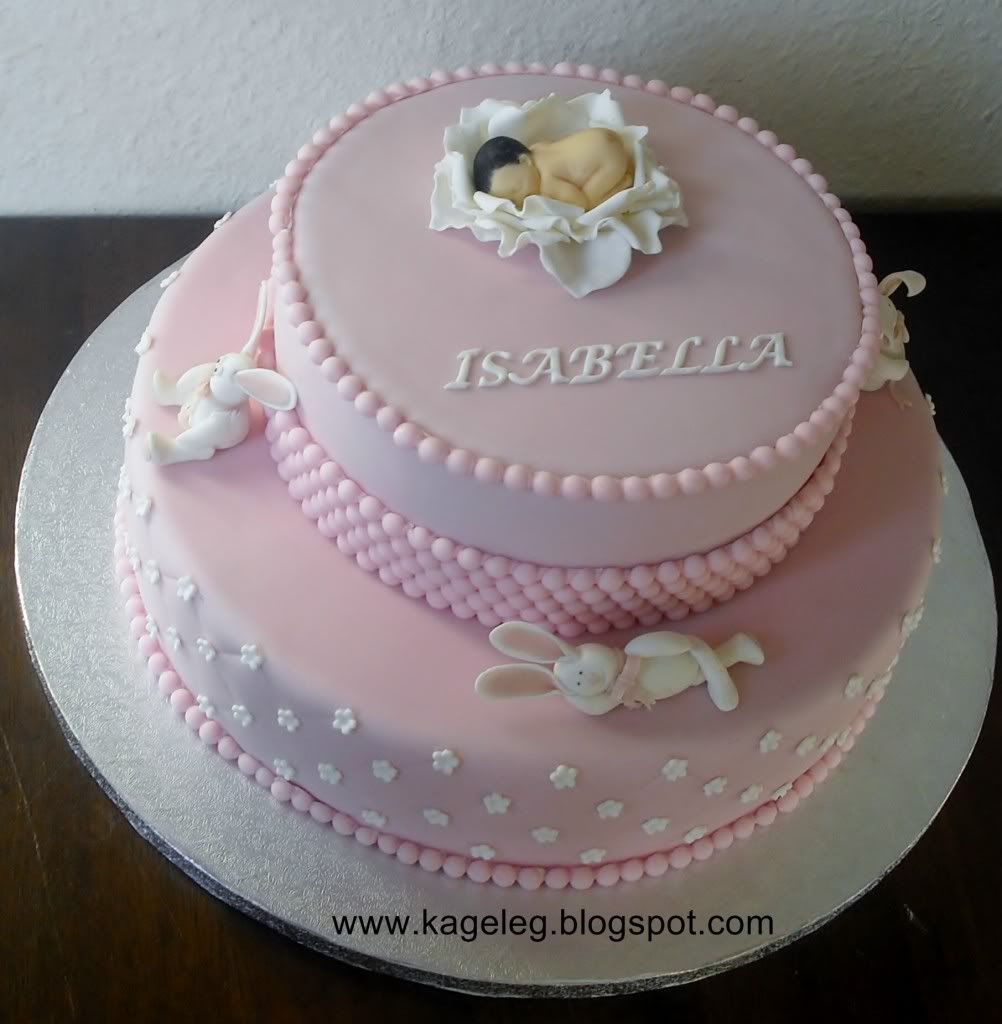 Min perlemould drillede altså lige lovlig meget denne gang - typisk når jeg nu skulle bruge den meget mere, end jeg plejer. Fondanten var alt for levende og klistret i forhold til hvad den plejer, og selvom de problemer det gav, er lidt for svære at forklare her, så vil jeg prøve at putte lidt tylose i fondanten næste gang, hvis jeg har problemer igen. Men jeg var ikke rolig eller fornuftig nok til at komme på løsninger, mens jeg var i gang. Hjernen har det med at stå af, når jeg som sædvanligt har taget natten i brug for at få kagen færdig til tiden - og så har glemt alt om at tage hensyn til sommertid og den manglende time i tidsplanen :) Jeg var oprindeligt kommet bagud i tidsplanen, fordi størstedelen af kaninørene knækkede af. De var gennemtørret da jeg brugte dem, men jeg må have brugt for meget lim - de var i hvert fald ligesom opløste i den del, der var stukket ned i hovederne. Og så sad jeg ellers pænt og hold dem på plads, til de tørrede igen - godt jeg havde Medical Night (House, Grey's og Private Practise) optagelser til at holde mig underholdt imens :)
My pearl mould was teasing me like crazy this time - typical since I had to use it so much more than I usually do for a cake. The fondant was too sticky and "alive" compared to how it usually is, and the problems that resulted from this are a bit too difficult to explain, but if I have similar problems again, I will try and add some tylose to the fondant. I was just not levelheaded or sane enough to come up with solutions when it happened. My brain tends to shortcut when I (as often is the case) am working through the night to get the cake ready in time - and suddenly realise that we are changing to summertime and I am losing an hour. I was behind schedule because most of my bunny-ears broke off. They were fully dried, when I used them, but I must have used too much glue - at least the part of the ears that was stuck in the heads seemed to have dissolved. So I redid it without glue and sat and held the ears in place while the head dried around them. Good thing I had several weeks of Medical Night recorded (House, Grey's and Private Practise) to keep me entertained, as it is almost as much fun as watching paint dry after all :/
Opskrift på Tobleronecreme/Toblerone Creme recipe:
300 g Toblerone
/yup, 300 g Toblerone - just in case you don't read "black"
1/2 L fløde
/ 1/2 L whipping cream
Smelt chokoladen sammen med fløden over vandbad. Varm godt igennem. Tildæk med film, helt nede på overfladen af fyldet nede i skålen og op langs siderne. Stil på køl til næste dag. Pisk igennem til den stivner og brug den.
Melt the chocolate with the cream in a heatproof bowl over a pan of barely simmering water (don't let the base of the bowl touch the water. Warm through, remove the bowl and cover with clingfilm all the way down in the bowl - covering the surface and continuing up the sides. Refrigerate until the next day or at least 8 hours. Before use, whip it stiff, but don't overwhip as it will curdle.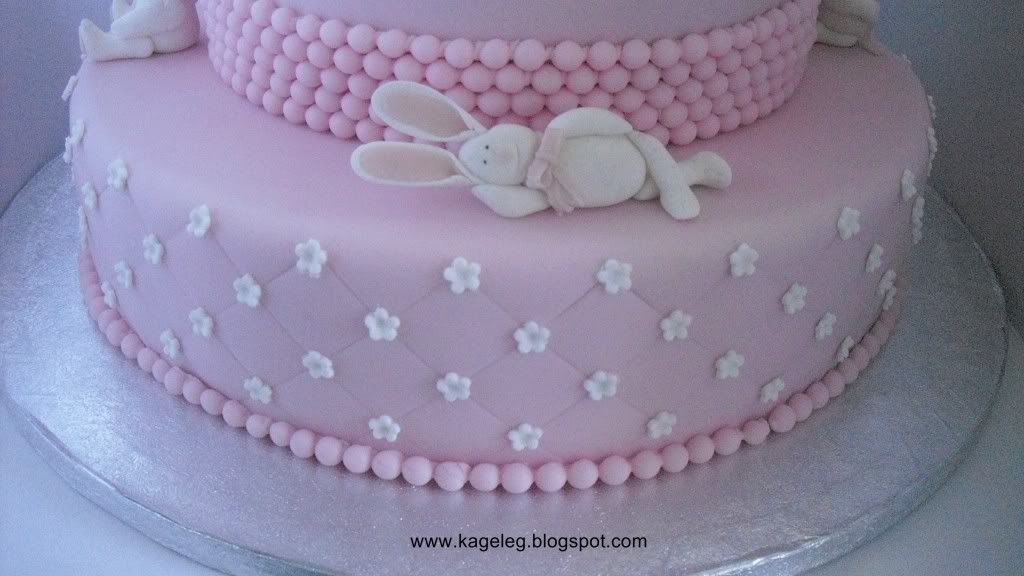 Opskrift på Jordbærmousse
/Strawberry Mousse recipe:
6 blade husblas
/ 6 gelatine sheets
400 g frosne jordbær/
400 g frozen strawberries
ca. 200 g sukker
/ about 200 g sugar
1 spsk vanillesukker
/ 1 tbsp vanilla sugar
1/2 L fløde
/ 1/2 L whip cream
Husblas sættes i blød mens jordbær og halvdelen af sukkeret koges op i en gryde. Bærene koger i ca 5 min. Gryden tages af varmen og bærene blendes forsigtig med en stavblender (hvis kernerne blendes bliver den bitter). Tilsæt mere sukker gradvis (mængden afhænger altså af hvor sur/søde bærene er) og vanillesukker. Lad blandingen køle lidt af, før du tilsætter den udblødte husblas. Rør godt indtil al husblas er smeltet og lad så blandingen køle af til stuetemperatur. Pisk fløden stiv, rør 1/3 af fløden i jordbærrene, og vend til sidst jordbærblandingen i resten af den piskede fløde. Sæt moussen på køl indtil du skal bruge den, og pisk den igennem inden den anvendes.
Soak your gelatine according to instructions on your pack. Bring the strawberries and half the sugar to a boil and let it simmer for 5 minutes. Remove from heat and blend the berries carefully - avoid blending the pips, as they will turn it bitter. Gradually add more sugar (amount depends on how sweet/sour the berries are) and vanilla. Leave the mix to cool for a bit, before you add the gelatine. Stir until all gelatine is melted and then leave it to cool to roomtemperature. Whip the cream stiff, stir 1/3 of the cream in the strawberries, and finally gently fold in the strawberry mix in the remaining whip cream. Refrigerate the mousse until you need it, and whisk it lightly before you use it.