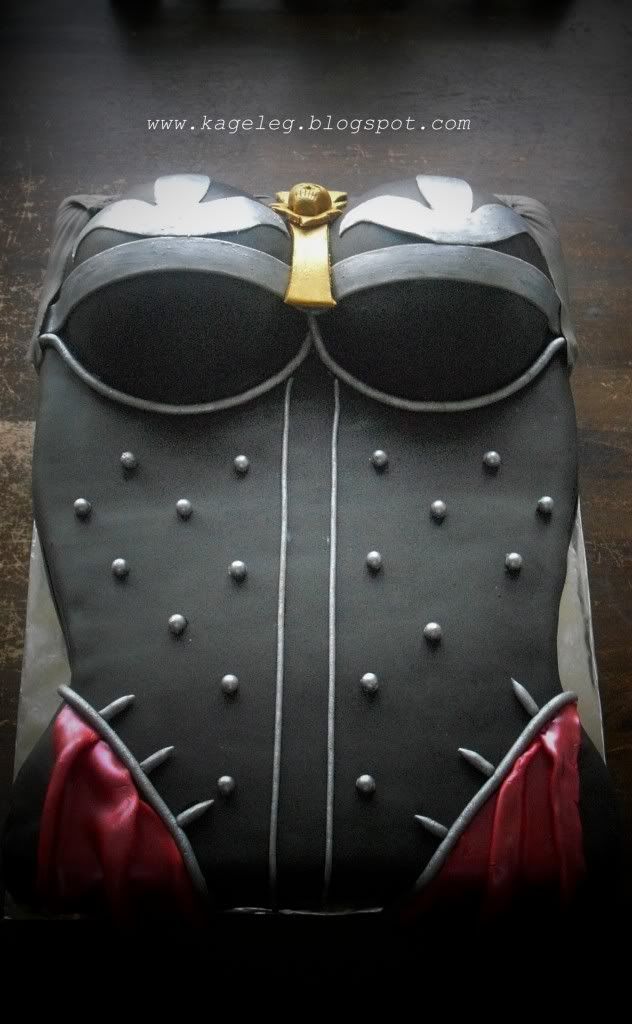 En af vores venner var vist lidt bange for at hans kammerats polterabend blev lidt for tamt (det blev holdt sammen med pigerne - og var i øvrigt slet ikke tosset), så han spurgte om jeg ikke kunne lave en Warhammer 40k kage til deres rollespilsaften, eller måske bare en pat kage, for det kunne man jo aldrig gå helt galt i byen med. Jeg nåede kun lige at tænke, at det måske kunne kombineres, da han sendte mig dette billede, af en typisk kvindelig rollespilsfigur fra spillet:
One of our friends was a little bit worried, that his friend's batchelor party would end up a little bit tame (it was held with the girls - and turned out just fine after all), so he asked if I could make a Warhammer 40k cake for their roleplaying evening, or maybe just a boobie cake, since they are always popular. I had barely had the thought, that I might be able to combine those, when he sent me a picture of one of the female characters:
The Cake was just Dreamcake layers with Baileys Mousse and Mixed Berries Mousse (Just like the Raspberry Mousse, just use half the amount of sugar and leave out the vanilla and lemon). The breasts were just Mudcake. The cake was covered in Chocolate Buttercream and Black Chocolate MMF, and even a little Red Candymelts MMF was added as decoration.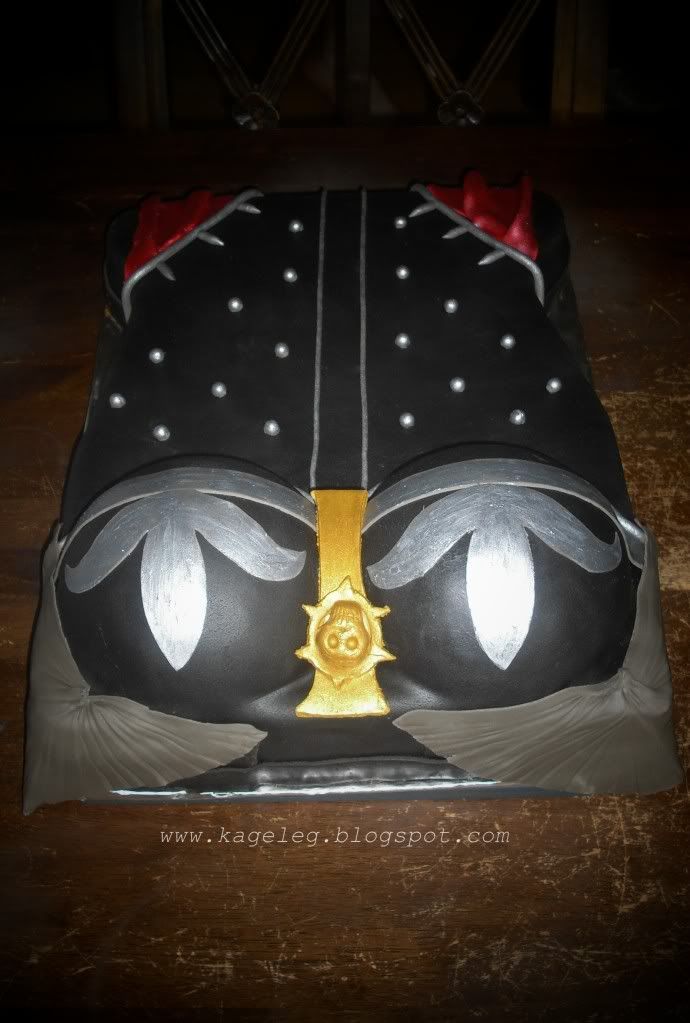 Det var lidt af en udfordring at lave kagen, med det vejr vi har haft. Fugt og varme og fondant er altså ikke nogen skøn blanding. Fondanten sveder, klistrer og næsten smelter mens man arbejder med den.
Når jeg laver kager, så er der iøvrigt altid et eller andet der driller. Sjovt nok så var problemet denne gang, at min mand (som er så utrolig sød og altid skærer og beklæder cake boards for mig) glemte, at jeg havde sagt, at han skulle huske lige at sikre sig, at cakeboardet kunne komme i køleskabet, da jeg ved, at brystkagerne er en udfordring for mit køleskab. Resultatet var, at jeg stod med en opsmurt kage, som ikke kunne komme i køleskabet! Så måtte manden pænt til forsigtigt at tage kagepapiret af, skære pap fra i begge ender, og så forsigtigt på igen med papiret, og så smører vi lige op igen.... ja, ja - hvad bliver problemet dog næste gang?
It was quite challenging to make the cake with the weather we have been having. Warm and humid doesn't mix very well with fondant! The fondant sweats, gets sticky and almost melts in your hands as you are working with it.
When I make cakes there is also always something, that is causing me trouble. This time it was my husband (who is extremely sweet and always cuts and covers the cakeboards for me) who forgot, that I had told him to make sure the cakeboard would fit in the fridge, as I know from experience, that boobiecakes are a bit challenging for my fridge. So there I was, with a cake covered in buttercream and nope - it doesn't fit in the fridge! So hubby had to carefully unwrap, cut of both ends of the cakeboard, and carefully rewrap, and then I had to fix the smudged buttercream... well, what on earth is going to be the problem next time? Must have tried it all by now :P