Min gamle nabo er lige blevet færdiguddannet sygeplejerske, og jeg lovede at lave en kage til festen. Hun var lidt betaget af en brystkage, som jeg lavede til min mand sidste år, så vi blev enige om, at kagen gerne måtte være i en fræk sygeplejerske uniform - heldigvis da, for prøv lige at google billeder af sygeplejerske uniformer, og se hvor svært det er at finde én der ikke er et kostume (jaja, jeg startede da i den seriøse ende).
One of my previous neighbours just finished nursing school, and I promised to make a cake for the celebration. She liked the boobie-cake I made for my husband last year, so we agreed that it could be fun to make one in a naughty nurse's uniform - fortunately that was what she wanted, as I had tried googling pictures of a real nurse's uniform (in Danish), but it just resulted in page after page of nurse's costumes.
Kagen var
Drømmekage-bunde
med
Baileys Fromage
og Skovbær Mousse (Som
Hindbær Mousse
bare med skovbær og halvt så meget sukker, mens citron og vanille udelades). Selve brysterne var ren Mudcake. Kagen var smurt op med
Chokolade Smørcreme
og overtrukket med Wilton's fondant.
The Cake was Dreamcake layers with Baileys Mousse and Mixed Berries Mousse (Just like the Raspberry Mousse, just use half the amount of sugar and leave out the vanilla and lemon). The breasts were just Mudcake. The cake was covered in Chocolate Buttercream and Wilton's fondant.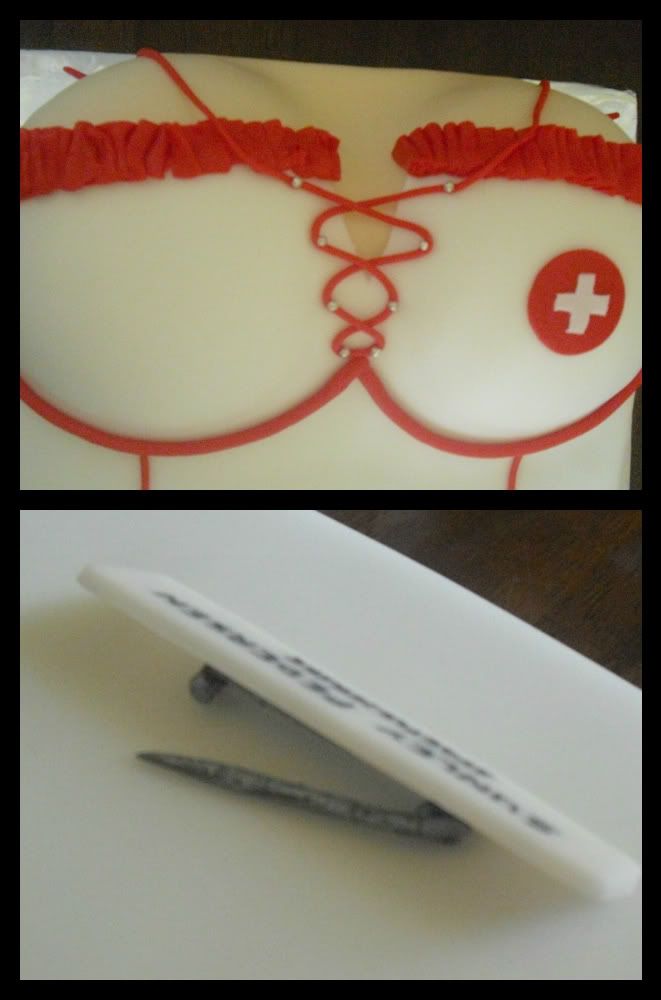 Jeg havde godt nok lavet MMF til at overtrække med, da det smager bedre, men med den sidste uges dårlige erfaringer med høj luftfugtighed og varme, var jeg glad for at have Wilton's som backup. Især da jeg fik et migræneanfald under opsmøringen, og ikke kunne arbejde optimalt, så jeg besluttede mig for slet ikke at prøve MMF'en. Men selv Wilton's havde det ikke godt med vejret - dog stadigvæk mere medgørlig end MMF'en. Jeg kunne ikke overkomme at lave en kantafslutning, men den var nu heller ikke så slem uden.
I had actually made MMF to cover the cake with, since it tastes better, but with the last week's horrible experiences with all the problems concerning the heat and humidity, I was happy to have Wilton's as backup. Especially since I got a bad migraine in the middle of covering the cake with buttercream, and wasn't really functioning all that well. I actually decided to not even try the MMF, but even the Wilton's was acting up in this weather. It was still more manageable than the MMF, but with the way I was feeling, I gave up on making a nice cover of the edges, but it didn't look too bad anyway.