Min ældste søn skulle have kage med til klassens time. Sidste gang lavede vi en
Matematik-bog
, men denne gang måtte det blive en meget hurtig kage. Både fordi vi slås med sygdom herhjemme for tiden, som ikke giver meget tid til kager, og fordi han (som sædvanligt) først husker at fortælle mig det et par dage før. Han syntes, at vi skulle lave en kage med Napoleon, da de har om ham for tiden i historietimerne og historielæreren er deres klasselærer. Jeg forklarede, at det måtte blive en tegneseriefigur, for historiske portrætter er altså noget kun over mine evner:
My eldest son needed to bring a cake for school, as they take turns bringing cake once a week. Last time we made a math book, but this time it had to be a very quick and easy cake. Both because we have been taking turns being ill in the family, so there isn't much time for caking, and because he (as usual) didn't tell med until a couple of days before. He wanted us to make a cake with Napoleon, as that is who they are covering in their history lessons these days. I explained, that it would have to be a cartoon version, as historical portraits are quite a bit above my abilities:
Kagen var to drømmekager, hvor den øverste er vendt på hovedet, så alt fyldet er i midten. Den er smurt op med
Chokolade Smørcreme
og overtrukket med Wilton's fondant.
The cake was made of 2 Dreamcakes, where the top one was upside down, so all the filling is in the center. It is coated with Chocolate Buttercream and covered in Wilton's fondant.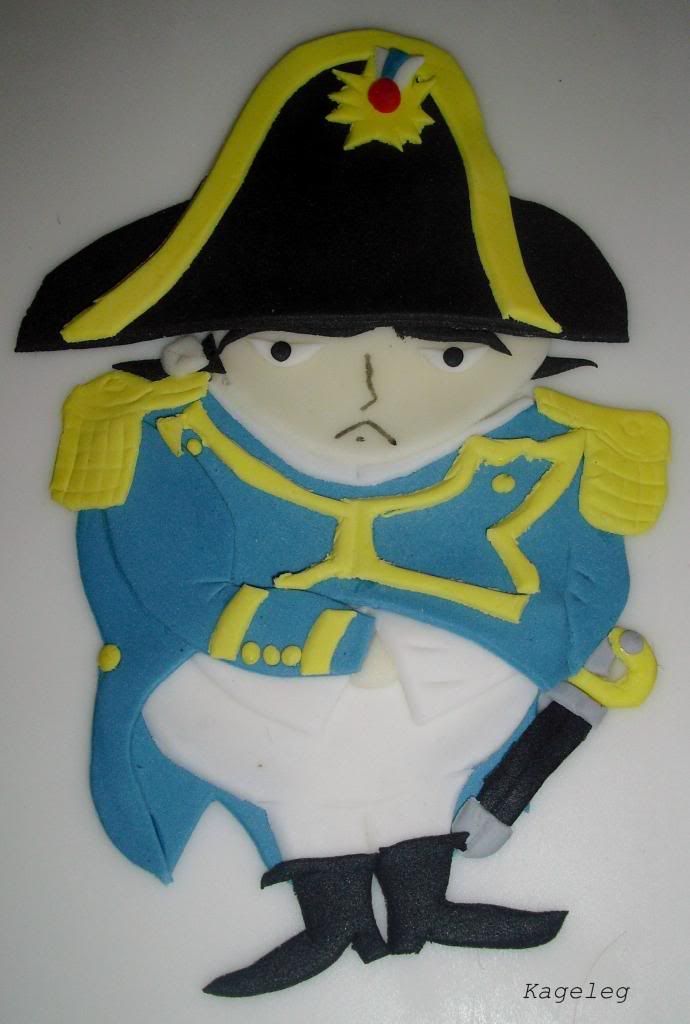 Der var vist riiigeligt kage, så efter at lærerværelset også havde fået deres del, så fik vi stadigvæk rester med hjem, hvilket de yngre søskende absolut ikke havde noget imod. De synes ikke altid, det er så sjovt at se mig lave en kage, som de ikke får lov til at spise :)
Apparently there was more than enough cake, so after all the teachers had their share too, he still brought leftovers home, which the younger kids didn't complain about at all. They don't always find it amusing to see me work on cakes that they won't even get to eat.