Så kom tiden igen, hvor alle datterens veninder har fødselsdag, og der forventes efterhånden, at hun har kage med til dem i skolen. Denne gang har hun så faktisk næsten helt lavet den selv! Der var kun lidt problemer med planlægningen (hun havde overset og overhørt at chokoladecremen skal på køl i 8 timer, inden den kan piskes op), så jeg hjalp med at fylde kagen, mens hun var i skole, og så var jeg lige nødt til at overtrække kagen, da hun lige pludselig skulle ud af døren, efter at hun havde rullet fondanten ud. Ellers havde jeg bare planlagt et enkelt design, som hun selv kunne fortolke, og jeg synes at hun klarede det rigtig fint, selvom billedet som sædvanligt er dårligt. Det der med at have kagerne færdige efter midnat, som skal ud af døren inden kl 7 om morgenen, giver altså bare totalt dårligt lys, og det var svært at finde en ordentlig vinkel, som viste designet, men her er den da:
It is that time of year again, where all my daughter's friends have birthdays, and by now they pretty much expect her to bring them a cake to school. This time, she has actually almost done it entirely by herself! She only had a planning issue (didn't see or hear that the chocolate creme needs to be refrigerated for 8 hours, before whisking), so I helped her fill the cake while she was at school, and I also had to cover that cake, when she ran out the door after rolling the fondant out. Other than that, I had just planned a simple design, which she could interpret however she wanted, and I think she did a great job, although the picture is poor as usual. The thing about finishing cakes past midnight, which have to be out the door before 7 am, is the lighting is horrible, and this time I couldn't find an angle to properly show her design, but here it is:
Kagen var en chokoladekage med
Jordbærmousse
og Mintchokoladecreme, smurt op med
Chokolade Smørcreme
, og overtrukket med Wilton's fondant. Pynten er lavet af sort Pettinice fondant.
The cake was a Chocolate Cake with Strawberry Mousse and Mint/Chocolate Creme, coated with Chocolate Buttercream and covered in Wilton's fondant. The decorations were made using black Pettinice fondant.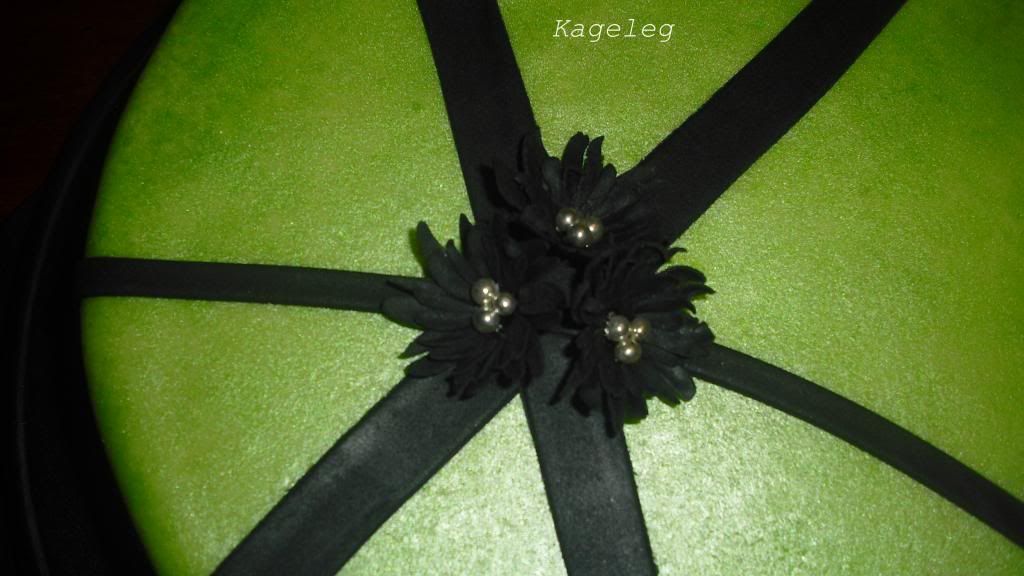 Kagen var duppet med en grøn metallic farve påført med svamp, og det tager faktisk ikke så lang tid, som jeg havde troet, men den skal have en halv times tørre tid i mellem lagene, og der var kun brug for 2 lag denne gang.
The cake was sponged with a metallic green food colouring, and it doesn't take nearly as long as I'd thought to do, but it does have to dry for half an hour between coatings, and this one got 2.
Selv om kagen var vellykket, tror jeg dog, at datteren blev enig med sig selv om at bede om mere hjælp næste gang. Ikke fordi hun ikke kan selv, men fordi det godt nok er svært at afsætte 3 dage i træk til et kageprojekt, når man går i 3. g og har både lektier, arbejde, kæreste, venner og fritidsinteresser at passe.
Even though the cake was a success, I think my daughter still decided to ask for more help next time. Not because she can't do it, but because it is really difficult to find 3 successive days for a cake project when you have homework, job, boyfriend, friends, sports etc. to fit in as well.