Så fik jeg endelig lov til at lave en dåbskage uden den lille sovende baby - men det blev nu en anden klassiker: Baby numsen :) Det var nemlig lige præcis, hvad Victor's forældre ønskede sig, så det fik de. Moren bryder sig virkelig ikke om fondant, så efter lidt snakken frem og tilbage, lovede jeg at rulle fondanten så tyndt ud, som overhovedet muligt, og så tage de problemer der følger med. Derfor er numsen faktisk kun halv klædt med hvid fondant, så der ikke er dobbelt lag under tæppet, og der er brugt romkugledej, istedet for ren fondant i alle større dekorationer:
Yay, I finally got to make a Christening cake without the little sleeping baby - but it was another classic: The baby bottom :) That was exactly what Victor's parents wanted, so that is what they got. The mother really doesn't like fondant, so after discussing pros and cons, I promised to roll the fondant out as thin as possible, and then deal with any problems that that causes. That is why the bottom is actually only half covered in fondant, so there isn't a double layer under the blanket, and all bigger decorations are made out of fondant covered truffles instead of just pure fondant: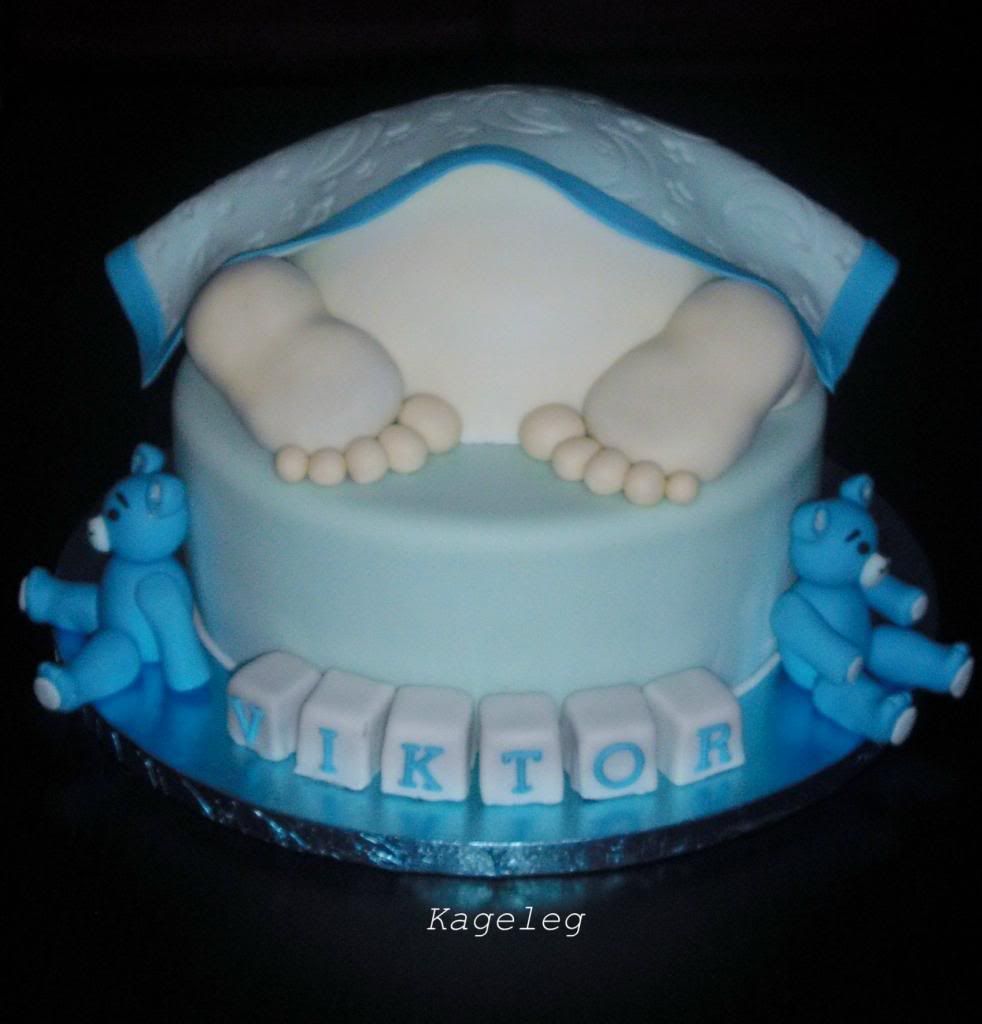 Kagen er en chokoladekage med
Jordbærmousse
og Hvid Chokoladecreme, smurt op med Hvid
Chokoladesmørcreme
og overtrukket med Wilton's fondant. Ben, fødder og klodser med navn er lavet af romkugledej, overtrukket med fondant.
The cake was a Chocolate Cake with Strawberry Mousse and White Chocolate Cream, coated with White Chocolate Buttercream and covered in fondant. Legs, feet and cubes with name on are all made of fondant-covered truffles.
Kagen var lidt svær at arbejde med, når nu fondanten skulle være ekstra tynd. Jeg valgte at bruge hvid chokoladesmørcreme at smøre op med, da jeg ellers risikerede at en mørk creme kunne ses igennem fondanten. Ulempen med hvid chokoladesmørcreme er så bare at den ikke stivner helt så meget, og når opsmøringen samtidig skulle være enormt god, når den kun er dækket med et tyndt lag fondant, så.... men jeg var tilfreds med resultatet.
The cake was a bit difficult to work with, since the fondant had to be extra thin. I chose to use white chocolate buttercream to crumbcoat, as I didn't want to risk a dark creme showing through the transparent fondant. The disadvantage to using white chocolate buttercream is that it doesn't set as hard, and at the same time the coating had to be extremely smooth as such a thin layer of fondant can be extremely unforgiving. But all in all, I was quite pleased with the result.